By CHRIS JOHNSON, Quantitative Specialist, Money Morning • July 1, 2020
---
Editor's note: Have you seen this short video yet? Everyday Americans have been making a small FORTUNE in a matter of days with this new EXTRA-INCOME strategy. Some of them are retiring from their jobs because of it. Others have paid off all their debt and bought their dream homes. To see how easy your life could be, click here.
---
Dear Red Alert Reader,

On a normal weekend, I make the opportunity to hit a few retail centers to gauge the ebb and flow of the consumer. During my regular morning Markets Live stream, I like to share my "Walk Down Main Street" stock recommendations with the audience. Today, I'm sharing them with everyone.
A "Walk Down Main Street" is just like it sounds.
Find your local Main Street – a popular shopping street or mall…
Open your eyes, put one foot in front of the other, and take a walk.
Check out which stores are popular, which are dead. Take note of what people are wearing, and where their shopping bags come from.
By the time you're done with your stroll, you'll have a handy list of better, more profitable trading stocks than anything you can read about in The Wall Street Journal.
Last week, I hit four different shopping "areas" not far from me in Cincinnati. I usually hit a specialty store, a shopping mall (or two), a bunch of discounters, and some grocery and department stores.
Pace yourself, but generally, the more you see, the more profits you stand to make.
Here's what I found…
Big Box Home Improvement Is Buzzing
Any list has to start with Home Depot Inc. (NYSE: HD) and Lowe's Cos. Inc. (NYSE: LOW). Wow! These big retailers have been consistently packed – be it in-store shopping, curbside pickup, or delivery – since the pandemic exploded back in March.
Makes sense when you think about it.
Who among us, while we were cooped up, looking at the same four walls all the time, didn't think of at least one thing we could do to improve our homes?
Well, tens of millions of DIYers – yours truly included – did exactly that. From the minute that they were allowed to even have lines, these stores had 'em running out the door and around the block. That hasn't really stopped.
Nowadays, both stores are crowded with home improvement contractors in the morning and then "do-it-yourselfers" in the afternoons and evenings. Everything from appliances to outdoor to paint and tools; every aisle is packed.
Just released: Down and out millennial shares the strategy that grew his money to $5 million in two years. Get the details.
No surprise then, that my technical and "Best in Breed" models both support what my two eyeballs are telling me: Be bullish here. The housing market and consumers' appetite for home improvement will drive strong, strong revenues.
You couldn't go wrong with either stock, but, of the two "biggies," I favor shares of Lowe's right now.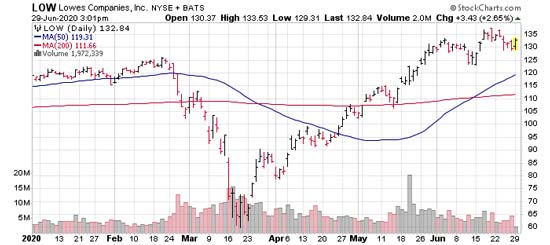 Buy This Stock on the "Swoosh"
Nike Inc. (NYSE: NKE) shares traded 7% lower in response to their earnings last week, but the short-term pullback is nothing less than an opportunity to buy, buy, buy this retail outperformer.
Nike missed top- and bottom-line earnings expectations last week, but the story "between the lines" should have traders looking to grab the stock as it trades at technical support.
Again, my peepers back up what the charts are telling us: During my walk, I came across a massive line outside the Nike factory outlet store. I counted more than 100 people before I gave up counting.
By far, it was the busiest store.
It makes sense, too. As we try to minimize our time in enclosed spaces (well, that aren't our houses), we're all looking to get outside and stay active. Need the footwear to do it in.
---
Millennial Discovers Weird Market Hack – Everyday Americans Are Thrilled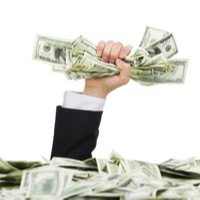 Have you seen this short video yet? Everyday Americans have been making 100%, 200%, 500%, or more… sometimes in a matter of days with this one new strategy. Some of them are retiring from their jobs because of it. Others have paid off all their debt and bought their dream homes. To see how it works, click here.
---
There's more, though.
Nike's marketing department spent the last quarter ramping up its online resources, and it shows. The company saw a 35% increase in sales directly made to the consumer. In retail terms, that's the Mt. Everest of bumps, especially as those sales carry less expenses moving forward.
NKE shares are sitting on their rising 50-day moving average (bullish). There is support from the longer-moving 20-month just below. Grab this stock, hold onto it, and watch for new highs – soon.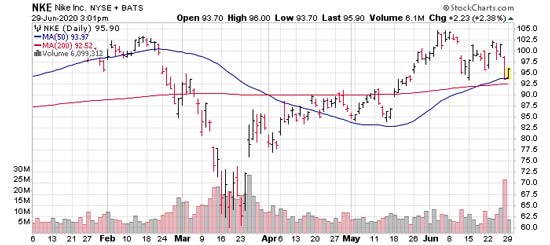 A Great Outperformer in the Great Outdoors
Camping World Holdings Inc. (NYSE: CWH) wins the "Best Story" award. Face it: Stories sell better than fundamentals when it comes to trading.
Last July, my Night Trader system uncovered CWH shares moving lower as the company's technicals lagged. I sent an alert with some CWH put recommendations at $1.80. A little less than a month later, we sold the position for at least 100% profits.
Those were some nice bearish profits, but this stock is way up on my bullish list in 2020.
It's similar to Nike, really; we've all been clamoring to get outside, but the options are very limited this summer. Most pools and amusement parks are by appointment only, but not the great outdoors!
Camping World and other camping stores are consistently packed as people jump on the trend of getting outdoors. (Full disclosure: I bought a small RV from 'em last year. I love it; it's been completely worth it.)
CWH shares have more than doubled since the last earnings report on May 7, but – incredible – they're still packed with upside potential as the summer recreational season – as weird as it's going to be this year – starts to ramp up.
We may see a little pullback from the current highs, but that would just present an opportunity to grab CWH shares on the cheap. My price target here is $36, which would be more than 38% higher from the market price right now.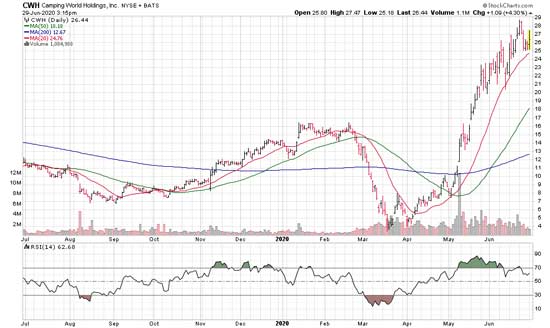 I invite you to get out and hit your shopping mall or Main Street. Watch for what's selling, note where the crowds are. It's deceptively simple, but it'll take your stock picking and trading to the next level. And, on any Monday, Wednesday, Thursday, or Friday at 8:45 a.m. Eastern, you're welcome to swing by my Markets Live chat session and tell us all about the picks you've found.
You Could Make Your Portfolio "Recession-Proof" with This System
While most investors watched their hard-earned money evaporate during the 2008 recession, Andrew Keene collected thousands per week by developing the ultimate indicator.
He used it to identify the moves all the big players were quietly making… putting him in the know weeks before others caught on.
Today, Andrew is spilling the beans so that you too can turn any market condition into profits! Click here now.