Tech stocks have been the most celebrated of this pandemic year.
It's been tech that's kept us connected to friends, family, and colleagues. It's kept some of us working, and it's helped some of us find work. Tech has kept us clothed and fed.
I'd go so far as to say modern tech has been the glue that's helped hold the country together since March.
Ultimately, it'll be technology that gets us a vaccine or therapy in record time, which in turn gets the economy out of this mess and on track to a full recovery.
In that sense, it's really a no-brainer that the tech-centric Nasdaq Composite has been outperforming this year, despite the economy. It took the Nasdaq 20 years to double from 5,000 to 10,000. But it was the first index to reach record highs after the March crash, shooting as high as 75% since then.
For a $10 trillion index to turn in that performance in a year - after a crash... Well, that's when you know it's got the "secret sauce."
That's why it was so jarring to uncover - let's call it - the "Nasdaq's dirty secret." I found it when I was looking at some charts, researching some recommendations for my paid subscribers.
And no, I'm not talking about the current correction underway.
It turns out, there are a few skeletons in this closet. Skeletons that could jolt some unprepared investors.
But for us, it adds up to some choice profit opportunities...
Trouble on the "Island of Misfit Tech"
If the Nasdaq Composite is "tech-centric," then the Nasdaq-100 is tech-obsessed - more than 48% of its components are in the canonical tech sector, and that number jumps to 56% if you broaden your definition to include biotech and healthcare.
The Invesco QQQ Trust (NASDAQ: QQQ) - "The Qs" - exchange-traded fund (ETF) is by far the most popular way for regular investors to get in on the Nasdaq-100's action; at one point, it was the most actively traded security in America.
GOT TOXIC STOCKS? You may very well have some of these in your portfolio right now - some of them are extremely popular... but pure poison. Click here to find out more...
It's the market's "Home of Tech," where the richest top performers of the wider Nasdaq Composite, including "classic" tech icons like Facebook Inc. (NASDAQ: FB), Apple Inc. (NASDAQ: AAPL), Amazon.com Inc. (NASDAQ: AMZN), Netflix Inc. (NASDAQ: NFLX), Alphabet Inc. (NASDAQ: GOOGL), Microsoft Corp. (NASDAQ: MSFT), and Tesla Inc. (NASDAQ: TSLA) live.
(These used to be the FANGs, of course, but I just don't know what snappy word you can make out of FAANGMT... MAN G FATs? MANTA GFs, maybe?)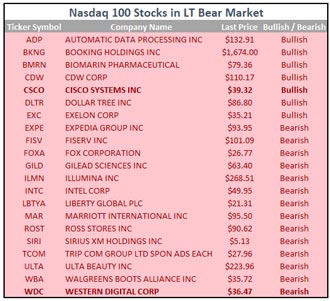 But - and you won't catch this in the financial headlines - right now it's also home to 21 underperforming stocks in textbook bear market territory. That's four more than the 17 that were "officially" bearish this past Monday.
I'm not talking about a "dip" or correction. The trends on these look bearish in the long term.
Even some tech stocks - particularly Cisco Systems Inc. (NASDAQ: CSCO) and Western Digital Corp. (NASDAQ: WDC), the tech companies that have been "left behind" during the massive rally - look like compelling short-trade opportunities.
In late 2019, which was the last time so much of the Nasdaq was bearish, I recommended two short-term puts on these same stocks - CSCO and WDC - to my readers that paid quick double-digits. I'm prepared to do it again, as CSCO could go back down to $32 by next month, while WDC has support at $25 over the next six months. Buy your puts or sell the stocks short accordingly.
How to Double Your Money with Options: Even if you've never traded before or only have a few hundred dollars to start with, you can get on the path to millions with Tom Gentile's Options 101. Get it now for free.
In fact, any of these companies are worth a look as candidates for your put-trading or hedging.
A Word About the Rest of the Nasdaq-100
With that said, I feel like it's important to say a word about the popular tech stocks that are trading lower right now.
Do not - I repeat, do not - short Facebook, Tesla, Google, Microsoft, and the like right now - not unless you have iron intestines, an insatiable craving for risk, the trading reflexes of a cheetah, or, on the other hand, a death wish.
These are, of course, the stocks that have been leading the Nasdaq's charge higher. The declines we've seen here in the "biggies" do not have any sort of staying power; there is no conviction behind these dips. If you want to profit from these stocks, the way to do that is to buy, buy, buy on these kinds of dips, just like I recommend with my latest Fast Profits trade.
It would also be a mistake to short QQQ at the moment. It rallied back to its 50-day on Tuesday as the bargain hunters came out, but of course reversed itself yesterday. Nevertheless, the long-term trend is bullish, and this index "wants" to be higher. Forty percent of companies in the Nasdaq-100 are trading below their 50-day moving averages. That's up from 33% on Monday, but much lower than 82% one month ago.
Yes, like the broader index, the Nasdaq-100 is in correction mode right now, but the few corrections we've had this year have been answered by rallies that quickly power back to highs - it rallied back to its 50-day on Tuesday as the bargain hunters came out, but that reversed itself yesterday.
The Nasdaq-100 "wants" to be higher, and I suspect it may get its wish in the next few days, so make sure to keep a close eye on it and grab the opportunities heading your way.
We've Never Done This Before
We've launched our first-ever stock-picking "lightning round" event. Shah Gilani will be flying through stocks - more than 50 - telling you which to consider buying NOW and which to drop like a ton of bricks.
Grab a pen, because these picks will be coming fast and furious. You'll definitely want to take notes on these...
Follow Money Morning on Facebook and Twitter.
Here Are 10 "One-Click" Ways to Earn 10% or Better on Your Money Every Quarter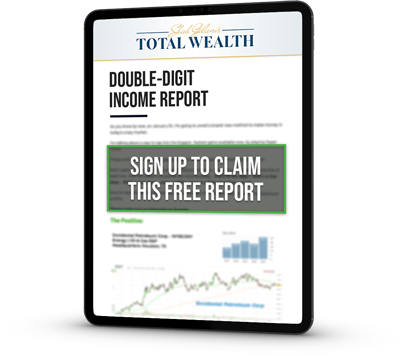 Appreciation is great, but it's possible to get even more out of the shares you own. A lot more: you can easily beat inflation and collect regular income to spare. There are no complicated trades to put on, no high-level options clearances necessary. In fact, you can do this with a couple of mouse clicks – passive income redefined. Click here for the report…
About the Author
Chris Johnson is a highly regarded equity and options analyst who has spent much of his nearly 30-year market career designing and interpreting complex models to help investment firms transform millions of data points into impressive gains for clients.
At heart Chris is a quant - like the "rocket scientists" of investing - with a specialty in applying advanced mathematics like stochastic calculus, linear algebra, differential equations, and statistics to Wall Street's data-rich environment.
He began building his proprietary models in 1998, analyzing about 2,000 records per day. Today, that database, which Chris designed and coded from scratch, analyzes a staggering 700,000 records per day. It's the secret behind his track record.
Chris holds degrees in finance, statistics, and accounting. He worked as a licensed broker for 11 years before taking on the role of Director of Quantitative Analysis at a big-name equity and options research firm for eight years. He recently served as Director of Research of a Cleveland-based investment firm responsible for hundreds of millions in AUM. He is also the Founder/CIO of ETF Advisory Research Partners since 2007, noted for its groundbreaking work in Behavioral Valuation systems. Their research is widely read by leaders in the RIA business.
Chris is ranked in the top 99.3% of financial bloggers and top 98.6% of overall experts by TipRanks, the track record registry of financial analysts dating back to January 2009.
He is a frequent commentator on financial markets for CNBC, Fox, Bloomberg TV, and CBS Radio and has been featured in Barron's, USA Today, Newsweek, and The Wall Street Journal, and numerous books.
Today, Chris is the editor of Night Trader and Penny Hawk. He also contributes to Money Morning as the Quant Analysis Specialist.