By MONEY MORNING STAFF REPORTS, Money Morning • 
---
Editor's note: Most roads to wealth come with a steep toll – but not this one. We have hundreds of documented cases that prove this low-cost extra-income strategy can work for anyone. In fact, some folks have been using it to grow their retirement fund beyond what they ever imagined. Now, it's time you take a crack at what can help shear years off your biggest financial goals. It all begins here.
---
Dear Red Alert Reader,
Investors should know that they can use options to profit from nearly any trend in the market.
Stocks near record highs as the upward trend continues, but there's plenty of risk ahead with turmoil in Washington and dire news on the pandemic front. Investors are right to question how sustainable this latest rally is, but selling your stocks and hiding in cash could mean losing out on more gains.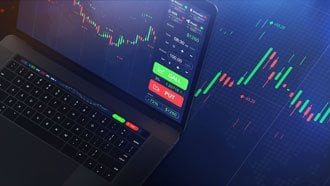 That's why we like options so much. You can protect from the downside while maximizing your upside potential.
You can buy a put option for a small amount of money, and it will increase in value if the market goes against you. And if it doesn't, you still own the stock and can grab additional profits, all for the price of insurance.
At the same time, you can also ride the rally higher using call options. We'll show you how to target a sector that's just starting to heat up, giving you bigger potential than chasing some of the overbought stocks higher.
Here's how Money Morning's top options trading experts are approaching the market right now, including call and put options you can trade right now...
The Best Call Option to Trade Now
Money Morning Quantitative Specialist Chris Johnson is eyeing the oil market's recovery as a major bullish opportunity.
Since late October, energy stocks have far outperformed the S&P 500, yet investors have continued to shy away from the sector thanks to the crash in May. That's a mistake.
New Extra Income Hack: This could be your shot to collect $1,000 to $5,000 a week - regardless of how volatile the markets are. WATCH NOW.
If you believe, as we do, that the economy is in the midst of one of its greatest rebounds with plenty of upside ahead, then it is not a stretch to believe that oil is going to recover, as well.
That's why Chris has his eye on a midstream company that functions as a facilitator of the flow of energy products. This one is primarily responsible for storing gas and oil products before transporting them to their respective retail destinations. So, the more volume it manages, the more money it makes.
His pick is pipeline operator MPLX LP (NYSE: MPLX), a spin-off from Marathon Petroleum Corp. (NYSE: MPC). Chris thinks it is in the right place in the energy market to benefit from both the economic recovery and rising oil prices.
Unlike the many energy indexes and ETFs, MPLX has already recovered its entire plunge from February and March. Compare that to the S&P 500 Energy Sector SPDR (NYSEArca: XLE), which is still down 18.9% from Feb. 19, the day the S&P 500 made its final high before the debacle. Chris also likes its technical setup and put a $32 or higher price target on the shares. That's about 30% above where it's trading at $24.54.
You can, of course, just buy the shares. Chris recommends a limit order of $25 per share. Or, you can really kick up your returns with options. Here is his recommended options trade: Buy MPLX June 18, 2021 $25 call (MPLX210618C00025000) using a $2.25 limit order.
This option is just about at the money, which means the stock price is very close to the option strike price of $25. As this trade gets going, the price of the option will start move nearly in lockstep with the stock price. Since you paid $2.25 or less of the call option, your returns will be much higher than that of buying shares of the underlying stock outright.
If the stock hits Chris's high price target for $32 a share by mid-April, you could see 300% gains from this call option.
And to protect you against the risk of a downturn, here's the best put option trade to make...
The Best Put Option to Buy Now
The bottom line is that you can get downside protection for, say, a short-term pullback, without having to sell stock and losing out on a longer-term gain.
No doubt, stocks are stretched thin at the moment. That leaves little room for error for companies trying to match their earnings forecasts. And if they miss, or if there is some news that might be construed as detrimental to them, there could be a stampede to sell shares.
Tom Gentile, Money Morning's options trading specialist, is not particularly worried. But he's also not going to put all his eggs in one basket. That means a little insurance won't hurt.
The good news is with stocks trading near highs, downside protection is likely to be relatively inexpensive and still offer peace of mind.
Buying this protection is easy. You can buy a put on the broad market, like the SPDR S&P 500 Trust ETF (NYSEArca: SPY), SPDR Dow Jones Industrial Average Trust ETF (NYSEArca: DIA), and even the Nasdaq, with the Invesco QQQ Trust (NASDAQ: QQQ). Or you can buy one on a sector (using the SPDR sector ETFs) or on any single stock you might be worried about.
Tom's looking at an opportunity to take advantage of the relatively weak real estate sectors. If and when the market takes a big stumble, the weakest sectors are likely to be hit first and hit hardest.
While individual home sales in the suburbs are soaring, as urbanites flee the cities to work at home, commercial real estate is struggling. Companies no longer need as much space, as remote activities dominate. Shopping malls are deserted with COVID-19 concerns piling on to online dominance. Even residential apartment buildings have taken a hit.
Tom is looking at buying puts on the Select Sector SPDR Real Estate Trust ETF (NYSEArca: XLRE). This ETF is chock full of these companies and they are indeed struggling.
The XLRE Feb. 19, 2021 $36 puts are even cheaper right now, under $1 each, or less than $100 for a contract of 100.
The strategy is to buy and hold them. If you don't need to use the insurance because the market holds up, then for a small additional price, you can roll them over and do it again. Either the market keeps moving higher and you make money, or the market falls and these options put money in your pocket while you ride out the storm.
He Made Millions Trading for an Hour Before Breakfast
Andrew Keene was living with his parents. Two years later, he had $5 million to play with - all because of this one strategy.
The crazy thing is you can do it in less than 90 minutes a week.
To see how easy your life could be, click here.
Red Alert Frequently Asked Questions