So, by now we're all at least somewhat familiar with the GameStop Corp. (NYSE: GME) story, or drama, or saga, or circus - whatever you want to call it, a huge group of small, retail investors bet bigger on GameStop and demolished some huge hedge funds that were betting big against GameStop.
But the folks from the WallStreetBets sub-Reddit didn't pull off this underdog victory by getting lucky - in fact, I'm thinking they were probably looking at some of the same data I can see and using it to crush the opposition.
I mean short interest.
It's a phrase you've probably heard flying around a lot the past few days, and having this information is, as GameStop shows, an extreme edge. It's hands-down one of my favorite indicators, like a neon sign that says "big money ahead!"
WallStreetBets knows it, and now you know it.
And I'm going to use short interest to give you the names of twenty companies, any or all of which could be the next high-profit rocket ride...
Short Sellers Are (Usually) a Bull's Best Friend
Twice each month, my database grabs short interest data, hot off the presses from each of the stock exchanges. 17,000 data points hit the ol' hard drive in less than one minute in one of the most exciting times of the month for me.
You can use short interest to pinpoint impending, probable big moves in stocks. We're not necessarily talking GameStop big, but then again, the last few days have shown it's not impossible.
First, let's talk terminology. When I "short" a stock, it means I've bought or recommended a put option that will increase in value as the stock price moves lower.
Short sellers operate a little differently, though. They sell short for a variety of reasons, for hedging, or if their fundamental analysis points to lower prices. But sometimes... in rare cases, they're just betting on the chances of a stock simply dropping to zero.
BITCOIN PRO'S PREDICTION: This trader projects the popular crypto could hit $50,000 by the end of the year, and $500,000 by the end of the decade. Have a look at his chart...
A short seller borrows shares of a company from a broker - and then immediately sells them in the open market. They put that money in their account, for the time being, and, importantly, they still "owe" the shares they sold to their broker.
That's where the "short squeeze" potentially begins.
Sign up for SMS so you never miss special events, exclusive offers, and weekly bonus trades.
Success for the short seller depends on one thing: They must buy the same stock that they owe their broker back at a lower price to make money. If the stock goes higher, they lose money, sometimes lots of it, sometimes in a very short time - like with GameStop.
That's the essence of the "short squeeze."
I performed studies on short squeezes way back in 2004 (Hey, I told you this is one of my favorite indicators) that showed short-squeeze candidates outperform the market by more than 2:1 with a success rate that approached 90%.
Those kinds of numbers are stunning for the trader willing to remain consistent in using the approach.
Two weeks ago, GameStop showed up on my biweekly Short Squeeze Candidate list. When I ran the model, it gave me 182 candidate companies, and GameStop was among the strongest short-squeeze contenders, as were Opko Health Inc. (NASDAQ: OPK), along with Ollie's Bargain Outlet Holdings Inc. (NASDAQ: OLLI) and, believe it or not, Kroger Co. (NYSE: KR) - two of my favorite stocks of the pandemic-era bull market.
From my data model's perspective, a stock becomes a short-squeeze candidate when three criteria are met.
The stock has a short interest ratio of 6.0 or higher.
The stock is trading above its 50-day moving average
The stock's 50-day moving average is climbing higher itself (a bullish trend)
If a stock checks those three boxes, it's a huge sign that the short sellers are betting against a stock that's actually about to move higher; it tells me the shorts are poised to lose and primed to suffer some financial pain in the form of a short squeeze.
The only difference with GameStop is the size, volatility, and, let's face it, media coverage of the short squeeze. Mechanically, the same forces are at work.
Now, let's get real: GameStop's trade is over - for a number of reasons. I'm telling you, don't touch it; as new positions go, it's Chernobyl-level radioactive at this point. A look at the put options on GME on Thursday showed me that you were paying 85% premiums to buy a put that was 50% out of the money.
That's bad.
But, not to worry - the next opportunity is just around the corner, and it's very likely on this list I'm going to share with you.
GOT A 10-FOOT POLE? Don't get it near any of these 19 wildly popular stocks - click here to get Shah Gilani's list of what to buy instead.
The stocks on this list are the real deal. The numbers were refreshed, the trends confirmed. These stocks are poised to make some sharp moves higher over the next few weeks. Again, don't expect 900% gains from these - GameStop is an extraordinary case. Me? I'm happy to double the market most of the time, and I've seen short squeezes like this accelerate 10%, 20% in a short time.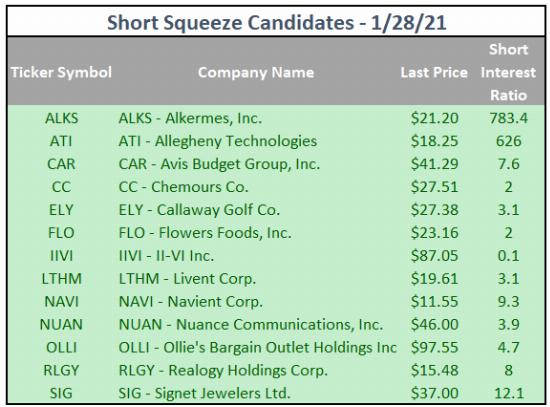 I always like to break down a few of the stocks to give you an idea of my favorites in the group and why.
There's II-VI Inc. (NASDAQ: IIVI). More than six months ago, this was one of the stocks that I talked about during my weekly Fast Profits segment. The small semiconductor company operates out of Pittsburgh and focuses on the technology of semiconductors and lasers (believe me, I'm simplifying this for time).
We've seen some good earnings reports from the company over the last six months as well as the acquisition of another company as part of IIVI's planned growth.
The technically strong stock continues to defy gravity and the bearish short sellers. Short interest on the stock peaked two weeks ago, which means the shorts are starting to cover.
Another push higher above $95 will get the shorts coming into the market to cover their stock with a target price of $110 in some fast action.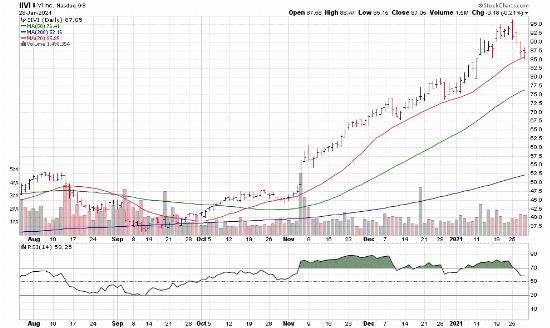 Ollie's Bargain Outlet Holdings Inc.
(NASDAQ:
OLLI
) ought to be familiar to the folks who've been with me since last March. We traded OLLI in my
Night Trader
research service twice from similar signals and pulled in triple-digit gains.
The stock is looking to replicate that movement now.
Short interest on OLLI hit its highest levels in the last two years just two weeks ago, and the shorts are starting to cover now as the stock pushes back above $100.
We saw a sharp move in OLLI's price earlier this week as the stock got caught up in the GameStop fiasco, but the volume wasn't enough to knock the shorts completely out of their positions. There's still fuel in the tank for a short squeeze to drive OLLI shares back to $125. I'm expecting the stock to consolidate at $100 for a week or so, then continue its trek higher to $125 over the next month.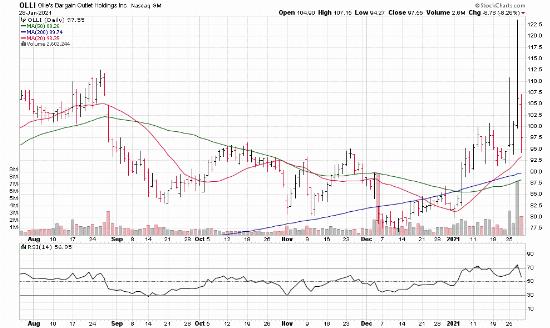 Buying these stocks outright could very well put double-digit profits in your pocket, but one smart move would be to leverage those modest moves with call options to juice the returns.
Short interest is one of the best profit predictors I've seen in 30+ years. The biggest prediction I've seen has got to be Tom Gentile's – he's saying Bitcoin could hit $50,000 by year end, and $500,000 by 2029. You've got to see his chart here…
Follow Money Morning on Facebook and Twitter.
Join the conversation. Click here to jump to comments…
About the Author
Chris Johnson is a highly regarded equity and options analyst who has spent much of his nearly 30-year market career designing and interpreting complex models to help investment firms transform millions of data points into impressive gains for clients.
At heart Chris is a quant - like the "rocket scientists" of investing - with a specialty in applying advanced mathematics like stochastic calculus, linear algebra, differential equations, and statistics to Wall Street's data-rich environment.
He began building his proprietary models in 1998, analyzing about 2,000 records per day. Today, that database, which Chris designed and coded from scratch, analyzes a staggering 700,000 records per day. It's the secret behind his track record.
Chris holds degrees in finance, statistics, and accounting. He worked as a licensed broker for 11 years before taking on the role of Director of Quantitative Analysis at a big-name equity and options research firm for eight years. He recently served as Director of Research of a Cleveland-based investment firm responsible for hundreds of millions in AUM. He is also the Founder/CIO of ETF Advisory Research Partners since 2007, noted for its groundbreaking work in Behavioral Valuation systems. Their research is widely read by leaders in the RIA business.
Chris is ranked in the top 99.3% of financial bloggers and top 98.6% of overall experts by TipRanks, the track record registry of financial analysts dating back to January 2009.
He is a frequent commentator on financial markets for CNBC, Fox, Bloomberg TV, and CBS Radio and has been featured in Barron's, USA Today, Newsweek, and The Wall Street Journal, and numerous books.
Today, Chris is the editor of Night Trader and Penny Hawk. He also contributes to Money Morning as the Quant Analysis Specialist.