Today on Fast Profits with Money Morning, I'm tapping into pent-up demand for one of America's favorite pastimes, with an options trade recommendation that plays on a skyrocketing industry.
You see, some of the biggest fan-favorite sports were taken out of commission during the pandemic. Lovers of mainstream, full-contact games like football, baseball, and basketball had to look elsewhere for their athletics fix.
That's when golf began to make its comeback.
Previously favored more-so by Gen X sports fans, golf became more popular among younger and broader demographics during the pandemic in particular. It's a game that, both on the professional and recreational ends of the industry, can be played while respecting social distancing regulations.
And for one leading golf equipment manufacturer - today's featured Fast Profits stock - that means a whole new world of customers.
Expanding demand isn't the only force driving this stock higher, either - after dipping into the recreational experience side of this market by acquiring the Topgolf franchise, a well-known drinking venue/driving range combo, this stock is building steam fast.
It's already climbed more than 93% since a pullback in late November, largely due to skepticism after buying out Topgolf. And if we take a look at this stock chart...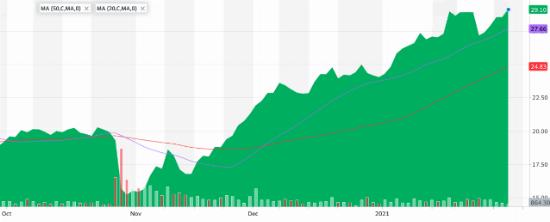 ...we can see that both the 20-day and 50-day moving averages are trending higher, a clear sign that this stock is getting ready for a breakout.
Its next earnings report, scheduled for next week, will be reflecting the initial recovery from the mid-Q4 retracement - so I expect to see some really impressive revenue figures to be announced, making this the perfect time for a call option trade...
For the full details, check out my video below...
There's More Than 1 Short-Squeeze Ripe for the Trading...
Trade details...
Action to take No. 1: Buys shares of Callaway Golf Co. (NYSE: ELY) using a limit order of $29.
Action to take No. 2: Buy to open ELY July 16, 2021 $27 calls (ELY210716C00027000) using a limit order of $6.10.
Over the last few weeks, you've probably seen a lot of reports coming out of finance media on the infamous GameStop short squeeze and a handful of stocks projected to follow suit...
Stocks like Costco Wholesale Corp. (NASDAQ: COST), AMC Entertainment Holdings Inc. (NYSE: AMC), and Kroger Co. (NYSE: KR).
Well, if you saw my video above, you know they completely missed Callaway. ELY stock currently has a ton of short interest building up, despite the rising share value, something I expect to really "hit the gas" as this stock continues to gain traction.
What's more, this isn't the only short squeeze in the making that's failed to catch the media's attention...
In the wake of the pandemic, there are quite a few stocks out there being scavenged by bearish short-sellers. And after GameStop lit the fuse on the short-squeeze frenzy, everyday traders finally have the upper hand against Wall Street.
Right now, my fellow trading expert, Andrew Keene, can show you how to spot the next "Super Squeeze" opportunity, and he's already got your first three picks all lined up.
Follow Money Morning on Facebook and Twitter.
Join the conversation. Click here to jump to comments…
About the Author
Chris Johnson is a highly regarded equity and options analyst who has spent much of his nearly 30-year market career designing and interpreting complex models to help investment firms transform millions of data points into impressive gains for clients.
At heart Chris is a quant - like the "rocket scientists" of investing - with a specialty in applying advanced mathematics like stochastic calculus, linear algebra, differential equations, and statistics to Wall Street's data-rich environment.
He began building his proprietary models in 1998, analyzing about 2,000 records per day. Today, that database, which Chris designed and coded from scratch, analyzes a staggering 700,000 records per day. It's the secret behind his track record.
Chris holds degrees in finance, statistics, and accounting. He worked as a licensed broker for 11 years before taking on the role of Director of Quantitative Analysis at a big-name equity and options research firm for eight years. He recently served as Director of Research of a Cleveland-based investment firm responsible for hundreds of millions in AUM. He is also the Founder/CIO of ETF Advisory Research Partners since 2007, noted for its groundbreaking work in Behavioral Valuation systems. Their research is widely read by leaders in the RIA business.
Chris is ranked in the top 99.3% of financial bloggers and top 98.6% of overall experts by TipRanks, the track record registry of financial analysts dating back to January 2009.
He is a frequent commentator on financial markets for CNBC, Fox, Bloomberg TV, and CBS Radio and has been featured in Barron's, USA Today, Newsweek, and The Wall Street Journal, and numerous books.
Today, Chris is the editor of Night Trader and Penny Hawk. He also contributes to Money Morning as the Quant Analysis Specialist.