We're heading into earnings season with the market just 2% higher than the last earnings season.
That's not all that impressive, frankly.
More significantly, it's a good sign that the "reopening trade" that's been so good for returns over the past few months is close to playing itself out.
Entertainment stocks, cruise ships, airlines, hotels – they've all been great for months, but like they say, nothing lasts forever.
That said, it'd be premature to close the books on this oh-so-lucrative trend. Real estate is going to continue to throw off unusually high gains in a flattening market, and there's one stock to buy to take advantage of all of it.
Investors are starting to catch on to this one, so you want to make sure you're "in" before the next leg higher…
This
Is
Going to Be
the Summer's Best Sector
Real estate investment trusts (REITs) are a "target rich" environment, which isn't all that surprising when you consider the fact that we're in the hottest real estate market since 2006.
To date, the iShares U.S. Real Estate ETF (NYSEArca: IYR), which is a handy barometer of the U.S. real estate market, is trading 22% higher than where it started the year. That performance almost doubles the S&P 500 and more than doubles the ever-loved Nasdaq 100.
Volume on the IYR components has increased over the last month, bucking the "sell in May" trend. At the same time, that volume is driving prices higher, unlike the rest of the market that is seeing declining volume and choppy prices.
My volatility band systems have been pinging REITs left and right.
The seasonality report for July shows that the IYR turns in a whopping 2.3% return during the month of July 85% of the time. Both numbers are worth following as the rest of the market sees drying volume.
And that's just the sector as a whole. When you get down into individual stocks, it gets even better.
That same volatility filter put Welltower Inc. (NYSE: WELL) on the top of my screen. A deeper dive on WELL shares paints the picture of a REIT ready to rise.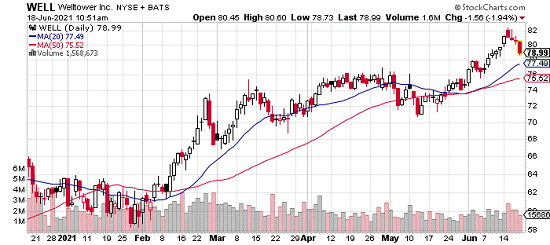 The 20- and 50-day moving averages in a nice uptrend – we've even seen a recent "silver cross." Most importantly, Welltower invests in healthcare infrastructure, part of the last round of reopening.
We've even seen an upgrade of WELL shares, as the analyst community is starting to pick up on the volume and price movement, meaning we should grab this one now to get every penny out of the seasonally strong July trading period.
Not only that, but the market's performance over the past few days is handing us a decent entry point; some profit-taking has sent the stock about 1% lower over the past few sessions, but that's not going to last, and the decline does nothing to take the luster off those beautiful moving averages.
The bottom line: Buy Welltower here at market, and look for it to outperform the stock market for at least the next quarter, if not longer.
So the reopening trade is drying up, but that just means capital is moving elsewhere; there's always profit potential to be had somewhere.
My friend and colleague, Shah Gilani, is predicting a $353 billion "tsunami" of capital could hit five specific, small stocks over the next 12 to 18 months. He showed me some of the share price performance projections he's made looking at that time frame, and they're some of the most impressive I've ever seen. Click here to see them for yourself…
About the Author
Chris Johnson is a highly regarded equity and options analyst who has spent much of his nearly 30-year market career designing and interpreting complex models to help investment firms transform millions of data points into impressive gains for clients.
At heart Chris is a quant - like the "rocket scientists" of investing - with a specialty in applying advanced mathematics like stochastic calculus, linear algebra, differential equations, and statistics to Wall Street's data-rich environment.
He began building his proprietary models in 1998, analyzing about 2,000 records per day. Today, that database, which Chris designed and coded from scratch, analyzes a staggering 700,000 records per day. It's the secret behind his track record.
Chris holds degrees in finance, statistics, and accounting. He worked as a licensed broker for 11 years before taking on the role of Director of Quantitative Analysis at a big-name equity and options research firm for eight years. He recently served as Director of Research of a Cleveland-based investment firm responsible for hundreds of millions in AUM. He is also the Founder/CIO of ETF Advisory Research Partners since 2007, noted for its groundbreaking work in Behavioral Valuation systems. Their research is widely read by leaders in the RIA business.
Chris is ranked in the top 99.3% of financial bloggers and top 98.6% of overall experts by TipRanks, the track record registry of financial analysts dating back to January 2009.
He is a frequent commentator on financial markets for CNBC, Fox, Bloomberg TV, and CBS Radio and has been featured in Barron's, USA Today, Newsweek, and The Wall Street Journal, and numerous books.
Today, Chris is the editor of Night Trader and Penny Hawk. He also contributes to Money Morning as the Quant Analysis Specialist.