In the markets, just like in life, sometimes it pays to hold off on pulling that trigger - however tough that might be.
Good things come to those who wait... The waiting is the hardest part... Do not open till Xmas...
Today's penny stock pick is the perfect example - and I'll tell you why in a second.
By now, you know I'm super bullish on the clean energy stocks, along with fellow travelers in "clean tech," like the battery industry, lithium and rare earths, electric vehicles, and so on.
When I say "bullish," I mean there are dozens and dozens of stocks in this space that I watch on a regular basis - I've recommended many of them right here.
But there's one I've had my eye on for an entire year - yes, a year - waiting for the right moment to strike.
Folks, it's time - make your move into this $1.50 penny stock this morning...
Here's the (Almost) Perfect Setup
As bullish as I am, and as much as I want to own the best names in clean tech, there are some stocks to get into for purely technical reasons - to get in and make fast money.
American Battery Metals Corp. (OTC: ABML) works in lithium-ion (Li-On) batteries, which go into everything from smartwatches to Teslas. It recycles batteries, extracts useable metal, and then puts it back into the raw materials stream - lather, rinse, repeat.
The market has made a sudden shift into "Buy" mode after months and months... and months of selling this stock.
Last week, ABML shares rallied up to their 50-day moving average and their top Bollinger band. A break above these two lines will fuel another round of buying, regardless of any possible headlines.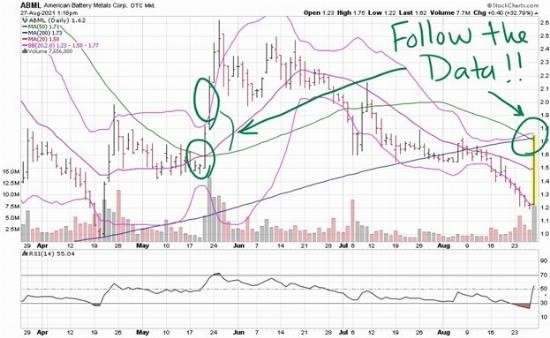 Additionally, the stock has potential to break above its bullish 200-day moving average on the same move. Taking out the 50-day, 200-day, and top Bollinger band will be a bullish price signal.
The market has picked up on that price shift as volume has triggered a level of relative buying that we haven't seen since May, when the stock formed a similar formation and rallied an additional 40% over one week's time.
The more astute, technically inclined readers out there will take a look at the ABML's 50-day moving average and say, "Hey, wait a sec - this MA50 seems kind of bearish, but you seem kind of bullish. What's up with that?"
And you'd be right to ask that; the technical picture isn't perfect, but on balance, the technical picture looks great; don't let the quest for "perfect" get in the way of big profits.
The current technical picture is not without fault, as the stock's 50-day moving average is in a bearish trend, which is why we'll be watching the stock closely for follow-through over the next two days.
So, buy into ABML shares for $1.75 or less. Add a 7% trailing stop when the stock hits $2.20, by which time you'll have banked a little better than 25%. Let me be clear: I think you'll bank a lot more than 25% on ABML by the time it's all said and done, but that trailing stop will help protect your principle and your profits - always a good idea, but critically important when you're dealing with small, fast-moving stocks like ABML.
The profit potential in this incredible, rare class of stocks is undeniable. Top, exceptional performers in this niche have seen 2,953%... 4,801%... 12,754%... even 22,207% in less than a year. And yet, they're practically blacklisted; you rarely hear about these stocks, to the point where one Wall Street firm actually prohibited its brokers from offering them for sale. Shah Gilani, my colleague, has blown the lid off the hidden potential in these stocks - don't miss what he has to say...
Follow Money Morning on Facebook and Twitter.
Join the conversation. Click here to jump to comments…
About the Author
Chris Johnson is a highly regarded equity and options analyst who has spent much of his nearly 30-year market career designing and interpreting complex models to help investment firms transform millions of data points into impressive gains for clients.
At heart Chris is a quant - like the "rocket scientists" of investing - with a specialty in applying advanced mathematics like stochastic calculus, linear algebra, differential equations, and statistics to Wall Street's data-rich environment.
He began building his proprietary models in 1998, analyzing about 2,000 records per day. Today, that database, which Chris designed and coded from scratch, analyzes a staggering 700,000 records per day. It's the secret behind his track record.
Chris holds degrees in finance, statistics, and accounting. He worked as a licensed broker for 11 years before taking on the role of Director of Quantitative Analysis at a big-name equity and options research firm for eight years. He recently served as Director of Research of a Cleveland-based investment firm responsible for hundreds of millions in AUM. He is also the Founder/CIO of ETF Advisory Research Partners since 2007, noted for its groundbreaking work in Behavioral Valuation systems. Their research is widely read by leaders in the RIA business.
Chris is ranked in the top 99.3% of financial bloggers and top 98.6% of overall experts by TipRanks, the track record registry of financial analysts dating back to January 2009.
He is a frequent commentator on financial markets for CNBC, Fox, Bloomberg TV, and CBS Radio and has been featured in Barron's, USA Today, Newsweek, and The Wall Street Journal, and numerous books.
Today, Chris is the editor of Night Trader and Penny Hawk. He also contributes to Money Morning as the Quant Analysis Specialist.