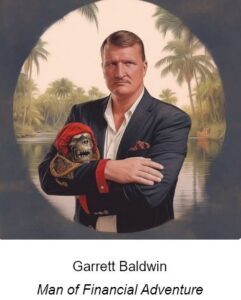 postcards from the florida republic
what you missed, what I'm watching, and what's investable now
friday, may 26, 2023
Dear Old Friend,
The Federal Reserve has all the money in the world. It can magically press buttons to create currency (Ben Bernanke said so on 60 Minutes). It can pump unlimited capital into the economy during a pandemic (Neel Kashkari said so on 60 Minutes). It is the most important central bank on global monetary policy right now… driving up interest rates to cull inflation while pummeling the valuations of other global currencies.
Most importantly… the central bank of the U.S. is bankrupt.
The Fed has a balance sheet worth trillions… and as the buyer of last resort, its bonds have produced massive unrealized losses – much like the regional and community banks that held long-duration bonds on their balance sheets. The chart: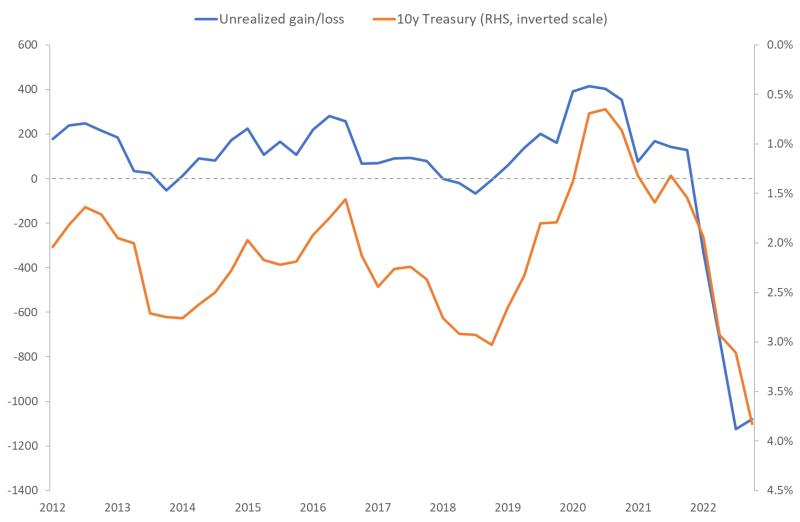 Sign up for SMS so you never miss special events, exclusive offers, and weekly bonus trades.
This doesn't inspire much confidence. Does anyone believe the central planners have a firm hold on the situation?
As we barrel into recession – our stock market might rally because of social sentiment around AI. But the underlying economy is under severe stress… while the nation is indebted.
U.S. leaders are so committed to debt that our central bank is insolvent on paper. The government is now $32.6 trillion in debt (with a goal of moving toward $50 trillion in nine years). American consumers now face $1 trillion in credit card debt and $1.7 trillion in student loan debt.
This is supposed to be the wealthiest nation on the planet.
At least, that's the excuse Washington makes every time it increases social spending – funded, of course… by more debt.
It's Going to Be a Day
There's much change around this old Florida overlook. My daughter graduates from pre-K, and this is my last day doing our morning show after two years… but the one thing that never changes… Traders and investors chasing a theme.
There is a strong relationship between the movements of the Nasdaq and news coverage of Artificial Intelligence.

Sentiment momentum is a real phenomenon and anamoly in the market. Many algorithmic systems (like ChatGPT Portfolio) are buying stocks and trading them based on news articles and optimism about the trend.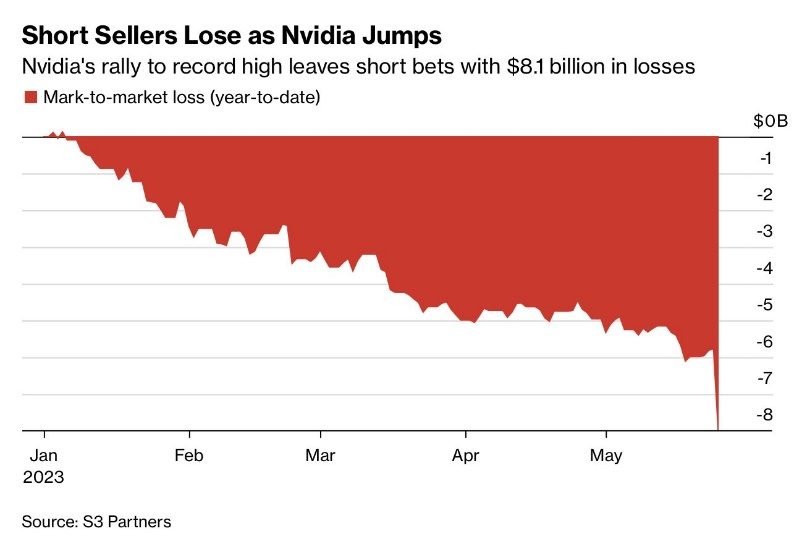 Meanwhile, the people who are trying to short NVIDIA are getting blown out of the water. The stock has one of the most absurd PE ratios and Price-to-Sales ratios that we've seen in years. But short sellers have lost about $8.1 billion trying to take it down. As I've noted, NVDA has broken the negative momentum trend, so don't
See you out there,
Garrett Baldwin
Florida Republic Capital
Join the conversation. Click here to jump to comments…
About the Author
Garrett Baldwin is a globally recognized research economist, financial writer, consultant, and political risk analyst with decades of trading experience and degrees in economics, cybersecurity, and business from Johns Hopkins, Purdue, Indiana University, and Northwestern.