It was a beautiful, sunny, spring morning.
The type of morning California is famed for.
I was sitting outside a café digging into a delicious – but grossly overpriced – plate of steak and eggs. It's the breakfast I always have when I'm on the road.
And as I savored each bite, I watched a fistfight take place in the middle of the street.
No one was fazed.
We'd all become numbed.
My only thought was, "Guys, it's 8:30 in the morning… how did we get to this point?"
And maybe that's a question the country is in dire need of asking.
It was April 2022, and I was in San Diego speaking at an investment conference. And during the handful of days I was in town, I witnessed more fights in the street than I'd seen in decades.
It was madness.
But that madness is spreading.
And the threats are no longer limited to the safety of citizens… but to the financial futures of millions of Americans.
Slashed Margins from Smash-and-Grab
On August 9, a mob of as many as 40 people rushed the Yves Saint Laurent store at the Americana at Brand mall in Glendale, California.
They made off with $300,000 in merchandise.
Days later, a Nordstrom's (JWN) in Los Angeles was robbed by a flash mob.
They made off with $100,000 in goods.
And it was the second time since 2021 the store had been attacked by a large-scale smash-and-grab.
On August 15, the luxury denim store on La Brea Avenue, Ksubi, was attacked.
The list goes on and on and on.
High-end retail is under attack, as jewelers are reporting a 31% increase to the largest numbers ever. On top of this, the total dollar amount nicked at jewelry stores jumped 85% last year to the highest level since 2009.
It's become a crisis.
Not only one requiring the set up of special task forces, but one where major retailers are warning that theft is at epidemic levels.
On Tuesday, shares of Dick's Sporting Goods (DKS) plunged 24%. It was the worst day for shares… ever.
The retailer's sales rose 3.6%, but profits tanked 23% as it blamed theft and damaged inventory.
Target (TGT) suffered $650 million in losses due to theft in 2022. And warned earlier this year that profitability would be impacted by at least $500 million due to "shrinkage" – the industry term for theft or damaged goods.
Foot Locker (FL), Home Depot (HD), and Kohl's (KSS) have released cautious comments over the growing scourge of "shrinkage." And on Wednesday, Foot Locker shares plummeted 33% as softer consumer spending is adding to the woes.
The reality is, 81% of retailers are reporting theft is on the rise. For every $1 billion in sales, $700,000 is stolen.
That doesn't seem like much. But it quickly adds up.
And in a time where sales are facing headwinds from high inflation and a consumer increasingly stretched thin, theft is an unwanted weight on the bottom line.
But the dangers expand beyond margin squeezes…
The Most Violent Year Ever
A friend of mine was a long-time Portland, Oregon resident.
He loved the "vibe" of the kooky city. And worked as chief engineer for a major broadcast communication company.
But in recent years, the city has taken a turn… one for the worse.
It got to the point that to visit transformers and towers to do routine maintenance and checkups, he needed to travel with armed guards in heavy vehicles. He wasn't a soldier… He wasn't stationed in some war-torn part of the world… He was a broadcast engineer trying to make a living in an American city.
They rolled not through homeless camps, but homeless cities.
And in the end, he decided to pack up and leave for greener pastures in the southeastern part of the U.S.
Scenes like this are playing out across the country and at our storefronts.
Amazon Go, Cracker Barrel (CBRL), Old Navy, Saks Off Fifth, Anthropologie, Office Depot, Westfield malls, and more are shuttering their doors in places like Portland and San Franscico. Cities where it's becoming less safe to operate.
In 2020, the National Retail Federation reported shrink accounted for $90.8 billion in losses.
This rose to $94.5 in 2021 and approached $100 billion in 2022.
Those are sobering statistics for the sector.
But the real issue is violence.
Over the past several years, fatalities at retail stores have nearly doubled!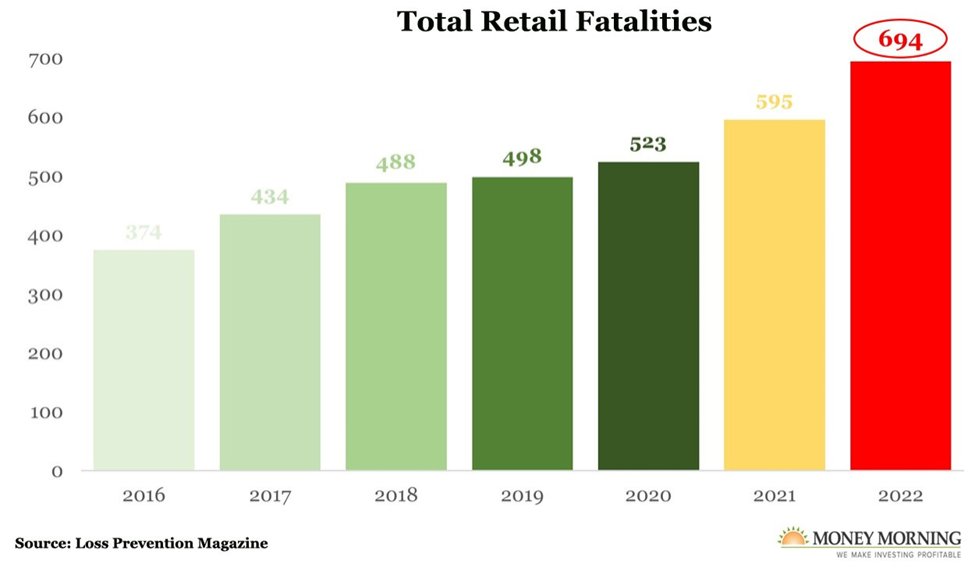 Last year was the most violent year ever for American retailers… At least for now. The numbers for 2023 aren't yet in.
In 2022, security officers, loss-prevention officers, and law enforcement saw a 72% increase in fatalities at retail locations. It was the largest uptick by far of any group involved with retail.
And what we're seeing here may merely be a microcosm of what's to come.
We are at a crossroads for the industry. It's grappling with brazen flash-mob thieves, increasing confrontations from enraged customers, and mass-casualty events.
The panic button has been pressed. And the threat of a looming recession is only going to make matters worse.
But this is an issue not merely contained to department stores or groceries. Anarchy appears to be on the rise across America.
And what that means for the months and years ahead, not just for our neighborhoods, but the markets and our financial independence, is the No. 1 issue we as individuals – and as a country – will have to address.
To stay informed about this developing story and what it means for our country and your portfolio, be sure to sign up for The Daily Missive from Addison Wiggin.
Here's to high returns,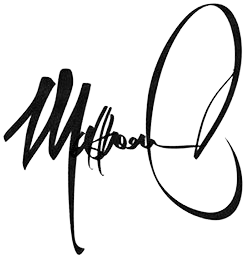 Matthew