Dear Fellow Expat,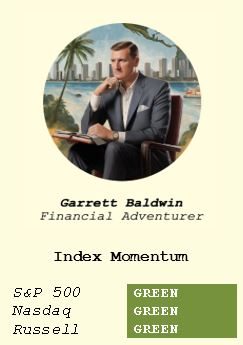 Imagine you're eight years old, on stage, at an elementary school.
It's the finals of the local geography bee. The room is full. The crowd is hushed.
If you answer one more question correctly, you'll win a trophy with a red-white-and-blue ribbon.
The question starts: "Which state…"
Oh… no…
"Which state" questions bring back memories of why I lost that Warren Elementary School title so long ago.
I didn't consider the first rule: "Maybe it's a trick question."
Or rule two: If the question has an absurd statistic, the answer is likely Alaska.
"Which state is the largest in the United States?"
Your brain instantly pictures the map - and Texas.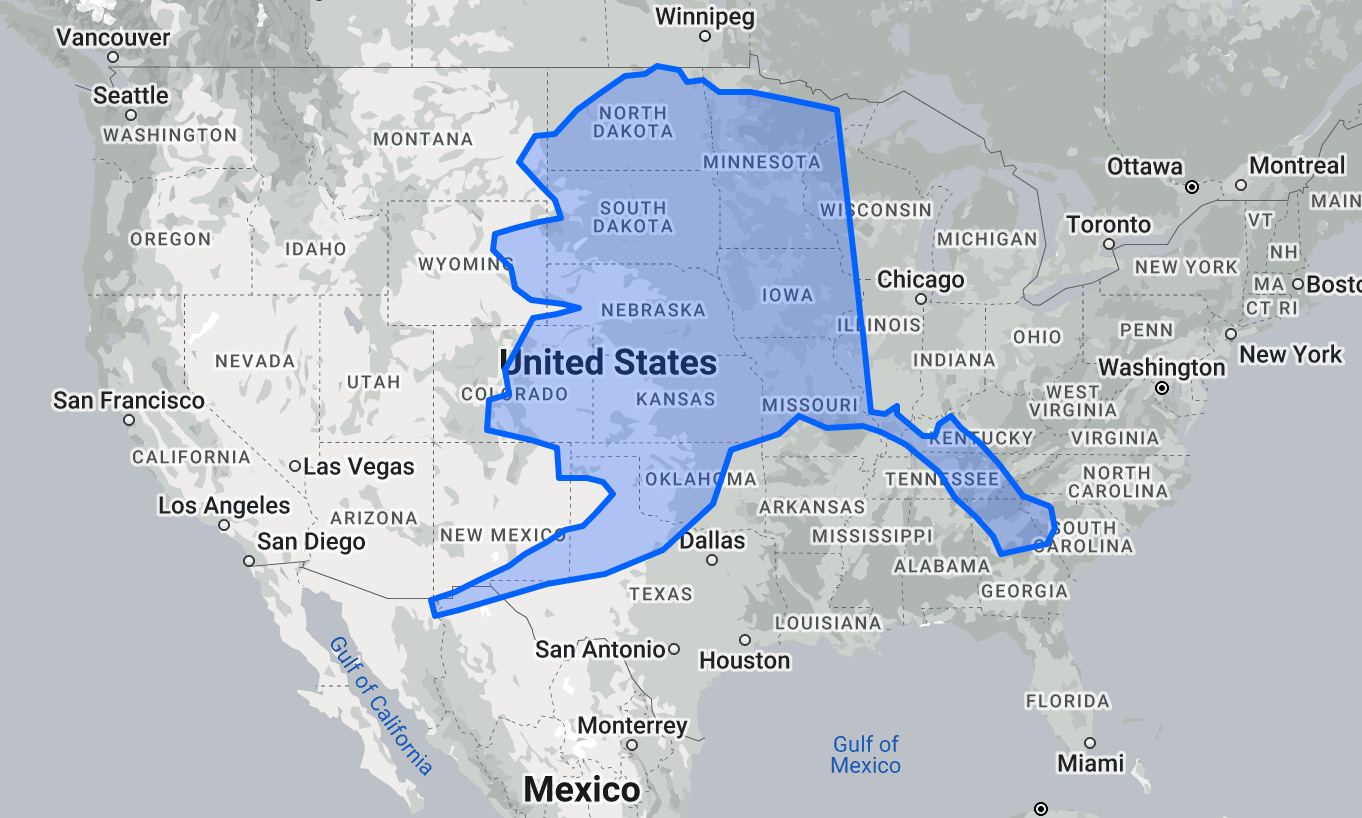 "Which state has 17 of the 20 tallest mountains in the U.S.?"
Your brain thinks Colorado …
Which state has three million lakes in it? It's not Minnesota.
Which state is the only one whose name can be spelled using letters on one keyboard row?
"Alaska" is the answer to all of these questions.
But the one that got me at 2:35 PM on a Friday before a little league baseball game, the one I'll never forget: "Which state has the longest coastline?"
I answered: "California." Which was wrong.
Coming in at more than 6,600 miles, Alaska has a longer coastline than all the other U.S. states combined.
I mention this because that 6,600-mile coastline will now serve as the most important military demarcation line of the early 21st century.
Today, I want to highlight a story on the "Roof of the World," mentioned by NPR, of all media outlets.
I want you to know about it because the next Great War may start somewhere other than Taiwan or Western Ukraine.
It just might happen a few miles off that extensive Alaskan coastline.
That's because Russia is moving more oil through the Arctic Circle by ship than ever.
Most people believe it's motivated entirely by desperation around the Ukraine War…
But is that true? Let's just see about that…
Russia Takes the "High Road"
It's nice that residents of the Florida Republic are geographically removed from a growing geopolitical tension – the furthest of all continental 48 states.
But let's dig into why Russia is moving crude oil through the frozen abyss.
The NPR headline tease states: "This summer has seen a sharp increase in Russian oil tankers shuttling crude to ports in China via polar waters. Climate change means there's less ice for the vessels to navigate.
"Climate change…" because – of course. They have to get their listeners' attention.
However, the report shows a different story. It has nothing to do with climate change.
NPR highlighted Thursday that Russia and China have worked together to develop a shortcut to deliver oil through the Bering Strait – dozens of miles past the Alaskan border.
Following Europe's export bans on Russian crude, the country was no longer incentivized to pump oil and gas through pipelines to the West.
Russia needed another way to move oil and gas out of its still-potent fields in Western Siberia.
So, they turned north to the Arctic Ocean, a region the country considers part of its territorial claims. Of course, seven other nations dispute these claims, given their exposure to the Arctic: Canada, Denmark, Finland, Iceland, Norway, Sweden, and the United States.
Russia had already moved crude to Asia via pipeline. But those pipelines are tapped out – at maximum capacity. Not another drop can squeeze through there.
Desperate to move oil, Russia began shipping crude on tankers through the so-called Northern Sea Route, a perennially frozen, barren part of the world. Before the European ban, NPR reports, few ships tried to make the trip to deliver crude to the East to customers like China.
This year, six ships have made the run.
Instead of 45 days for a Russian tanker to move crude elsewhere, it can take just 35 days via the Arctic Ocean at roughly half the miles.
Many ships have tried to take this route – but the hostile nature of the Northern Sea Route meant 20 commercial vessels got stuck in waters north of eastern Siberia.
The NPR report says it took weeks to break these ships out of the ice, citing a member of the Polar Institute at the Woodrow Wilson Center.
The Polar Institute suggests Russia has been sending dozens of tanker ships out unaccompanied by ice-breaking ships to move crude and make money. Environmental advocates are highly concerned about future oil spills and sinking vessels that might impact the ecosystem.
They're missing the bigger picture.
This isn't a sudden phenomenon… and it doesn't have much to do with Europe.
This has been part of a much larger plan by Russia for decades.
How did mainstream operators miss it until now?
They weren't looking…
We've been distracted by COVID and politics on things that largely don't matter.
That mistake will cost us more than money.
It's Not a Secret
In early 2022, headlines blared that Russia had started constructing a $110 billion mega port on the Taymyr Peninsula.
It contains the nation's largest oil terminal in the Arctic Circle.
This was before the invasion of Ukraine began… and long before Europe slapped sanctions on Russian exports.
A simple analysis of historical satellite data (Google Maps) can show the dramatic expansion of this port area in 2019 – before COVID-19. Development is evident as far back as the late 1990s.
While NPR noted that Russia had a fleet of icebreakers, the report left out a key word to describe many of the newer vessels: They are nuclear-powered.
Russia has three nuclear icebreakers, with plans for another eight in production.
Each operates at 80,000 maximum horsepower and uses two RITM-200 light-water reactors. They have infinitely more power than any other icebreaker on earth.
For example, the Arktika can continuously break through 9 feet of level sea ice at steady speeds of 1.5 to 2 knots, according to the U.S. Naval Institute. She is pictured in a Google image below.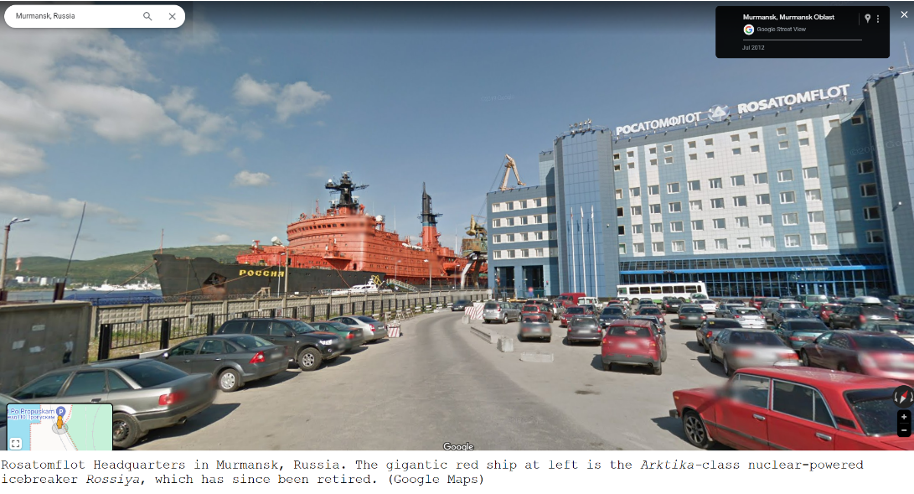 Ships that follow seamlessly pass through the ice walls created by these nuclear "torpedoes" that crack through walls of ice to the north. Russia has planned to build dozens of additional ships – from oil tankers to military vessels – with an eye on regional dominance of the Arctic economy.
It's not just about moving oil to China.
The ability to boost exploration in the Arctic, where an untold fortune of minerals and oil exists, will strengthen Russia's resolve to the north.
How does this impact the United States and other nations with claims to the north?
Especially if they're woefully unprepared.
The U.S. is Desperate
The Arctic has been a blind spot to most Western nations for decades.
Russia has found a backdoor to commerce with Eastern nations, reduced ties, and dramatically increased its military presence from atop the world. Given its nuclear capabilities, this should concern virtually any nation in the northern hemisphere.
Russia is currently developing a breakthrough nuclear sub called "Project 10510."
This nuclear ship would be 50 meters wide and could break up ice up to 14 feet in thickness at the 1.5 to 2 knot speed. In addition, the icebreaker could sail for eight months and maintain a lifecycle of 40 years, according to Naval News.
This could give Russia an even greater edge to the north.
And its ties to China only further deepen these concerns as Russian ships slip through the Bering Strait that separates the United States and Russia.
China desperately wants to be an Arctic nation – even declaring itself one in conferences and attempting to buy land in Finland. (more on that here)
As Russia develops the Arctic, it must rely on Chinese technologies for construction and engineering. But China will benefit from additional research as well – with the nation announcing its own efforts to build nuclear icebreakers in 2018.
Such technology can also grant China and its navy access to the north, where the military and government have reportedly started clandestine spying operations on the West.
The United States needs to catch up on the production of similar technology.
But the U.S. Coast Guard has only a handful of heavy icebreakers.
Only one heavy icebreaker is operational, and it was commissioned in 1976.
It's no surprise that we're still relying on old technologies. The U.S. – still operating on antiquated port laws like the Jones Act – has driven our ship production numbers lower each decade.
Even worse, the operational one – the USCGC Polar Star – has had fires, breakdowns, failed inspections and dealt with mechanical issues due to its age.
Things are so bad that in 2022, the U.S. Coast Guard requested $125 million to buy a commercially operating icebreaker instead of waiting for the government to update the fleet.
In a statement, the Coast Guard said that the acquisition would help them increase their Arctic presence until Congress finally funded a new fleet (good thing we're sending all of this money to Ukraine instead.)
One would think it's the U.S. Navy's job to patrol the oceans (even the Arctic one).
But in testimony before Congress in April, Chief Of Naval Operations Mike Gilday and Secretary of the Navy Carlos Del Toro punted the responsibility to the Coast Guard.
All the while, China has conducted 33 Arctic operations in 20 years. They are building their ice-breaking fleet and will produce even heavier (nuclear) breakers.
There is hope.
The upcoming 2023-2024 Defense Authorization Act is coming down the pipeline – and two companies with the capacity to expand the U.S. fleet have been lobbying heavily in recent months.
This weekend, I'll discuss a major reason why we're still far behind on this critical security technology and the two companies you'll want to monitor as the Arctic tensions heat up.
There's a lot of money to be made on the Roof of the World.
And I'm not talking just about the minerals that await treasure hunters.
Stay positive,
Garrett Baldwin
Secretary of Finance
Here Are 10 "One-Click" Ways to Earn 10% or Better on Your Money Every Quarter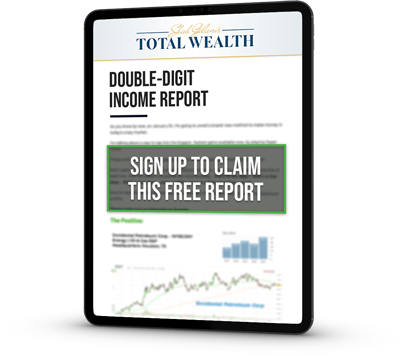 Appreciation is great, but it's possible to get even more out of the shares you own. A lot more: you can easily beat inflation and collect regular income to spare. There are no complicated trades to put on, no high-level options clearances necessary. In fact, you can do this with a couple of mouse clicks – passive income redefined. Click here for the report…