Dear Fellow Expat,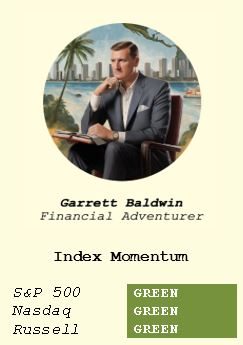 Fifteen seconds after I awoke this morning, these lyrics randomly passed through my mind.
I am umbilically connected to the temperate zone
It brought me life; it brought me love I never have outgrown
Brought me one too many nights along that Biscayne shore
And one too many mornings in the Grove drugstore.
Penned by songwriter lifestyle musician Jimmy Buffett, I intended to name the subject line of today's piece after the song containing them.
"Everybody's Got a Cousin in Miami…"
I had penned a much different article Friday…
But not long after waking up today… I learned that Buffett passed away last night at 76 years old. Today's subject line is still in Buffett's honor (as was this one a week ago).
It's a sad day for millions worldwide who loved his music. And millions of others who grew up to love Buffett because he was among their parents' favorite musicians…
Buffett has been one of my favorite musicians for 30 years – and it runs deep in my and my wife's families.
I still own the hard copy CDs of Buffett's Boats, Beaches, Bars & Ballads boxset. In 1991, my mother's Chrysler Lebaron prominently featured a tape deck of Songs You Know by Heart (His greatest hits album).
My favorite song as a kid was Pencil Thin Mustache.
As a kid, its lyrics were hilarious. Now, I find them nostalgic and fitting.
Buffett is one of the greatest storytelling songwriters in history. Avoid the overplayed mainstream hits like "Margaritaville" or "Cheeseburger in Paradise…"
Drill down into the stories in songs like…
Tryin' to Reason with Hurricane Season; The Wino and I Know; Cuban Crime of Passion; Lone Palm; Migration; Mañana; Havaña Daydreamin'; The Weather Is Here, Wish You Were Beautiful, and the great My Head Hurts, My Feet Stink and I Don't Love Jesus.
Of course, for my money, his greatest hits ballad, "He Went to Paris," was his best writing. This song will bring strong men to tears.
But then there was what Buffett embodied. A beach bum who built an empire around a sentiment everyone could touch if they just allowed themselves to do so.
He embodied a laid-back, tropical, and carefree lifestyle associated with beach culture and enjoying life's simple pleasures.
He brought joy and escapism – producing constant daydreams of a life away from all the noise – living in a paradise (in ¾ time) untouched and unfaded by an erratic civilization around us.
Some kids stand before an elementary class and say, "When I grow up, I want to be President."
Great… they want to be another politician.
We should celebrate – and maybe even follow – any kid who says…
"When I grow up, I want to be like Jimmy Buffett."
Monday, September 4, 2023
Event: The U.S. markets are closed for Labor Day. But commentators will likely spend the day speculating on Chinese manufacturing numbers that arrive late Monday evening.
Republic Speak: The BRICS chatter for a dollar replacement has largely underwhelmed. China's economic system is on the ropes – and – I remind you again that the dollar is not the problem. The dollar was on one side of 88% of all foreign exchange trades in 2022. And the dollar is used in about 96% of all Western Hemisphere trade invoicing. The problems are the never-ending financialization of the U.S. (and global) economy… and the long-duration bond markets (10-year to 30-year bonds) that no one wants to own in an era of persistent inflation. On the former, Americans can barely comprehend "trillions of dollars." Give it a decade or two when the word "quadrillion" starts popping up.
Tuesday, September 5, 2023
Event: Shareholders of Digital World Acquisition (DWAC) will decide whether to extend the SPAC deal to merge with Donald Trump's media company TMTG. They have until September 8 to decide; otherwise, it would be terminated. This stock once traded at $175 per share. It's now trading at a whopping $16.51.
Republic Speak: The SPAC craze took a great idea (bringing venture capital forward to the public) and turned it into a monster of speculation. That's the basic history of bringing new financial instruments to the public markets. (Remember, mortgage-backed securities were once a great idea, but they effectively ended U.S. capitalism in 2008.)
The DWAC-Trump deal is – on its surface – one of the most insane examples of deal making gone awry. This is largely an emotional game of the Prisoner's dilemma. If people vote "No" on this deal, a stock worth $16.50 and warrants worth $4.02 declines to $10.24 and worthless, respectively.
So, it's financially irrational to vote No on this deal, even if Trump can back out of it come September 30. And if the merger does happen, Trump could wind up losing all his investments and registered businesses in New York while facing four different criminal prosecutions. This is a total clown show.
Wednesday, September 6, 2023
Event: GameStop (GME) reports earnings – and the stock has moved by 10% or more after the numbers in 3 of the last 4 quarters.
Republic Speak: GameStop is a company that sells video games. GameStop stock is a financial security, proving the stock market is a video game, too. GameStop stock continues to trade on wild swings with massive speculation – even though the company is unprofitable, has a gigantic short interest, and is worth no more than $5.00 based on the book- or cash-per-share.
When global liquidity expands… GME stocks rise. When liquidity contracts, GME falls. Is it a coincidence that GME stock jumped more than 10% in a week since China started boosting liquidity?
Thursday, September 7, 2023
Event: New York Fed Bank President and Vice Chair of the Fed Open Market Committee John Williams speaks on a panel at the Bloomberg Market Forum. There are also three more speeches by other Fed Bank presidents.
Republic Speak: The days with zero economic data of relevance are the most dangerous when members of the Federal Reserve, not named Jerome Powell, open their mouths.
You'll get opinions on interest rates, the economy, and policy from a handful of people auditioning for future roles at private equity firms or university Presidential seats.
The only person we should listen to on Thursday is John Williams – who will likely keep his lips tight on policy heading into the September Fed meeting. But if Atlanta's Raphael Bostic starts getting ambitious about his future on the Fed, beware his ability to fuel surprise rallies or declines despite his lacking a vote on the committee overseeing monetary policy.
Friday, September 8, 2023
Event: San Francisco Fed President Mary Daly speaks; Kroger (KR) reports earnings.
Republic Speak: Someone needs to interrupt Mary Daly's speech with a blowhorn – and question how the San Francisco Federal Reserve is so persistently bad at measuring financial risk in the banking system. Daly's the one who fell asleep at the wheel and missed the systemic risk at SVB Financial (SVB). I don't understand how or why they let her speak any more. She's proven her incompetence. The only problem is that we have no clue what economist they'll throw at us next out of the University of California-Berkeley.
On the Kroger side, this is a big one. We're still looking for answers on food inflation across the country. We'll likely see big revenue numbers out of Kroger, but there are still many challenges within the food supply chain. In my opinion, Kroger is the only grocery chain that can challenge Walmart's dominance in the future. The grocery retail market will increase by about 6% this year, according to research firm Winsight.
The sector remains a damn good place to invest for the long term on an irreversible trend in food demand. I want to buy into Kroger anytime the stock falls into the low $40s.
And No One Talks About It No More…
One last line on Jimmy Buffett.
If you are a media or general history student, you'd appreciate the twist in the final stanza of Cuban Crime Of Passion.
It spoke to (and even predicted) the comedy of America's 24-hour news cycle long before it existed. Listen for yourself.
If you have a favorite Buffett song or a memory you'd like to share, please do so in the comment section.
Stay positive,
Garrett Baldwin
Secretary of Finance
Here Are 10 "One-Click" Ways to Earn 10% or Better on Your Money Every Quarter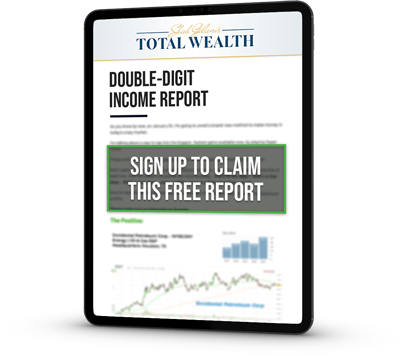 Appreciation is great, but it's possible to get even more out of the shares you own. A lot more: you can easily beat inflation and collect regular income to spare. There are no complicated trades to put on, no high-level options clearances necessary. In fact, you can do this with a couple of mouse clicks – passive income redefined. Click here for the report…