Dear Fellow Expat: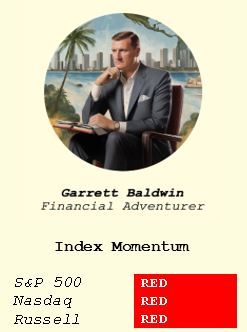 Greetings from Doc's Beach House.
This iconic dive bar sits 50 yards from the Gulf of Mexico. Hurricane Ian wiped out the entire first Floor of the establishment but was kind enough to leave the Chicago Cubs-themed sports bar on the second Floor untouched.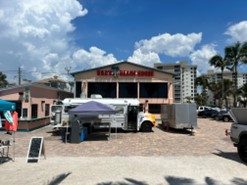 From this beach ($10.33 for a chair, $20.66 for an umbrella), you'll find undisturbed views of Sanibel Island to the north and the high rises of Naples to the south. With Florida's "Season" now approaching, I felt it necessary to make a Friday trip.
A lot of other locals shared the same sentiment. Get here before the Canadians and the Western snowbirds arrive.
The hurricane remains a touchy subject. Construction is slow. Supply chains are still under pressure for key parts. And with the recent Hurricane Idalia, fortunately, veering off to the west and growing worries about Category 5 Hurricane Lee now raging out in the Atlantic, there are plenty of reasons why we want to take in the beach now.
Many people have asked me if I'm worried about another Hurricane in the Florida Republic. To be honest, I'm not. They did such a good job rebuilding the Florida Power & Light Electrical grid after Ian (two weeks, thank you very much) that I expect our lights will stay on.
But there is something that I do worry about, my friends.
And that's an electrical problem brewing to the north.
Let me explain.
Live from the 19th Floor
Imagine for a moment you work on the 19th Floor of a high-rise downtown office building. It's not a recent construction but a throwback to the 1980s commercial real estate boom.
It's lunchtime, and you walk down the office hall to the elevator. A group of people is gathering and waiting.
There's Matt, a 6'8, 280-pound man who works in accounting.
There's a group of school kids visiting their parents at work.
There's an Uber Eats delivery bicyclist who's been out in the heat for hours.
And there's a coworker carrying her baby.
Everyone boards the elevator. It's very tight. The children are loud. You turn around to let one more person in and find yourself looking directly at Matt's chest.
The elevator starts to descend. Floor 18… 17… 16… 15… 14…
And then… it halts.
People laugh nervously at first, but the elevator isn't moving. One child asks, "What's going on?"
The baby starts to cry.
The lights flicker off, and a red backup light now shines overhead. You twist your body as everyone starts to grumble.
You click the Emergency Call button… But nothing happens.
No one is calling back. The emergency buttons don't ring.
And right before you start to panic, your nose tells you that the Uber Bicyclist didn't put on deodorant that morning.
Diary of a Crisis
In 2009, I joined the first graduating cohort of the Johns Hopkins University Global Security Studies program at its School of Government in Washington D.C.
The program focused on three specific security concerns: Economic, Energy/Environmental, and Military.
I was among the few who studied economic security. But, about half of my courses paralleled energy security issues.
Given that our thesis needed to center on major security issues and potential remedies to address them, it was important for students to understand future security themes for the United States.
A professor provided me with a copy of a report written by the Rand Corporation outlining the most severe threats to the American way of life.
The usual suspects emerged: Terrorist attacks, extreme weather events, cyberattacks, bioweapons, oil spills, and industrial accidents.
But at the very top of the list… Threat number one…
A pandemic.
A pandemic was – by far – the most cited and concerning source of death, economic upheaval, human displacement, supply chain dysfunction, and illness compared to other major events.
Looking back, I'd argue that the study – and its literature review – predicted the severe distress of the COVID-19 and post-COVID years.
But out of all the various disasters studied, one omission bothered me. It bothered me so much that it became a source of obsession during one course on environmental security.
Meanwhile, On Floor 15
How do you handle confined spaces?
I hate them.
So, imagine it's been 45 minutes, and no one has come to help get you out of the elevator. The baby is sobbing. The children are whining. Mr. Uber Bicyclist needs a shower.
And Big Matt can't stretch out his legs.
How about two hours?
How about eight?
How much longer until help arrives?
You don't know that there has been a power outage since your phone can't get a signal in this elevator shaft that's now in the running for "tomb."
Now, most elevators should have emergency power support. They should have an Automatic Emergency Lowering System that allows you to go to the next Floor and exit in an emergency.
But not in this building. Not with that cost-cutting landlord.
So, there you wait… and sweat… and wait… and watch as your phone battery dwindles as it searches for a signal.
You can't reach your family. You can't reach 911.
All you can do is smell what's around you.
In the Event of a Power Failure
What you don't know and your coworkers outside of the elevator do is that something is severely wrong. All the lights are off in the building. The same goes for the building across the street.
And the gas station down the block. And the rows and rows of buildings stretching to the horizon.
As word-of-mouth spreads, many suspect a large cybersecurity attack or an EMP event has taken power offline.
But it's worse than that.
It's what I worried about at Hopkins: human error.
You see, the U.S. energy grid is under severe strain. The massive outage in Texas two winters ago was a warning of what happens when there is too much demand and not enough supply.
But this event isn't a rolling blackout or a lightning bolt striking a transponder. This is something different.
Yes, the power went out. But it can't be fixed.
The problem?
There's a supply chain shortage in a critical component, one that's likely the most important in the electrical supply chain.
Blackouts and Shenanigans
God forbid, it takes city workers three days to get to you. But if hospital power systems are down and elevators are out in residential buildings with many elderly residents, bad news.
You're going to get to know Matt and the Uber bicyclist well.
There is no economy without electricity. In South Africa, where corruption, mismanagement, and infrastructure problems have caused daily blackouts for months now, the economy is predicted to contract by at least 3.2% this year alone, with no hope for growth for at least a year. No electricity, no economy. Society is on its knees there.
It might be fun after one night in a major city without power. People get out their candles. The bars give away their beer, and patrons sing to acoustic guitars.
But three days? If you emerge from that elevator after three days, prepare to see humanity at its worst. Food would spoil. Just-in-time supply chains would break. Expect looting…
Watch as people carry stolen televisions down the street with nowhere to plug them in. Grocery stores can't take delivery of most perishable goods. It's not a bright situation.
What about a week? Or worse…
You think that I'm trying to scare you. But I'm not.
I'm simply speaking to the vulnerability of our electrical grid, which is severely outdated. But it wouldn't even take a cyberattack or an EMP to take it down.
All it would take is a lack of parts.
If you want to understand what threatens an industry, you must read trade magazines. You will find the real risks and opportunities commonly discussed by executives in the sector linked to that trade publication.
Which is why my eyes POPPED when I read an article this month in Transformers Magazine.
That's right. It's a magazine entirely dedicated to executives and workers in the electrical transmission industry.
Right now, there is a stunning shortage of electrical transformers, the electrical apparatus that manipulate voltage levels as they pass through a power grid. These are the tools that make the entire grid stable.
But, this article warned of supply chain problems linked to regulation and general shortages.
Here's the key part of the article [emphasis mine]:
"Power companies have issued warnings about dangerous transformer shortages in the USA.
US power companies are raising the alarm about a potential energy crisis. Transformers are crucial to the grid because they change the voltage of electricity to make it usable. However, energy trade groups warn that the nation can't count on aging transformers to keep the power on. Also, if transformers blow during storms, it could take more than a year for power companies to get new ones due to the supply chain shortage. ERMCO estimates that in case a storm blows enough transformers in a city with no reserves, it could take several weeks to bring the lights back on.
Mike Partin, president and CEO of the Sequatchie Valley Electric Cooperative, says there is a supply chain problem putting the USA at risk because it could take 52 to 56 weeks to get new transformers instead of the typical 4-week turnaround from manufacturers."
Are you seeing it? Do you see the risk that I see?
Because the U.S. government is largely ignoring it.
At a time when states like California and the federal government are pushing for the electrification of everything – from cars to power tools – it is also putting new regulations in place that force greater costs and energy efficiencies.
The U.S. Department of Energy is largely mandating that manufacturers use a specific type of steel called grain-oriented electrical steel (GOES) to reduce emissions over the next 30 years.
Here's the problem – virtually all the GOES manufacturers are outside of the United States.
That said, it's full steam ahead on electrification – results be damned.
Texas' ERCOT is hollering on Twitter, err, I mean "X," about the need for natural gas. They point out that renewables like solar and wind don't work at night or when the wind is still. But no one seems to care, especially Department of Energy honcho Jennifer Granholm, America's No. 1 green energy insider trader. The Department of Energy is forcing the U.S. military to go electricity. Something is eventually going to give.
A grid failure will be the fault of the U.S. government.
Of course, you know they'll just blame the utility companies.
How to Play This
As always, we don't address a problem until it punches us in the face. I fully expect that we'll have another grid issue like Texas in the next few years. Maybe then it will be a wake-up call.
There are only a handful of public companies that make the necessary transformers that we will need moving forward.
They include General Electric (GE), ABB (ABB), Siemens, and Eaton Corporation (ETN). We'll look for ways to invest and trade into the renewable grid and address this security problem.
For now, consider taking the stairs.
Stay positive,
Garrett Baldwin
Secretary of Finance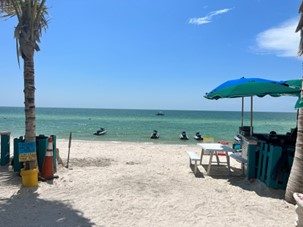 Here Are 10 "One-Click" Ways to Earn 10% or Better on Your Money Every Quarter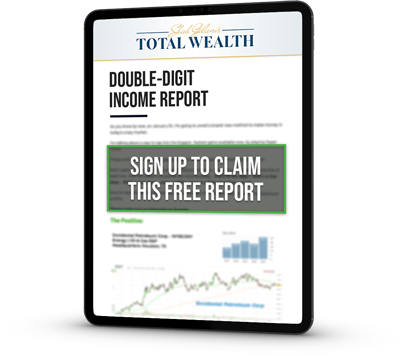 Appreciation is great, but it's possible to get even more out of the shares you own. A lot more: you can easily beat inflation and collect regular income to spare. There are no complicated trades to put on, no high-level options clearances necessary. In fact, you can do this with a couple of mouse clicks – passive income redefined. Click here for the report…