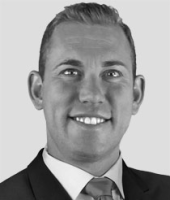 Andrew Keene
Efforts to get COVID-19 vaccines into Americans' arms are picking up the pace.
The CDC says around 1.5 million people, give or take, are getting the shot every day, and the number of people vaccinated every day has outpaced the number of newly infected people for a few weeks now.
That means the end of the pandemic is on the way, and that means recovery is picking up steam, too.
And strange as it might sound, that recovery has actually been the cause of a lot of the chop we've seen in the markets this past week.
Interest rates are creeping up, even though they're still near rock-bottom if you look at any kind of long-term picture. That's been good for financial stocks. Money's been rotating out of the stocks that performed so well during the pandemic and into stocks that should do well in a growing, waking-up economy, like energy - we've talked about oil demand here before - the industrials, and cyclicals.
With such a huge shift in the way capital's working right now, it can be tough to tell where the hyped-up froth is, where the stocks to sell are, and most importantly, where the best buys are.
Let's dive in - I've got a great recovery play lined up...