Start Investing Today:
How to Buy Your First Stock and Start Building Real Wealth in 24 Hours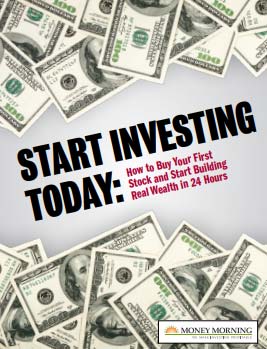 This just-released e-book is the best place to start for anyone new to investing.
"Start Investing Today"is the ONLY guide that handles the REALITY of making money.
We're talking about proven ways to profit - not abstract principles or dated information.
Search for investing help online, and you'll probably find a list of "safe" ETFs or mutual funds.
That works - if you want to wait decades for your money to grow...
Or you might find the world's least helpful piece of advice: "Start early."
That works - if you have an actual time machine...
Our beginner's quick start guide, on the other hand, doesn't waste your time. It gives DEFINITIVE answers on:
The best brokers
The best strategies
The best portfolio
How to find the BEST stocks
The strategies and steps outlined in this guide have been used for years by our team of investing experts.
Their insight has helped deliver market-crushing year-over-year profits of 333%... 556%... or even 825%.
Tell Us Where to Send Your E-Book:
By submitting your email address you will receive a free subscription to Money Morning, as well as occasional special offers from Money Map Press and our affiliates. You can unsubscribe at any time and we encourage you to read more about our privacy policy.
Why THIS E-Book?
My name is Mike Ward.
I'm the publisher of Money Morning, the world-renowned publication with one simple goal: To make investing profitable.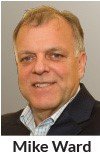 I've made it my life's work to bring together the greatest investors in the world and share their expertise with folks like you.
After years of uncovering the best places to invest, I've discovered one simple truth:
Getting rich from the market is not just reserved for the average hedge fund manager on Wall Street.
They don't have a "secret sauce."
They don't have a crystal ball for the markets.
And they're CERTAINLY not any smarter than we are.
In fact, I recently thought to myself, "If Money Morning wrote a book on everything you need to know to beat the markets, how easywould it be? How many people could we help?"
Just like that, "Start Investing Today"was born.
And I've gotta tell you... when it comes to beating the markets 14 times over, 23 times over, or even 127 times over...
It's Never Been Easier
It's all laid out step by step in easy-to-follow chapters:
Chapter 1: Why It's Never Too Late to Start Investing
Chapter 2: How to Open a Brokerage Account and Start Investing in Under 30 Minutes
Chapter 3: How to Buy and Sell Stocks (a Step-by-Step Guide)
Chapter 4: How to Maximize Returns on Every Single Stock You Buy with Three Simple Tools
Chapter 5: How to Build a Bulletproof Portfolio with the 50-40-10 Strategy
Chapter 6: How to Find Only the Most Valuable Stocks (and Never Pay "Full Price" Again)
Chapter 7: How to Avoid the Most Dangerous Myth in the Markets Today
Chapter 8: How to Leverage Dividends and Collect "Free" Money
Pick up an average "beginner's" guide, and you'll be flooded with confusing jargon that'll have you running to the Internet for definitions.
Worse yet, all their advice assumes you already have a lifetime's worth of savings in the bank.
This Guide Is Perfect
For Anyone with Minimal Experience or Money
Here's what you can find, in plain English, in our beginner's investing guide:
Why stocks are actually less risky than you've been led to believe... pg. 4
Why "risk-free" government bonds can cost you a lot more money than they make you... pg. 4
The three hidden risks that are likely costing you money RIGHT NOW... pg. 5
A clear, "all questions answered" guide to setting up your brokerage account and buying your first stock. It's as easy as one-two-three... pg. 9
The four simple terms everyone needs to know for safer, faster, and more profitable investing... pg. 12
Eight stock buying techniques that give you "insurance" against market drops... pg. 13
The secret to buying stocks with the confidence and control of any "professional" on Wall Street... pg. 15
Easy-to-follow examples of how to maximize your profit potential by lowering your up-front cost and selling at the best possible price... pg. 16
The little-known way to remove emotion from investing, so every decision you make is as profitable as possible... pg. 20
But we didn't stop there.
This Guide Contains Time-Tested Strategies
That You Can't Find Anywhere Else
In fact, "Start Investing Today" is backed by our experts' 400 years of combined experience.

Here are some of the tactics these experts rely on every single day:
One number that can help you minimize your risk without sacrificing potential returns... pg. 21
The perfect strategy for spotting stocks "on the rebound" and avoiding stocks that are still falling... pg. 22
What the food pyramid - yes, the one from school - can tell you about the perfect portfolio to balance market-crushing profits and money-saving security... pg. 27
The most dangerous myth in the markets today - and the simple way to make sure you aren't already falling victim to it... pg. 36
The powerful investing tool that accounts for 90% of total stock market returns over time... pg. 40
The best way to turn your investment income into a potential $821,472.88 windfall... pg. 41
And here's the best part - ALL of this can be done easily in your spare time. Forget about hours of research or days wasted sitting in front of a computer.
Picking the Best Stocks
Can Be Easy, Simple, and Fast
You'll get...
The three kinds of stocks you need in every portfolio - and exactly how much of each you should own... pg. 28
The six industries that will ALWAYS be in high demand, no matter what's going on with the economy, in politics, or on Wall Street... pg. 30
The names of three companies whose services are so essential they've beaten the markets by as much as 52%, 117%, and even 204% over the past eight years... pg. 31
The four most important metrics to use when screening stocks... pg. 32
We've taken the most valuable, most need-to-know, and most profitable investing know-how and left everything else on the cutting room floor. The result:
An easy-to-read guide that can turn a total novice into a moneymaking MACHINE.
Tell Us Where to Send Your E-Book:
By submitting your email address you will receive a free subscription to Money Morning, as well as occasional special offers from Money Map Press and our affiliates. You can unsubscribe at any time and we encourage you to read more about our privacy policy.
And this guide is just the beginning of what you get. With this beginner's guide to investing, you also get...
A Bonus Lifetime Membership to Money Morning
With your edition of this e-book, you'll IMMEDIATELY be able take advantage of our Money Morning recommendations, every day, for the rest of your life.
Again - there's NO extra cost for this membership. You'll NEVER be charged for it. But I want you to have it so that you can start putting "Start Investing Today"to work for you.
What Is Money Morning?
Money Morning
is your best daily financial resource for making investing profitable.
Since 2010, the peak gains of Money Morning recommendations have beaten the S&P 500 by 242% on average. Money Morning lets you enjoy all the benefits of a well-researched, carefully chosen portfolio with none of the time-consuming work.
This is your one-stop shop for market news and recommendations. No agenda. No spin. Just profit opportunities.
Starting TODAY, you could get everything you need to hit "fast-forward" on DECADES of retirement savings.
Imagine: doubling your money on a weekly basis...
... waking up every morning to recommendations from REAL market experts and economists...
... always knowing EXACTLY how to play the latest market developments...
... and being able to know whether a stock is a buy with just a click of a button.
Now, you might be asking yourself...
"What's the Angle?"
Here's the deal...
At Money Morning, we share moneymaking recommendations and strategies every single day. But if our readers don't have the knowledge to follow along or the confidence to make a trade, we can't help a soul.
So we're giving this book away so that more folks - folks just like you - can join us.
But there's one thing I have to warn you about...
Time Is Short
Putting this offer together has been a controversial topic at Money Morning.
The competition is asking between $20 and $50 for guides like this. And when you throw in the success of our weekly recommendations... well, we could ask $2,000 for everything you're getting.
So I urge you to claim your e-book right now.
The last thing you want is to come back tomorrow and find out that this incredible opportunity is gone for good.
We won't be able to give this e-book away forever, so do yourself a favor and click the button below to make your first investment a great one.
You'll instantly secure your copy as well as the lifetime membership mentioned above.
Tell Us Where to Send Your E-Book:
By submitting your email address you will receive a free subscription to Money Morning, as well as occasional special offers from Money Map Press and our affiliates. You can unsubscribe at any time and we encourage you to read more about our privacy policy.
Finally, I want to personally thank you for taking the time to read this message. I'm sure "Start Investing Today"will change your life, and I look forward to hearing from you.
Sincerely,
Mike Ward
Publisher, Money Morning
P.S. I get it - it's a long read. If you've skipped to the end, I don't blame you. Here's the short version:
You're getting the beginner's e-book "Start Investing Today: How to Buy Your First Stock and Start Building Real Wealth in 24 Hours." This is like hitting "fast-forward" on DECADES of market trial and error, so you can instantly start profiting.
The e-book has an easy-to-follow layout, explains the basics in plain English, and includes specific investing insight you won't find anywhere else.
You're also getting a LIFETIME free membership to the only daily investing resource you need, Money Morning.
This offer could go away at any time, so your safest bet is to claim your copy now - or risk forever losing access to your ultimate retirement resource.
Tell Us Where to Send Your E-Book:
By submitting your email address you will receive a free subscription to Money Morning, as well as occasional special offers from Money Map Press and our affiliates. You can unsubscribe at any time and we encourage you to read more about our privacy policy.