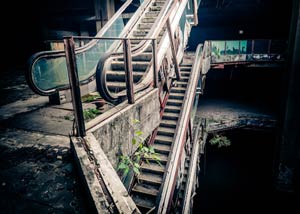 The American mall was once a cultural mainstay that doubled as a premier shopping destination as well as a go-to hangout spot. Now it's verging on extinction.

Think about it. When was the last time you shopped at a mall?

Now compare that to the last time you shopped online.

It's expected that 25% of America's 1,200 malls will close within the decade. That's no surprise given mall visits dropped a staggering 51% in three short years, from 35 million in 2010 to 17 million in 2013. That number's forecast to drop to 10 million this year.

That'll hammer retailers dependent on mall floor space to push their products. Of course, with most Americans - about 80%, according to a 2016 study by Pew Research - opting to shop online these days, brick-and-mortar retail was already on notice.

So what's to become of these failing retailers, with foot space and traffic rapidly shrinking?

Our Capital Wave Strategist Shah Gilani has his eye on several retailers struggling to tread water. He has the numbers to prove their collapse is just around the corner, but that's not all.

Eventually these loser retailers will sink - and savvy investors will record a pretty profit on their inevitable descent. You don't have to pore over charts, financials, or other metrics to identify the best bets here. Shah's already done the work. He's culled four stocks poised to deliver profits and - better yet - he's revealing how to play these doomed retailers for maximum gains in this special report.

To find out what retail companies are in his crosshairs, why they're failing, and how to profitably play their demise, enter your email address below to access this report immediately...