Dividend stocks are among the best investments on the market. They let you profit from both share-price increases and passive cash payments.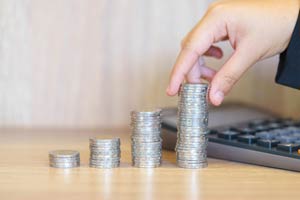 But dividend investing isn't as easy as picking any high-yield stock and sitting back to watch your money grow. Just buying stocks that pay a dividend can't amass enough wealth to get you that second home or retirement property you want.

And certainly not enough to help you take care of your family with ease.

Think of your grandkids' college savings plan...

College costs anywhere from $80,000 - $120,000, depending on where you live. And that's just for one child's typical four-year education.

You won't get there by simply investing in dividend stocks and holding them - unless you have over 20 years to wait.

You need something better - a way to increase your returns now.

That's why investors often reinvest cash rewards with dividend reinvestment plans, or DRIPs.

DRIPs allow investors to take their dividend payments from a stock and reinvest those payments back into additional shares of the stock. Taking that passive income and putting it back into your investment can significantly increase your profits.

For example, if you invested $10,000 in McDonald's stock on Jan. 1, 1995, you would have a profit of $103,040 without reinvesting your dividends.

But if you had reinvested them over that period, you would have a profit of $136,824.

In other words, you would make $33,784 more with a DRIP than without one.

But here's the thing...

...you could still be getting better returns than that.

In fact, your returns could be 200%, 300%, or even 400% higher.

Here's how...