Editor's Note: A steady, double-digit income stream is a great catch for any investor – but Keith has found an opportunity that's even more powerful. The special class of investment he's uncovered can dramatically outperform the very stocks they target and even include his "desert island fund" that could deliver $68,870 a year for the average investor. Click here to find out how you can secure lasting retirement income for your family.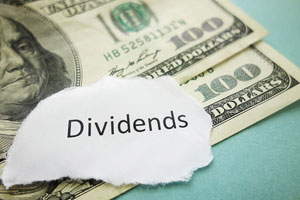 Many people are surprised to learn that dividend income and reinvestment can account for up to 90% of total stock market returns over time, according to Guinness Atkinson Funds.
You heard that right: 90%.
Imagine you invested $100 in the S&P 500 at the end of 1940. Without dividends, you would have ended up with $12,000 by 2012.
But if you reinvested your dividends, you would instead have ended up with $174,000. That's 14.5 times more.
Even if you choose not to reinvest – if you want income right now, quarter after quarter or even month after month – dividends can be extremely powerful income generators to secure your "second salary."
Since 2000, companies like McDonald's Corp. (NYSE: MCD), for example, have raised their payouts by more than 1,650%, thrashing inflation growth and enriching investors from a growing income stream.
As you can see, dividends can work magic when it comes to reaching your financial goals and a safe retirement. In bull markets like today's, they move up alongside companies' earnings. They're also fantastic insurance against market corrections, and they're indispensable when the Federal Reserve is punishing savers and income investors by keeping interest rates near zero.
MASSIVE BET: Keith is wagering nearly $10 million that average gains of 313% PER WEEK (including partial and full closeouts) are possible whenever this pattern appears in regular stocks. Click here for more details…
Especially enticing are dividend-paying stocks with yields in the double digits (10%+). These are rare: Of the more than 3,000 stocks listed on the Nasdaq, only about 6% have double-digit dividend yields. But that still leaves more than 200 to choose from on the Nasdaq alone.
Many income investors narrow the field down further by simply going for the stocks with the highest dividend yield. But a company's ability to keep paying and increasing their dividend is just as important in the long term, if not more.
That's why we've assembled this list of my favorite double-digit dividend payers that have the business models that can sustain high yields for years to come.
Let's take a look.
1. Pimco Strategic Income Fund Inc. (NYSE: RCS)
Had you opened a position in Pimco Strategic Income Fund (NYSE: RCS) with only $10,000 just over eight years ago – in January 2009 – and reinvested along the way, you'd now be sitting on $21,964.64 and an annualized return of more than 10.3%. That's even through the financial crisis and "slowcovery" that drove more than a handful of other funds into the ground.
I've called RCS my favorite "money machine" in the past because of its ability to deliver double-digit yields to investors on a monthly – not quarterly – basis. Reinvested, those monthly payouts compound a lot faster than quarterly ones, especially with a starting yield that's as high as RCS offers.
The uninterrupted monthly income stream is a major reason the fund's returned just about 25% to subscribers who followed along with my recommendation a little over a year ago in my premium service Money Map Report.
This play and others like it show no signs of slowing down.
There are a few reasons why.
First, RCS is up 12% over the last year and is trading at a 20.11% premium to net asset value (NAV), according to Morningstar. That premium would turn off most investors at first glance. But consider the fact that the NAV is trending downward after peaking in August of last year (at 33.89%), and you'll see our buying opportunity. In and of itself, this makes RCS attractive simply because it has traded at a 19.54% premium to NAV for the past four years on average.
Second, RCS is very stable. Its beta is only 0.47, meaning that it's roughly 53% less volatile than the broader markets, which carry a beta of 1.0.
Much of that stability comes from the fact that RCS maintains a leverage-adjusted average maturity of 2.74 years versus typical bond funds that reflect an average maturity of five to seven years. That makes the fund less volatile than comparable income alternatives when rates rise.
Third, RCS offers a mouth-watering yield of approximately 10.26% at the moment. Over time this really adds up and can significantly boost your returns.
If there is a drawback, it's that RCS has roughly 80% of its holdings in mortgage-backed assets, so there is some "repayment" risk.
If you've never heard the term before, that means that borrowers can repay their obligations earlier than the stated maturity, so fund managers owning those underlying instruments with repayment risk may have to scramble to replace the cash flow.
I'm not especially worried about this at the moment, however. Repayment risk is a much bigger deal when rates are falling, because falling rates make it hard to replace cash flow, because they may not be able to redeploy the capital at high enough rates to match the existing cash flow requirements.
Rising rates are a different story, because higher rates generally offer increased cash flow. Either way, portfolio managers Daniel Ivascyn and Daniel Hyman appear to have things under control.
RCS has never missed a single monthly payment, even during the depths of the 2008-2009 financial crisis, and doesn't look likely to do so in the near future.
2. Oxford Lane Capital Corp. (Nasdaq: OXLC)
Most investors are unfamiliar with CLOs, but they have a number of advantages over bonds and other sources of yield that allow Oxford Lane to carry a dividend yield of 22.12%.Oxford Lane Capital Corp. (Nasdaq: OXLC) is a mutual fund that invests in collateralized loan obligations (CLOs), which are collections of secured corporate loans underwritten by banks.
First, unlike the sub-prime mortgage-based collateralized debt obligations (CDOs) that caused so many problems during the 2008 financial crash, CLOs fared well even as the markets collapsed around them. In fact, investors who kept their CLO investments during the crash or bought in at the bottom saw annual returns of up to 20%.
Second, unlike high-yield bonds, CLOs contain corporate loans underwritten by banks and secured by corporate assets, resulting in much lower credit losses.
Third, the banks that create CLOs can borrow at very low interest rates, allowing them to leverage their CLOs and boosting their return-on-equity to 20% to 30%, much higher than any bond.
And to make the quarterly dividend payments even more secure, Oxford Lane's policy is to pay its dividend only from actual cash flow from the fund's investment portfolio, meaning that the fund itself is not overly leveraged.
This strategy has been paying off handsomely for Oxford Lane, with the company more than doubling its net investment income in FY 2015, reaching $21,274,028 compared to $10,087,821 the year before. This has translated into steady annual dividends that have grown 37% over the six years since the company's founding.
3. Arlington Asset Investment Corp. (NYSE: AI)
Headquartered in Arlington, Va., Arlington Asset Investment Corp. (NYSE: AI) is a publicly traded investment firm that mixes the stability of muni investing with the high income rewards of BDCs.
I've been on the record for months recommending AI as a promising income play with its juicy 16.28% yield. And recently, some of the brightest minds in finance have shown that they agree.
Looking at the long list of famous names that upped their stakes in AI dramatically last fall, the firm that jumps out at me immediately is Renaissance Technologies, which increased its ownership of AI shares by snatching up another 87,000 shares, to pad the 624,000-share holding it had previously laid claim to.
If the name Renaissance Technologies doesn't ring a bell, it's the firm founded by the legendary Dr. James Simon.
Heralded by some as "the world's smartest billionaire," this former Harvard math professor has amassed a fortune of more than $16 billion by brilliantly exploiting market inefficiencies – and picking monster home runs by backing up-and-coming biotechs and undervalued funds like OZM.
He's successfully put his firm's money in front of some epic stock explosions, like Questcor, Jazz Pharmaceuticals, and Amgen, the least profitable of which yielded gains of more than 17,000%.
Currently his fund manages more than $65 billion in assets. Not bad for a guy who first tried his hand at investing with just $5,000 to his name!
Now, Dr. Simon's firm may have been early to this trade, but I highly doubt it's wrong.
And as AI treats investors to its lucrative income deliveries, it's unlikely to give anyone a white-knuckled ride, either.
In fact, the firm's beta as measured by Yahoo!Finance is an extremely stable 1.09 (the closer to 1, the lower the volatility), making this a strong retirement investment option for people who first and foremost are concerned with not losing what they have.
At 313% average weekly gains (including partial closeouts), this strategy is leaving Wall Street Elite in the dust. Space is limited, so you'll have to act fast for your chance at triple-digit gains…
This stability, by the way, is exactly what you'd expect from a business gathering income through U.S. government-backed mortgages. It may not be the most exciting field, but it sure pays the bills, as you'll see from this company's quarterly dividend income stream.
Dividends are the immense upside to take into account when it comes to AI. The firm has a dividend yield of 16.28%, and these payouts have grown over the years. In the summer of 2010, for instance, AI paid out just $0.35/share in dividends, compared to the $0.625 it paid out last quarter. That's a 78% surge.
As of Sept. 30, 2016, the company's agency investment portfolio totaled $4.83 billion, consisting of $3.66 billion of agency mortgage-backed securities and $1.170 billion of net long to-be-announced agency securities.
AI has a 38.81% profit margin, which is stronger than Apple's, Alphabet's, Microsoft's, or any of the other tech darlings pursued by more investors. This dynamic has allowed it to pay dividends to investors since 2003, and the company has $3.72 billion cash on hand, meaning its generous income stream for investors isn't likely to dry up in the coming years.
4. Ticc Capital Corp. (Nasdaq: TICC)
During the stagflation of the early 1980s, Washington, D.C., created an unconventional security that allows regular investors to help fund promising private startups. The result was the Business Development Corporation (BDC).
BDCs are extremely powerful income generators because of their tax structure. Simply put, they're taxed as regular investment companies and therefore pay little to no corporate income tax so long as they distribute at least 90% of their income to investors.
This requirement means that the right BDCs can be income machines for investors. Double-digit yields aren't at all unusual – and they're often sustained for years.
And that's the opportunity I've found for you today with Ticc Capital Corp. (Nasdaq: TICC).
The BDC offers a stunning 16.70% yield, which is enough to generate $16,700 a year in income for every $100k stowed away – before we even start talking about capital gains.
With CNBC reporting that the average working person aged 56 to 61 has $163,577 to their name, TICC's 16.7% yield would mean a $27,316 income stream a year – which amounts to $2,276/month of taxable income.
Despite its generous payouts to shareholders, Ticc Capital is highly profitable, with a profit margin of 9.83% and operating cash flow of $315.16 million.
What's especially exciting about Ticc Capital's prospects as an income investment to buttress anyone's retirement is the fact that it continues to re-invest in itself, even as it pays shareholders (generously) first.
In its most recent earnings report, TICC's board approved another dividend payout while also confirming that the BDC had allocated $58.4 million towards equity investments.
In other words, TICC's current double-digit yield could not only continue but grow for years to come – and grow retired investors' living standards with it.
5. PennantPark Investment Corp. (Nasdaq: PNNT)
Based in New York and founded in 2007, PennantPark Investment Corp. (Nasdaq: PNNT) not only survived but thrived through the financial crisis as a fund in its infancy years. Like TICC, the fund is focused on business development, lending to firms in the middle market. So far, the firm has funded nearly $4 billion in financing to companies at center of growth in the domestic economy
For a time, PNNT was heavily lending to firms in the energy sector – an industry that once thrived in the fracking era, but hit a particularly difficult stretch as the 2014 supply glut cratered the majority of oil companies.
PNNT wasn't affected though, thanks to its rock-solid balance sheet. In fact, its dividend payments never wavered. Not only that, but shareholders at the time enjoyed a year-end yield increase from 11.75% to 18.12% from 2014 to 2015, at the height of the energy sector's troubling times.
Despite recession, supply glut, and credit crises, PNNT maintained a solid track record of capital recovery. This, combined with the fund's disciplined focus and the increasingly bright-looking future for the energy sector under President Trump, makes me confident that investors can not only feel secure in this fund as an income play, but can also expect attractive returns in the future.
Overall, PennantPark is positioned to play a crucial role as the nation's wealth undergoes a massive shift under a new presidential administration, making it a solid momentum play as well as a dependable "second salary" opportunity.
These plays are enough to get anybody started on learning how to secure big returns through income investing, but we're only scratching the surface.
The retirement crisis is real, and due to an obscure loophole in the U.S. Tax Code, it won't be long before you'll need to seek out even more weapons to help secure a wealthy retirement.
In fact, my research shows that, on April 10, 2017, a controversial plan from the Department of Labor could cause millions of Americans to miss out on $68,870 a year… or more.
Click here for my full briefing on this urgent situation – and the elite class of investment "programs" my research team uncovered that could protect your retirement, no matter how the government meddles. There's still time, and once you're "enrolled," you'll be grandfathered in for life.