SPACs are the new IPO.
It seems everyone else is talking about these special purpose acquisition companies. You can find recommendations on SPACs to buy all over the Internet and financial media.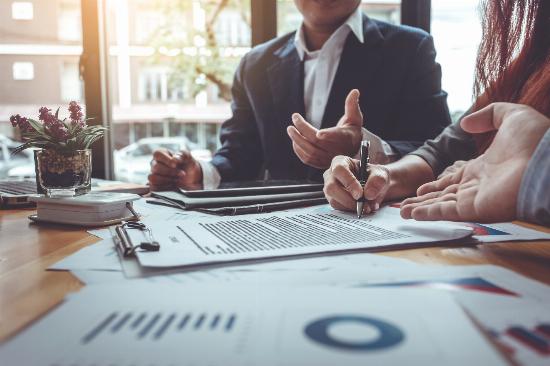 But SPACs themselves aren't new. Only their popularity is.
If you're wondering why SPACs have suddenly become a popular choice for bringing private companies public, or what's different about a SPAC than a regular stock, or most importantly, what the best SPACs to buy are, then you've come to the right place.
We're going to answer all your questions about SPACs to help you make SPAC investing profitable…
What Are SPACs, and Why Are They Popular?
Let's take a second to review what a SPAC is and how they work. SPACs are "blank check" companies. A sponsor forms a SPAC and raises money via a regular IPO. The intent is to use the money to buy another business. The sponsor may specify a particular industry or sector they are looking to enter, but that's not always the case.
Most SPAC IPOs are done at $10 a share, and you get one share and a warrant to buy more stock at a fixed price. That is usually $11.50 for a specified time frame. This could be as long as five years. Initially, the two trade as a unit.
The units can be separated after 52 days of trading in most offerings.
The sponsor has a fixed time frame, usually 18 months or two years, to close a deal. If no deal is closed, everybody gets their money back. Until a deal is done, the money is kept in a trust invested in treasury bills.
If they make a deal and you as a shareholder do not like the deal, you can vote to have your cash returned to you.
That sounds like a great deal for investors so far. But things get a little trickier from here.
As an investor, you need to understand right out of the gate that the big winner in a SPAC deal is the sponsor. SPAC sponsors typically receive 20% of the common equity in the SPAC for an investment of approximately 3% to 4% of the IPO proceeds. In a $250 million SPAC deal, sponsors could put up as little as $7 million to control $50 million worth of stock.
That's a massive payday for the sponsor if the deal goes well, so it's no surprise to see a lot of big-name investors sponsoring SPACs all of a sudden.
Last year, we saw a lot of celebrity SPACs hit the market. Sam Zell, the legendary real estate and equity investor out of Chicago, did a SPAC offering called Equity Distribution Acquisition Corp. (NYSE: EQD). Bill Ackman of Pershing Square raised the largest SPAC so far in Pershing Square Tontine Holdings Ltd. (NYSE: PSTH). Billy Bean of "Money Ball" fame has a SPAC looking to buy into a sports team or business.
A lot of technology and private equity industry executives have become SPAC sponsors as well.
Former Facebook executive and professional poker player Chamath Palihapitiya has become a SPAC celebrity. His firm Social Capital had a huge hit when their first SPAC bought Virgin Galactic Holdings Inc. (NASDAQ: SPCE) to the market via merger. The stock has tripled from the original IPO price of the SPAC.
Social Capital has gone on to raise several more SPACs that have been well received by investors.
So why not buy the latest big-name SPAC and wait for the money to roll in?
Not every SPAC is a winner. And paying a premium to get into them can be a big mistake.
Here's how to actually make money investing in SPACs…
How to Make SPAC Investing Profitable
There is a way to make money in SPACs. Trading them based on what you hope they might do is not it. If you paid $25 a share for Palihapitiya's Social Capital Hedosophia Holdings VCorp., more than double the IPO price as many did, you'd be down 12% after they merged with SoFi Technologies (NASDAQ: SOFI).
Consider what you are saying when you buy a SPAC at a 30% or 40% premium over the trust value. Your purchase says that you believe the sponsor is so good that he creates 30% or 40% more value in the unknown target company just by purchasing it.
Not buying it and improving the business. Just for thinking about buying.
Let's say Warren Buffett or Jeff Bezos decided to buy a company for $50 a share sometime this year. That would get a lot of investors' attentions. But would you then be willing to pay a $75 or $100 a share for that same stock if they sold the company the next day?
Probably not, but that is what you are doing when you pay a large premium to the trust value on a SPAC.
Sorry; this signup opportunity has ended.
But there is a way to make a lot of money with SPACs.
Buying SPAC IPOs and then selling the warrants when investors can trade them independently of the shares gives you a discount on the trust value. If the SPAC makes a deal and the stock pops, that is fantastic. You can sell at a higher price.
If the stock does not pop on a deal, then you can redeem your shares and get your $10 back and bank a profit on the sale of the warrants.
We can also look for units that can be purchased in the aftermarket and then strip off and sell the warrants to create a discount to our shares' trust value. From there, we follow the same rules as the IPO strategy.
When the current excitement surrounding SPAC trading dies down, we will get a chance to buy SPAC shares without warrants attached at a discount to the trust value. If they pop, that is fantastic, and we will happily pocket the large gains.
The right way to invest in SPACs can be ridiculously profitable and is as close to risk-free investing as you will ever find in the world of finance.
The problem right now is finding SPACs trading below trust value. Hard, but not impossible.
Here are some of the best SPACs to buy now…
The Best SPACs to Buy
Oyster Enterprises
As recently as December, there were dozens of SPACs trading below the trust value. That included SPACs like Churchill Capital Corp. IV (NYSE: CCIV) that have run up dramatically in price since then.
If a deal is announced and the stock goes down, we can redeem the value of the trust. The amount of the discount is the amount of our profit.
Oyster Enterprises Acquisition Corp. (NASDAQ: OSTRU) went public in January, and the shares are trading below $10. At the current price, you should be able to sell that warrants when they split off. The sponsor is the investment firm Alden Capital.
Chair Randall D. Smith heads Alden. You may not have heard of him, but if you have enough gray in your hair and traded distressed bonds in the 1980s and early 1990s, the name is very familiar. R.D. Smith & Co. was one of the world's largest brokerage and investment firms devoted exclusively to financially distressed companies.
He made an enormous amount of money buying distressed debt for pennies on the dollar and eventually selling for multiples of his purchase price.
Mr. Smith will be a director of the new SPAC his firm is sponsoring.
CEO Heath Freeman was a founding member of Alden in 2004. He has a reputation as a tough negotiator and has a very no-nonsense approach to investing. He has wrung hundreds of millions of dollars of profits from declining newspapers for Alden's investors over the past several years.
Oyster Enterprises will be looking to buy companies that it believes are in fragmented industries capable of serving as a platform investment for future acquisitions. A read through the prospectus makes it clear they want to use Oyster Enterprises to grow by M&A once the initial deal is closed.
Given the pedigree of the team involved, I would give them pretty high odds of success.
If the market likes the deal they make and the stock pops, we will be happy for the trade's success.
If the market hates the deal, then we will redeem, and our profit will be whatever we sold the warrants for when they can be split out in a couple of months.
KKR SPAC
When it comes to SPACs, you have no clue what company may be purchased. You are betting on the jockey.
And one of the better jockeys in all of finance went public March.
KKR & Co. Inc. (NYSE: KKR), or Kohlberg Kravis and Roberts, is one of the oldest and most successful private equity firms in history. Founded back in 1976, just before the buyout boom of the 1980s began, KKR has earned an average internal rate of return on its private equity investors of 25.9%, according to company officials.
I have to assume they know a little bit about buying businesses.
The CEO of this $1 billion SPAC is going to be Glenn Murphy. If the name is at all familiar to you, it's because he is the chair of the board of directors of Lululemon Athletica Inc. (NASDAQ: LULU), the popular athletic apparel company. He was also the CEO of the GAP from 2007 to 2014. Before that, he was chair of the board of directors and CEO of Shoppers Drug Mart, Canada's largest health and beauty brand.
In 2015, he founded FIS Holdings to invest in consumer companies. It is a high-impact firm that engages with management to help improve the business. In addition to Lululemon, the firm has investments in Aimbridge Hospitality, Serta Simmons Bedding, Whole Foods Market, and Bloomin' Brands.
I have to assume that he knows something about running a company.
Two KKR Partners will be on the board with Mr. Murphy. Senior Advisory Partner Paul Raether will be a director. He has been with KKR since 1980 and has worked on some of the biggest deals the private equity firm has done over the last 40 years.
U.S. Consumer Economist and Managing Director Paula Roberts will also be a director. She has been with KKR since 2017 and leads macro real estate investment research. She also partners with real estate, consumer private equity, and credit deal teams.
If we are betting on the SPAC leadership to get a great deal done, I like our chances with this team running the show.
The units, which consist of one share and one-third of a warrant, trade with the symbol KAHC.U.
As is the case with most SPACS, the KKR team has left themselves a lot of options when it comes to what kind of company they will buy. With Mr. Murphy on board, it is safe to say it will be part of the consumer segment.
Simon Property SPAC
Simons Property Group Inc. (NYSE: SPG) also filed an S1 for a new SPAC in February. Simon Property Group Acquisition Holdings units will consist of one share and a quarter of a warrant. The symbol is SPGS.U and it's still trading for $10. 
Simon is the largest retail REIT in the world, so it has had an interesting year, to say the least. 2020 is the year it proved that it is not only the biggest retail REIT, but it is also probably the best in the world as well. While its stock price is down for the year, it has more than doubled off the lows.
Simon Property Group has navigated the worst of the crisis. It helps that it has always focused on Class A high-end malls. With the end of the pandemic in sight thanks to vaccines, Simon has not only survived – it will thrive with the return of the consumer in late 2021.
Simon CEO David Simon will be the chair of the SPAC. The filing talks about using his understanding of premium real estate, relationships with brands, and a broader network of connections in real estate, retail, finance, media, and entertainment to help find attractive deals.
Mr. Simons' son, Eli Simon, will serve as CEO. He is SPG's senior vice president-corporate investments. Before joining SPG, he was principal, head of North American Lodging for Och-Ziff Real Estate.
Brian J. McDade, Chief Financial Officer of SPG, will also serve as CFO of the SPAC.
Mr. Simon and his team will be looking for "an innovative business with the potential to disrupt various aspects of the retail industry" to buy with the proceeds.
Given that its tenant base includes some of the best-known retailers, restaurants, movie theatres, and entertainment centers, I would think that no one on the planet knows more about retail disruption than Mr. Simon and his team.
The language leaves open a pretty wide range of possibilities, including traditional retail, e-commerce, gaming, e-sports, and restaurants as among the possibilities.
I think that investing alongside someone who, after decades of success, just successfully maneuvered through one of the worst possible business situations for his industry is probably a winning proposition.
Even if you missed the IPO, you can still get shares for just $10. 
There is a right way and a wrong way to trade SPACS. The wrong way may look exciting, but the risks are much higher than you might think.
We'll continue to keep you updated on the best SPACs that fit this criteria, right here.
The Complete List of Best (and Worst) Stocks for 2021
Wall Street insider Shah Gilani says 2021 could be a gold mine for Americans.
He's showing his subscribers exactly which stocks to buy and which to sell.
But you're getting it all for free - no sign-up or credit card required.
Prices, tickers, and company names will be coming your way fast.