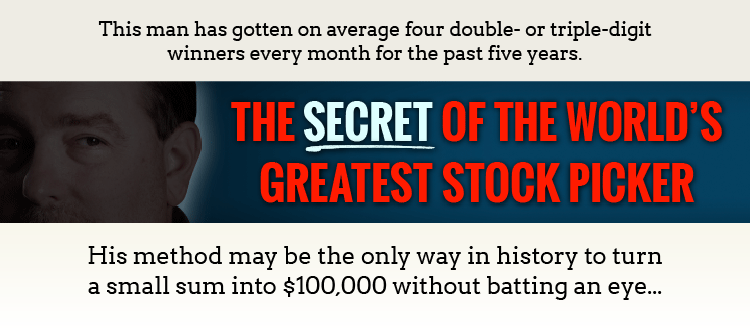 As of today, I am the world's GREATEST stock picker.
I don't say this to brag – just to point out, based on every track record I've seen published today, nobody has come close to me.
And when you see exactly HOW I've been able to help my followers get the chance at these windfalls, you'll agree, I'm onto something that is very real, extremely profitable, and has NO end in sight.
In all, as of writing this, I have 217 double- and triple-peak gain winners since I began keeping track in August 2011.
This record is 100% genuine and documented.
And my secret method has NOTHING to do with options, reinvested dividends, annuities, certificates, bonds, futures, or any of that baloney.
I'm talking about starting with a small amount of money and turning it into a huge fortune – over and over again – buying straight-up stocks.
Now... if you're one of those people who got burned buying stocks in the past... or lost some money on stocks... or just don't want anything to do with them... then stop now and just ignore this letter.
But if you want proof that you can make over $100,000 starting with a small amount of money... rolling stocks over and over again... then pay close attention.
Because right now, even with all the market uncertainty, there's truly a ridiculous amount of money to be made from stocks if you follow my secret.
It's a secret that, as you'll see, is unique in the entire history of investing.
I'm talking about a method that gives you a real chance to ONLY buy well positioned stocks poised to go up.
And because nobody understands your financial needs and time horizons for retirement better than you, it's also a method that gives you the opportunity to make as much money as you see fit. That's why we don't issue sell recommendations. So you can decide when you've made "enough." And let your profits ride as high as you like...
In a minute, I'm going to reveal my identity and give you the details regarding the secret behind my stock picking success...
Most importantly, I'm going to show you how to use this method so you can start hitting as many peak gains as possible – meaning the highest return a stock has since I recommended it – and potentially pocket multiple peak double- and triple-digit winners as high as 663%... 628%... even 818%.
But first, let me give you some facts:
Using my secret, you could grow incredibly wealthy buying straight-up stocks...
Now, maybe your own experience has convinced you buying stocks is just a mugs game – a no-win proposition. For a long time, I didn't have much faith in straight-up stock picking, either.
You see, I began my career focused on trading options, currencies, and shorts – the kind of high-risk, high-return strategies made by hedge funds and institutional investors.
I was personally mentored by James Liddle, a founding manager for part of Legg Mason's Northeast operations – the global investment firm with $671 billion in assets under management.
I also worked alongside business luminaries like former CEOs Jack Welch of General Electric... George M.C. Fisher of Kodak and Motorola... and Daniel Carp of Kodak and Delta Airlines... all heavy hitters – with plenty of money to risk.
(By the way, I also greatly benefited from the wisdom of publishing tycoon Steve Forbes – and I'm proud to say my own writings, deciphering the inner workings of Wall Street and the markets, have been nominated for two Pulitzer Prizes).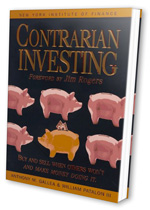 But it was while researching my best-selling book Contrarian Investing (with a forward by Jim Rogers) that a much easier – and far less risky – way to make money in the markets dawned on me.
My technique centers on taking "long" positions on little-known (and often cheap) small-cap stocks – then rolling them over as they go up in price.
The simplicity of what I discovered was stunning.
I only focus on stocks that have a strong potential to go up. When a stock rises past a certain threshold (ideally 100%, but it's up to you how long you want to keep it running)... you collect the money, then roll it into a new position. You do this over and over again.
It's just that simple.
Can I guarantee every stock recommendation will be a winner? Of course not. Nobody's perfect.
But here's the real beauty of my method:
You can grow incredibly wealthy using this secret (investing only in small stocks that my method pinpoints are poised to go up) – even when markets are going down. In fact...
I made my first huge gain using this secret method when the markets were completely crashing...
I'm talking about Black Monday, August 2011, when the United States' credit rating was downgraded for the first time in history.
You may remember that day...
Investors panicked, pulling everything off the table – and the markets collapsed 6% – one of the biggest drops in history.
But right in the middle of the chaos... my secret strategy brought me a huge winner on a tiny company named Galápagos.
This Belgium-based company was so far off the radar, I don't think more than 10 people in the U.S. had ever even heard of it. It wasn't even trading on a major exchange – I found it on the PINK sheets.
But my method for picking stocks told me it was a crown jewel.
Here's why:
First, this firm had a business strategy different than anything I had ever seen in my 30-some years working the markets.
It was building a deep pipeline of so-called "Orphan Drugs."
These drugs are called "orphans" because they treat rare disorders (like Cystic Fibrosis) that the big pharmaceuticals unfortunately pay little attention to, even though they can strike millions of people.
So this firm had a powerful niche that was filling a void – a critical ingredient to my method, as I'll show you in a minute.
Second, my method uncovered another important piece of information: the high potential for the company to get acquired.
Well, as it turns out the buyout didn't happen.
Something better did.
Just six months after I found Galápagos, Abbott Labs – the giant pharmaceutical – announced it was going to fork over $1.35 billion to the tiny firm for the rights to its experimental rheumatoid arthritis drug.
With this enormous deal, Galápagos soared – giving us peak gains of 402%. (Eventually the company even uplisted to the NASDAQ.)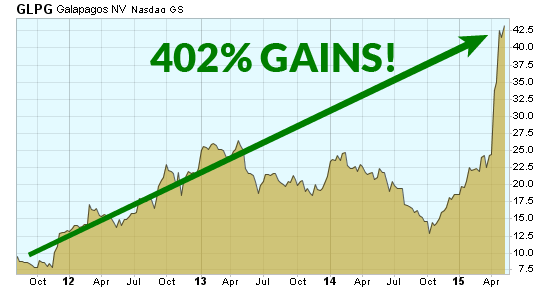 So, in the worst market conditions imaginable, I had a huge winner – and it was no fluke.
It's been a nearly unstoppable record of success ever since – no matter what the markets were doing – in nearly every sector on the planet.
Take biotech, for example.
I don't need to tell you how hard it is to see upside on small biotech companies.
These microcaps can be quickly derailed by development delays, stifling regulations, or be leapfrogged by rivals with better technology.
And yet the payoffs can be enormous – if you uncover the right ones. Which is exactly where my secret method excels.
Take, for example, Celldex Therapeutics, another tiny, never-heard-of-before biotech firm I found.
Celldex develops oncology treatments – specifically, treatments for cancerous tumors.
I found this $3 stock thanks to a little known trend called the "ASCO Effect."
Every June, the American Society of Clinical Oncology – ASCO – holds their annual summit.
And in the months leading up to it, they publicly reveal the biotech companies sharing their findings at this event.
There are literally dozens of companies...
But only one or two ever end up bringing investors big, immediate profits.
You have to be willing to spend endless hours sorting through company abstracts. It's even worse than finding a needle in a haystack.
Yet, using my method, I was able to quickly determine that Celldex could be in for a significant price hike – and fast.
First, they had developed a breakthrough called "Precision Targeted Immunotherapy Platform," or PTIP.
PTIP is unlike anything I had ever seen before.
It is a platform designed to create a whole new family of drugs based on immunotherapy – the body's "natural" way to fight disease.
In fact, one researcher referred to Celldex as "the first antibody-based combination immunotherapy company." (This piece of information is critical to my method, as I'll show you in a minute.)
Second, they have a boatload of patents – 300 to be exact. (Yet another critical piece of data.)
Third, Celldex has partnership agreements with deep-pocketed partners needed to get their drugs to market, including Bristol-Myers Squibb, Amgen, and Seattle Genetics.
So I picked Celldex without hesitation.
And soon after my recommendation, the company announced a major breakthrough for breast cancer treatment.
In clinical trials, its drug CDX-011 had nearly tripled the survival rate of its test patients.
The tiny $3 stock quickly soared – peaking at 629%.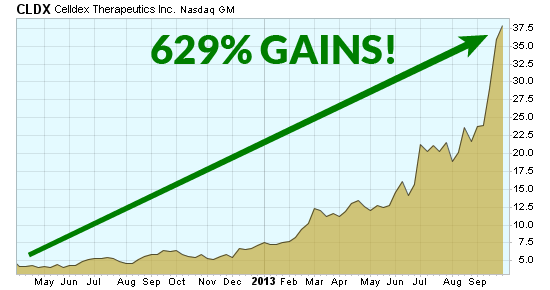 Pharmacyclics, another biotech my method uncovered, went even higher.
When I found this company, it was trading for a little over $28 – a price above my typical target range for biotech firms.
Yet all other indications fit to a T.
It had a Phase III drug that was getting extremely positive results in its trials.
It received "Breakthrough Therapy Designation" from the FDA.
It was being bandied about in underground trade journals as a buyout candidate.
Here's what happened:
The company's drug for chronic lymphocytic leukemia and mantle cell lymphoma increased survival rates by 90%... and eventually Pharmacyclics was acquired by AbbVie for $21 billion.
Not surprisingly, the stock soared as high as 818%.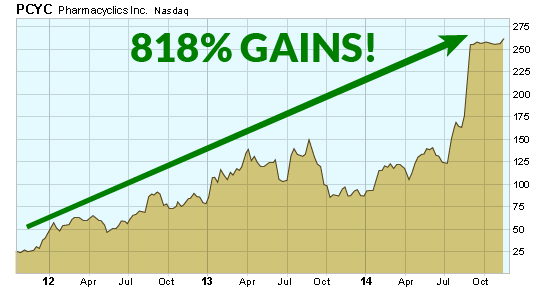 To be honest, my list of biotech winners boggles the mind, with peak gains of...
101.43% on Trius Therapeutics
103.43% on Dyax Corporation
127.56% on Accuray
221.18% on Astex Pharmaceuticals
102.75% on AbbVie
361.27 on Inovio
417% on Repligen
176% on Novavax
337% on Horizon Pharma
226.64% on Galena Biopharma
And that's just to name a few...
Let me be clear: I'm not trying to brag. I'm only trying to show you, by way of example, the accuracy of my method. And it's not just biotech companies I look for...
I use this exact same method to find profitable stocks in every market sector on earth.
Here's a few of my energy sector winners with peak gains of:
253.71% on Crosstex Energy
85.30% on Western Refining
115.14% on Callon Petroleum
135.58% on Capstone Turbine
142.48% on Valero
186.31% on Cheniere Energy
212.04% on Oiltanking Partners
138.62 on Vestar Wind Systems
And here's some of my peak gains on resources and commodities:
131.84% on Sandstorm Gold
85.44% on Market Vectors Jr Gold Miners ETF
160.03% on U.S. Silica
161.89% on Pentair
63.13% on Greenhunter Resources
I've been pulling down winner after winner in technology too with peak gains of:
396.41% on NetQin Mobile
101.35% on Glu Mobile
107.03% on AVG Technologies
138.46% on Web.com
93.38% on iRobot
379.70% on NXP Semiconductors
74.53% on Advanced Micro
221.51% on RF Micro Devices
238.73% on Ambarella
So, as you can see, it really doesn't matter what sector we're talking about. Of course, I don't get every recommendation right – nobody is 100% perfect.
But my track record proves that my secret can lead to huge upside potential, especially in today's shaky market environment.
The same methodology can be applied to find stocks poised to go up everywhere – at any time. In fact...