There are just three simple steps to setting up your brokerage account and buying your first stock. Here's how it works:
Step 1 – Select your broker: You could look them up online, or use the criteria provided below.
Step 2 – Set up your account: You can do this over the phone using the provided number, or on their website – simply follow the link.
Step 3 – Fund your account: Your broker will handle this after you get your account set up.
To help you with your broker search, we've identified firms with the lowest account minimums and commission fees, without compromising on quality customer service. Listed below are the top discount brokers we found.
Broker

Contact

Types of Trades

Minimums to Open

Pricing

Robinhood

Online Only

Stocks, ETFs, options, cryptocurrencies

None

None

TradeStation

1.800.328.1982

Stocks, ETFs, options, futures, mutual funds, bonds

$500.00

Stocks: $5.00

Options: $5.00 + $0.50 per contract

Charles Schwab

1.800.435.4000

Mutual funds, ETFs, CDs/money market, domestic and international stocks, bonds, options, futures

$1,000.00

Stocks & ETFs: $4.95 + $5.00-$25.00 service charge

Options: $4.95 + $0.65 per contract + $5.00 service charge

Fidelity

1.800.343.3548

Mutual funds, IRAs, stocks, bonds, ETFs, and options

$0, or $4.95 for  options

All online U.S. equity trades: $4.95

Options: $4.95 per trade + $0.65 per contract

TD Ameritrade

1.800.454.9272

Stocks, options, mutual funds, and futures

$0, or $2,000.00 for margin or option privileges

Stocks and ETFs: $6.95

Options: $6.95 + $0.75/contract
Disclaimer: Neither Money Morning nor Money Map Press is a broker, dealer, or licensed investment advisor. The author should not be considered as permitted to engage in rendering personalized investment, legal or other professional advice as an agent of Money Map Press. Money Map Press does not receive any compensation for these services. Additionally, any individual services rendered to Money Map Press by the companies listed are considered completely separate from and outside the scope of services offered by Money Map Press. Any contact and resulting relationship is strictly between you and the company.
Our Favorites
Among our recommended discount brokers, two in particular stand out: TradeStation, a favorite among option traders, and the recently added Robinhood – our first recommended free broker.
TradeStation has top-notch customer service, low commission costs, and by far the easiest website to navigate. The seamless experience is especially useful for investors who are new to options.
Robinhood, one of very few free brokerage platforms available, is the ideal broker for the cost-minded investor who is comfortable with a computer. If you want to pay, there is an optional "Robinhood Gold" upgrade, giving you access to premium trading tools and software.
THREE STOCKS: Any one of these cannabis companies could potentially deliver a 1,000% windfall. Click here to learn more…
Discount vs. Full-Service Brokers
The brokers we've chosen here are called "discount brokers" because they are less expensive than full-service brokers
Full-service brokers can sometimes charge hundreds of dollars for their services. They can also charge you an annual percentage of your portfolio – so the more you make, the more you pay.
You can certainly use whichever brokerage platform is right for you. The discount brokers listed above might meet your investment needs for a fraction of the full-service cost.
While Setting Up Your Account…
Most brokers allow you to set up an account over the phone or on their webpage, whichever you're more comfortable with.
You'll be asked to provide personal information, typically including your Social Security number and your driver's license or passport number. You'll also be asked what types of securities you want to trade (stocks, options, futures), and experience level.
These prompts will vary from broker to broker, so it's best to contact the brokerage itself with any questions.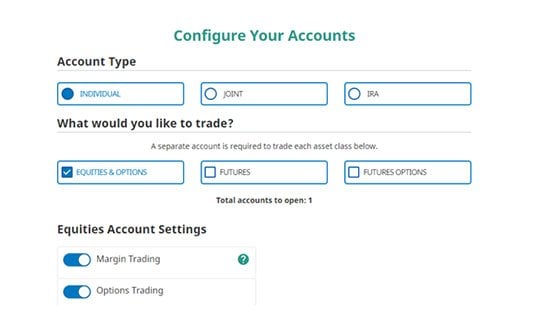 Picture taken from TradeStation.com
While we can't advise you on what account to open, individual cash accounts are the most common. Once your account is open and funded, you will immediately have the ability to buy and sell stocks. You will not yet be able to trade on margin (trading on a credit borrowed from your broker).
Some brokers will distinguish cash accounts and margin accounts separately. Others may prompt you to request "margin privileges" on your cash account.
Margin accounts let you borrow from your broker to make trades. Most notably, this allows you to short stocks – one way to profit when the price of a stock falls.
Anyone planning to be an active investor/trader will want to request access to as many different trading styles as possible. In most cases, it's best to have options available to you.
You Can Learn How to Trade Like the Pros – for Just $1
America's No. 1 Pattern Trader, Tom Gentile, is giving you a rare opportunity to learn how to amass a constant stream of extra cash – year in and year out.
And he's going to teach you how to do it entirely on your own.
People have paid up to $30,000 to access his secrets… but it can all be yours for only $1.
Go here to claim your seat in America's No. 1 Pattern Trader Cash Course…