EXCLUSIVE:
---
Your Private IPO Slice:

The first ever "pre-IPO" deal with terms
exclusive 

to Money Morning members...
With returns in this

private market

 running
as high as 32-to-1, it's on fire.
Now we've got a way for you to get an insider's share...
Dear Reader:
It's just not fair.
It's not fair that the hottest market in the world right now, by far...
A market that paid out over $85 billion last year...
And is set to pay out upwards of $332 billion more this year...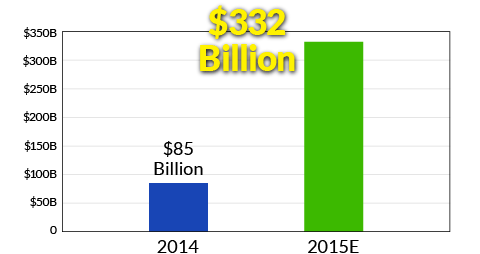 With multiples as high as $32 for every $1 invested...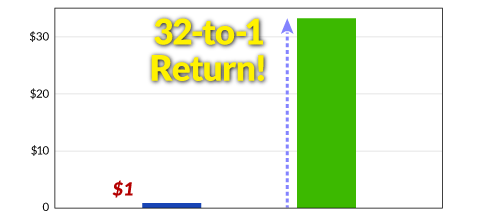 Simply isn't "open" to regular investors.
Instead, the private, pre-IPO market remains the personal "money mint" for a small number of millionaires and billionaires who have been calling the shots here for more than 80 years.
I don't think that's right.
I think you should have access to this new money too.
So I've done something about it.
Hi. My name is Michael Robinson.
I'm the Director of Venture Capital and Technology Investing here at Money Morning.
There is no doubt:
The private, pre-IPO market is exploding right now...
It's exploding in cash...
In the number of payouts...
And in multiples being paid.
This is by far the biggest single money-making event I've seen in my 34 years working here in Silicon Valley.
You hear about these private companies going public all the time: Twitter, Lending Club, Shake Shack, Alibaba, Box Inc., Hortonworks, and hundreds more.
Nearly every day Bloomberg, The Financial Times, The Wall Street Journal, and The New York Times report on investors who made millions, even billions...
Like Microsoft co-founder Paul Allen, who made $45 million in just 11 months after TrueCar went public in May of last year.
Jeffrey Crowe, one of the top private investors in the world, made $762 million the day Lending Club went public this past December.
Jim Goetz, the driving force behind Sequoia Capital, earned a whopping $3 billion when Facebook acquired WhatsApp last year for $19 billion...
Of course these people have a lot of money to invest...
But the multiples are the same no matter who you are.
And that can mean BIG money for anyone who can gain access to these deals.
And that's why I'm here today. To show you how to do just that.
Here's what I mean:
Snapchat, the photo-sharing upstart, is getting ready to pay out $14.1 billion to a handful of private investors...
That's a 1,600% return.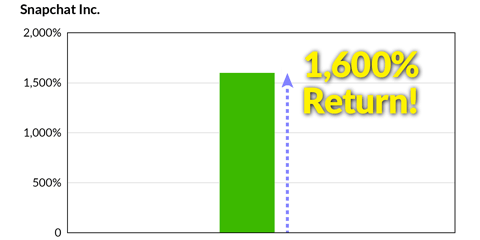 Automattic, the company behind WordPress, could soon pay out over a billion dollars...
A 600% windfall.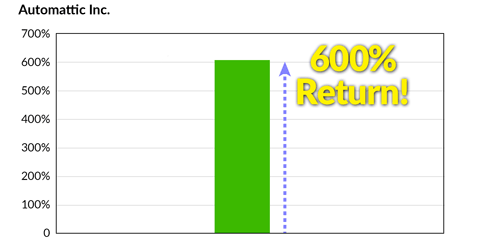 Square, the credit card processor, is about to pay out $4.4 billion...
A 1,200% return.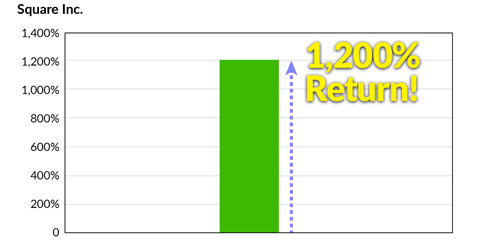 Online "hotel" sensation Airbnb is getting ready to shell out $9.2 billion in profits...
A 1,250% return for these investors.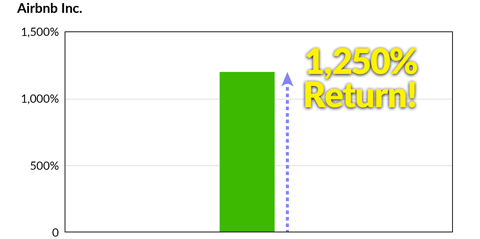 Internet music giant Spotify could soon pay out $3.47 billion, for a 770% return.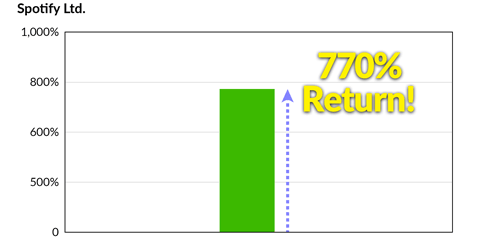 File storage company Dropbox – $9.3 billion, for a 1,600% return.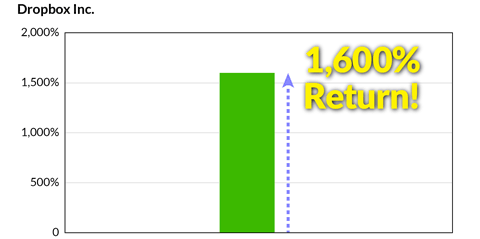 And Xiaomi, the Chinese smartphone company...
It could pay out over $44.6 billion in the coming months... for a whopping 3,180% return.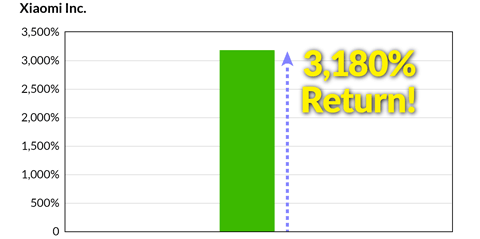 Who wouldn't want to be in on these kinds of gains?
And these are just a fraction of the more than 588 private deals in the works right now...
A number that's been growing every year since 2005 – according to CB Insights – when there were just 57 deals like these.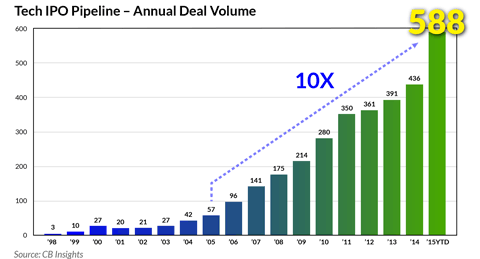 This market is so hot that The Wall Street Journal started something they call "The Billion Dollar Start-Up Club"...
It's a list of private companies valued at a billion dollars or more.
In 2010 it would have had just 11 members – General Motors and Tesla among them...
Right now the list features 78 companies – set to pay out over $330 billion to private investors when these companies go public...
That's nearly a third of a trillion dollars!
And at the pace the list is growing, there could be 132 billion-dollar-plus companies a year from now... paying out half a trillion dollars or more!
But here's the troubling part...
The government doesn't think you should have easy access to these windfalls.
So they make it very difficult for you to get in.
They say you have to be an "accredited" investor. Which means you have to have a net worth of a million dollars – or make over $300,000 a year if you're married.
Even if you meet those requirements, you'll likely have to plunk down the standard $100,000 to $1,000,000 minimum to get in on these massive returns.
That's why I'm so excited about the "pre-IPO" opportunity created for you...
All under terms exclusive to Money Morning members...
Because I think it's high time you had this access.
The money is so huge here that everyone is getting into the act.
Mutual funds, hedge funds, and big banks are now plowing money into private pre-IPO deals.
BlackRock, Fidelity Investments, and T. Rowe Price, the biggest money managers in the world, have invested in 19 of the billion-dollar companies so far.
Even endowments, foundations, and pension funds – the most conservative and regulated institutions in America – are pouring money in.
As The Wall Street Journal says, they're "funneling money into the 'winners' before they go public..."
Why shouldn't you be able to join them?
And the money is BIG.
Xiaomi, the smartphone maker I mentioned, is a great example.
It's a private company.
It's gone through five rounds of funding, raising $1.4 billion from private investors.
Yet it's valued at $46 billion according to The Wall Street Journal!
That's over 31 times the money investors have put into it... a 3,100% gain.
A minimum $100,000 investment could turn into $3.18 million at the opening bell.
Imagine if you were part of a deal like this?
Then there's Palantir.
Its technology started with PayPal in the early 2000s. Its engineers were looking to uncover fraud through a system called link analysis.
Palantir even helped expose Bernie Madoff and find Osama bin Laden.
It's already said to be making millions. And in the past 11 years it's gone through seven rounds of funding, raising $1 billion.
Now it's estimated to be worth $15 billion... and set to hand its pre-IPO investors 15-to-1 gains...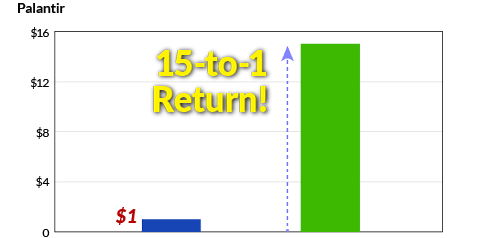 That's roughly $1.5 million on every $100,000 invested!
Who wouldn't want a piece of that?
Or look at the new mobile advertising venture called InMobi.
It started in 2007... went through four rounds of funding... and is now valued at $2.5 billion.
It's on track to fetch a sweet return of 11-to-1 for its pre-IPO investors.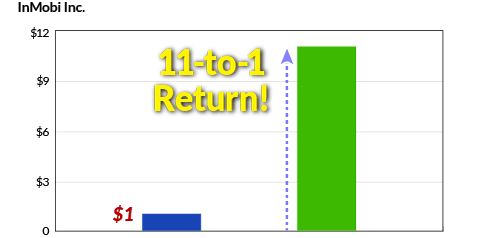 Look at Stripe, a company that allows you to quickly set up credit card payments on websites and apps.
It's now valued at $3.5 billion and set to hand investors 18-to-1 gains.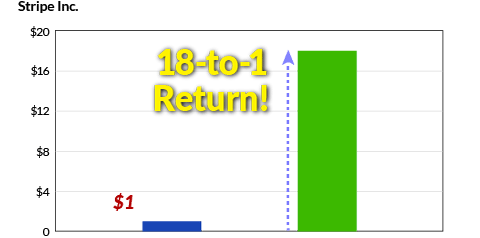 Or Houzz, the company that built an app that helps you with home renovations...
It went through four rounds of funding... raised $215 million... and is now valued at $2.3 billion. That's a better than 10-to-1 return.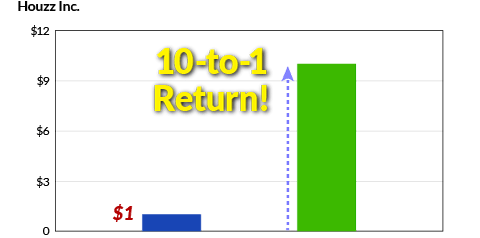 Imagine how your life could change if you were part of that money.
Just look at Uber. It's valued at $41.2 billion, which is almost 12 times what venture capitalists set for it just one year ago.
It's now estimated to hand its pre-IPO investors nearly 15-to-1 gains.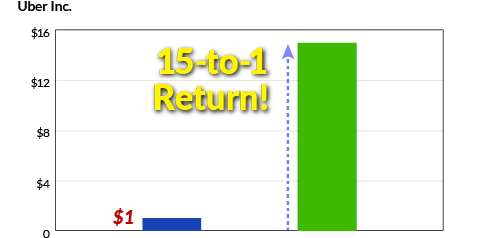 But do regular investors have a stake in these sure-fire winners?
Not unless they're very rich, highly connected, or both.
In fact, there are only 17 people in the world who can get you into these companies...
And you better have hundreds of thousands, even millions to invest before you try and contact them...
Today's deal changes all that.
That's because, through a very close venture capital contact of mine who you'll hear from in a minute...
I've uncovered a way for you to bypass that route...
Where you don't need "accredited investor" status...
Where you don't have to put down hundreds of thousands of dollars at a time.
And most importantly, where you get special terms that are exclusive to Money Morning...
Like not having to pay the huge fees that even rich investors pay to be in these deals.
And the deal is so shockingly simple...
Once you're in you'll have "rolling access" to wave after wave of the top private companies in the world.
All you have to do is decide how much money you want to put in...
Then sit back and wait while some of the top venture capital investors in the world guide these companies to multi-million – and sometimes multi-billion – dollar exits!
I'll tell you how the whole thing works in a minute...
But first, let me tell you about one of the companies you'll own through this unique deal...
One of dozens that could hand you a share of billions of dollars in new profits in the coming months alone...
It's a private company that could return early investors as much as $12 for every $1 invested when it goes public mere months from now.
This is one of the fastest growing companies in the world right now.
It's already part of that Wall Street Journal "Billion Dollar Start-Up Club" I told you about.
It's extremely profitable today, and it's bringing on new users at a rate of 50,000 a day... even faster than Facebook in its heyday.
It controls over 70% of this already huge and ballooning market.
The deal on the table today involves a late-stage, hyper-growth private company called DocuSign.
The company's technology solves a huge problem in the business world.
Until recently, if you needed a signature on, say, a loan document, brokerage application, or sales contract, you had to meet in person... or send paperwork through the mail or by courier.
It was expensive and time-consuming.
But DocuSign's technology lets you send documents across the globe online – and get a verified signature that stands up legally for almost anything.
Courts in 188 countries legally accept it right now.
You merely create an identity account... choose a signature profile... and you can "sign" any legal document with the click of a mouse.
Within seconds, the party waiting for your signed document has it and the deal is done.
DocuSign has spent the last 10 years building the most comprehensive and globally accepted signature verification platform on the planet.
It's the only signature company that is ISO 27001-certified, which is the highest level of global information security today.
The verification process is so secure that it's now the preferred verification service for the IRS and The National Association of Realtors.
And because DocuSign essentially created the most accepted platform in the world – and because of the huge "first-mover advantage" – it now owns over 70% of the electronic signature market.
More than 50 million people in 188 countries have signed documents in 43 different languages using DocuSign's proprietary technology.
More than 100,000 companies around the globe, large and small, pay thousands of dollars a year to use DocuSign's digital protocol...
From financial services to insurance, technology, real estate, healthcare, manufacturing, communications, retail, government, and thousands more.
In fact:
Microsoft recently built in DocuSign's signature platforms into Office 365

.

Google Drive now has DocuSign's software built in

.

Over 90% of Salesforce.com contracts

are signed the same day using DocuSign's technology – and more than 70% within the hour of completing a sale.

Intuit software

has embedded DocuSign's platform into its tax products...
And it's no wonder so many companies are aligning themselves with DocuSign.
Its technology can save companies $20 to $50 per document.
Think about it...
If you're even a mid-sized company needing 50 legal documents signed a week – sales contracts, purchase orders, account documents, and so on...
That's as much as $130,000 in savings every year.
For larger companies the savings is huge – up to $10 million per year based on hard dollar savings, productivity gains, and added revenue benefits from eSignature technology.
And then there's the "workflow" benefit – where all contracts are stored digitally and made easily accessible with just a couple of clicks.
This is a classic example of "disruptive" technology.
This is THE WAY global commerce is now being done.
Every company in the civilized world is a potential client... and every person a potential user.
It's no secret...
Anytime you have a company that owns and controls the "platform standard" in a disruptive business application like this one...
And has the huge "first-mover" edge DocuSign has...
It's an opportunity to make a lot of money. Especially for investors who get in privately before the IPO.
Just think of Microsoft's growth when it owned the industry-standard operating system with MS DOS and Windows products...
Or Intel, with its industry-standard computer processors...
Electronic signatures is a HUGE MARKET for one company to dominate.
If the market continues to grow at the rate previously reported by research firm Gartner...
It could potentially become a $626 million industry this year... $926 million by 2016... and a $2 billion market by 2018.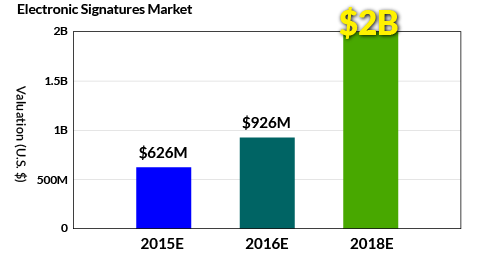 And given DocuSign currently has nearly three-quarters of this fast-growing market locked up... revenues could top the $1.4 billion mark.
What does this mean to someone like you?
Established companies in a similar "market space," like Adobe Systems, have sold for 8.5 times gross sales as a publicly traded company.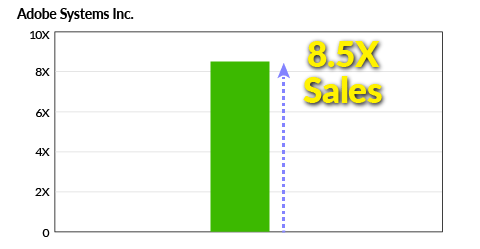 This benchmark would value DocuSign at nearly $12 billion on the path it's on.
Of course, with fast-growing new IPOs, that multiple can be even higher.
Data software company Hortonworks, for example, went public last December at a price that was nearly 21 times sales.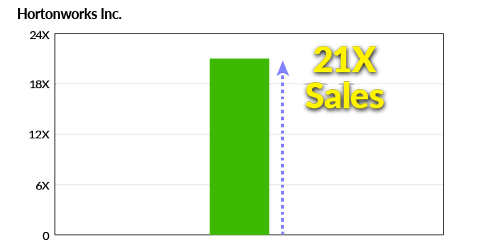 Lending Club, which went public a day later, opened trading at 41 times sales.
If DocuSign were to fall right in the middle and trade at around 30 times potential 2018 sales...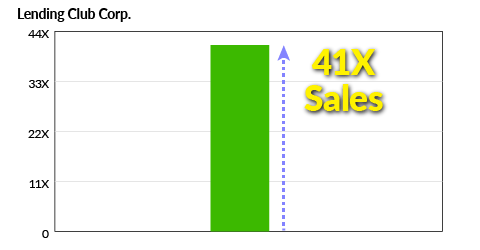 That would be a $42 billion valuation.
What can you own DocuSign at now, under the terms of the deal I've set up for you today?
At right around a $1.5 billion valuation...
Which is about the same price heavyweights like Samsung Ventures, Google Ventures, and Comcast Ventures recently bought in at.
In fact, DocuSign's backers represent the "who's who" of the venture capital world...
People like Mary Meeker – whom Fortune magazine called "One of the 10 Smartest People in Tech Today," and Forbes called one of the most powerful women in the world.
As a stock analyst with Morgan Stanley, Meeker was an early advocate for Intuit, Amazon, Yahoo!, eBay, and Google, just to name a few.
She rarely makes a bad deal.
This is an investor who knows the impact a company like DocuSign can have in the new electronic global marketplace.
And she's just one of nearly a dozen major players...
Sapphire Ventures, which has been a driving force behind companies like LinkedIn, Box, Celarix, Criteo, and PayScale...
Ignition Partners, the firm behind mega successes Cloudera, Parse, Citrix, and Splunk...
As well as Scale Ventures, which has already backed huge successes in Box, Tripwire, Hubspot, and Ring Central...
And Accel Partners, investors in such successful start-ups as Facebook, Spotify, and Dropbox...
They all see huge potential for DocuSign.
Here's the bottom line:
Should DocuSign go public within the next 14 to 20 months, as my research indicates...
We could see gains ranging from 700% all the way to 2,900%!
Of course, as with any investment, there are no guarantees. Not every IPO will be successful, and there's risk involved with every investment you make.
But remember, DocuSign is not some new, unknown "startup"...
It's an established driving force... with real customers, real products, and a 70% share of one of the fastest growing e-commerce markets in the world.
This company is already hiring key people in public, media, and analyst relations positions needed for its IPO...
A company that's been growing its revenues and its customer base for the past 10 years, and racking up industry accolades every step of the way.
CNBC's "Top 50 Tech Disruptor"...
Microsoft Partner of the Year...
NetSuite Partner of the Year...
"Digital Transaction Management Company of the Year"...
AlwaysOn's "Company of the Year" and "Top 100 Company"...
The Cloud Award's "Data Innovation of the Year"...
Bank of America Merrill Lynch for "Enterprise Technology Innovation."
It's a perfect example of a hyper-growth, late-stage company on a clear path to exit profits...
Yet if you were to go out and try and buy a share in DocuSign today, you can't do it.
It's a private company. It doesn't trade on any stock market or exchange.
But through the deal I'm recommending today, you can own a piece of DocuSign now...
Without having to be an accredited investor...
Without having to invest $100,000 dollars. (In fact, the minimum buy-in on our deal is a fraction of that!)
And what's more, as a Money Morning member, you can also do this without having to pay any sales fees.
Just to be clear...
Nobody else will have access to that last exclusive term.
That benefit is exclusive to Money Morning readers only – and it can save you thousands upon thousands of dollars.
This is a NEW WAY for you to "cash in" on a pre-IPO market most regular investors will never be a part of.
And DocuSign is just one of the "next wave" of venture-backed, potentially lucrative IPOs you could own right now.
Let me get right to the next company involved in this deal...
Like DocuSign, this company is a prominent member of The Wall Street Journal's Billion Dollar Start-Up Club.
It's called Jawbone.
You've probably heard of it. You might even own one of its products.
It's making a huge splash in a huge market.
And it's another private company on a clear path to its IPO.
The company started in 1999, eventually creating technology for DARPA. That's the U.S. military agency responsible for hundreds of technology breakthroughs like night-vision goggles.
Today, Jawbone makes those fitness bands everyone's wearing...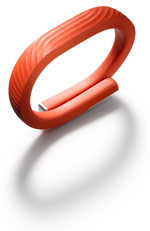 As well as the popular "cube" audio devices you see that connect wirelessly to smartphones and MP3 players.
These are huge and fast-growing markets.
One industry group reported that the digital fitness market was worth $330 million in 2013 and was expected to double in 2014...
Of that market, 72% of the sales here would be on fitness trackers alone – the kind of device Jawbone has over 600 patents on.
If that's not impressive enough, the wireless audio market is even bigger – as much as $18 billion by 2018, according to a report by MarketsandMarkets.
And in this arena, Jawbone's products are considered the best.
But Jawbone is far more than just a technology hardware company.
You may have heard people talking lately about "The Internet of Things."
That's the term people are using for this "connected world" emerging around us.
Well, Jawbone's visionary CEO Hosain Rahman coined a phrase that takes this to the next inevitable step:
"The Internet of You"...
And Jawbone has now created a software platform that could extend "The Internet of You" throughout the globe.
Here's how it works:
Say you've been out jogging – you're sweating and your body temperature is up.
Jawbone has created an intelligent software that will tell the thermostat in your home that you're warm...
And it will adjust the temperature in your home the moment you walk in the door.
Not to some pre-set temperature you've had to program in...
But to the specific temperature that's ideal for you, based on the data it's collected about your preferences and your current body temperature.
This is just one example. Experts call this "contextual awareness."
Jawbone has been steadily working with scientists to bring contextual awareness to its own products.
But even more exciting to Jawbone and its investors is the company's recent move to enable its software to work with ALL brands of smartphones, watches, and apps.
And given the enormous first-mover advantage here, Jawbone is destined to be the one platform to tie together the millions of wearable devices on the planet right now...
Including the 24 million smart watches Apple is expected to sell in 2015...
And the 135 million other smart watches and wearable devices that will be sold by 2018, according to projections from CCS Insights.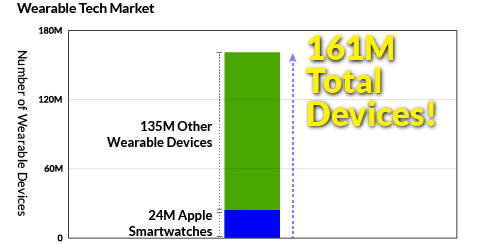 Jawbone's technology is mind-bendingly good. Imagine the possibilities...
You wake up and the lights you need go on automatically...
The temperature in your house adjusts...
Your favorite morning TV show goes on...
Your coffee starts brewing...
Your car is started and warmed up before you leave the house...
You'll even get traffic alerts and directions on the fastest route to work.
All without touching a single button.
You don't have to program any of it. It's all seamlessly integrated into your day-to-day activities, even from devices so small and sensitive they're sewn into the threads of your shirt.
Some of the top investors in the world are behind Jawbone, looking to make billions... including:
Andreessen Horowitz – which has already enjoyed successful profits with Groupon, Instagram, Skype, Zynga, and more...
Kleiner Perkins Caufield & Byers – the longtime Silicon Valley investors behind AOL, Amazon, Citrix, Google, Intuit, and WebMD, to name a few...
Sequoia Capital – whose past investments include Apple, Nvidia, NetApp, Yahoo, Instagram, PayPal, Google, Rackspace, and LinkedIn, among others...
VC legend Ben Horowitz... award-winning industrial designer Yves Behar... and Yahoo CEO Marissa Meyer are among the tech superstars that sit on Jawbone's board of directors as the company moves closer to IPO.
What kind of exit gains might Jawbone deliver?
Consider GoPro as a comparable...
The action lifestyle camera maker had its IPO last June, opening at over $30 a share.
By the end of December – when insiders were allowed to sell – the stock was trading at over $64.
That's a nice double for regular stock investors...
But private pre-IPO investors had an opportunity to grab a stake in GoPro three years before its public offering for as little as $2.53 a share...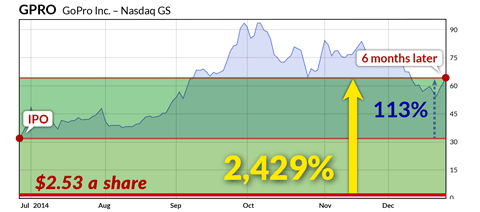 For them, the gains were a whopping 2,429%.
Make no mistake...
The returns you can see in any of these hyper-growth private placement plays are in the extremely high multiples.
Consider Tesla Motors...
The electric car company debuted at $19 a share... and was trading at just over $26 at the six-month "lockup expiration date" – the day private investors are allowed to sell their shares.
That's a decent 36% gain for stock investors who bought the day of the IPO.
But if you had access to shares in the private market just over a year earlier, you might have claimed a stake in Tesla for $2.51 a share...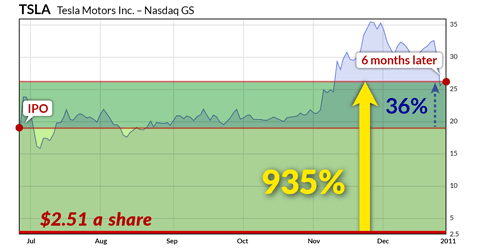 And earned "exit" gains of 935%.
Time after time, gains are far bigger when you can get into these companies pre-IPO...
Software service company ZenDesk went public last May at $15.25 a share and traded at just over $24 six months later.
That's a decent 58% gain for regular stock holders.
But those who bought stock in the private market for just $5.24 a share a little more than a year prior did a whole lot better...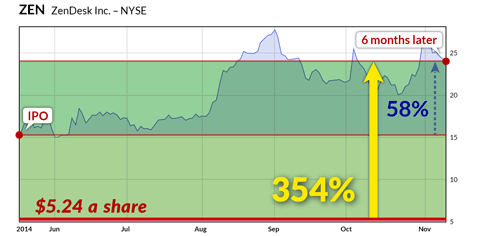 Racking up "exit" gains of 354%.
Cloud-based business management company Workday held its IPO in late 2012, debuting at just over $48 a share.
Six months later, when insiders could sell, it was right around $61. That's a decent 27% six-month stock market gain...
But had you bought into the company when private investors were loading up in anticipation of its IPO, you could have owned a stake at a mere $3.30 a share.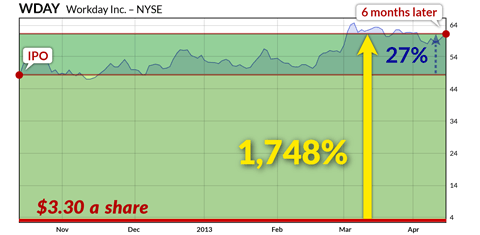 That works out to a whopping 1,748% gain the day the private money crowd cashed out.
That's over $1.7 million for every $100,000 they put in!
Or how about online food delivery company GrubHub...
The company had its IPO debut last April at $34.
Six months later it was trading at $35.60... for a "better-than-nothing" 5% stock market gain...
But how about those who bought "private market" shares when the company was rapidly expanding in late 2010 – at just 87 cents?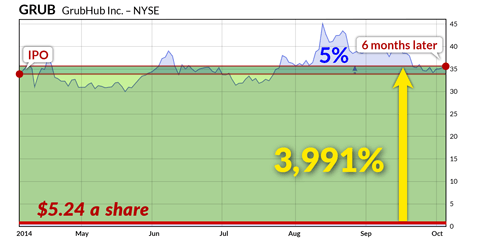 They were able to cash out this past October for exit gains of 3,991%!
That's nearly $4 million for every $100,000 investment!
With today's boom in private, pre-IPO deals, I can show you hundreds of examples.
But it's not past deals I'm excited about now...
It's the next crop of late-stage private companies that can make you rich...
Companies that are backed by some of the most successful institutions, strategic partners, and mutual funds in the world.
Companies in their "hyper growth" stage...
Companies where exit gains between 300% and 500% are "for the taking"...
With the potential for 8-to-1... 10-to-1... even 20-to-1 winners.
Like another company you'll own through this deal... ZocDoc.
Some are calling it the "Uber" of the medical world.
Its platform lets patients snap up empty slots in doctors' schedules with their smartphones in "real" time.
Doctors love it because it fills up dead time with billable hours...
And patients love it because they can find a doctor and have an appointment booked within 24 hours – instead of having to wait days, weeks, and sometimes months for an opening.
With ZocDoc, you can have one in hours.
And talk about first-mover advantage...
Already, over 5 million people have used the ZocDoc platform in over 2,000 cities in all 50 states to find doctors – from general practitioners to dentists to specialists in every field.
And put aside how you feel about ObamaCare for a moment. Mandated health care is a huge and timely boon to ZocDoc.
That's because as more and more newly insured people enter the system, it's becoming extremely difficult to see a doctor, especially in bigger cities where MDs are booked for months.
Even so, anywhere from 10% to 20% of doctor appointments are canceled at the last minute.
That's why doctors are so willing to pay a fee to be on the ZocDoc network.
They lose big sums of money from last-minute cancellations.
But now they can list these sudden openings in real time and book paying patients instantly.
Needless to say, ZocDoc has attracted a very impressive lineup of backers.
Jeff Bezos, the founder and CEO of Amazon.com...
Yuri Milner, founder of DST Global and backer of Facebook, Zynga, Groupon, and Twitter...
Goldman Sachs – the global investment banking giant...
Vinod Khosla, one of the co-founders of Sun Microsystem and a general partner in the influential firm Kleiner, Perkins, Caufield & Byers...
Marc Benioff, founder, chairman, and CEO of Salesforce.com...
And Peter Thiel, Facebook billionaire, PayPal founder, and one of the most influential investors on the planet.
Right now ZocDoc is estimated to be worth about $1.6 billion.
That's the valuation many of the investors I just named recently bought in for ... and roughly what you can own ZocDoc for right now.
So what kind of money could ZocDoc bring in?
Let's use Uber as an example.
Three years ago it was worth a mere $316 million based on a funding round in December of 2011.
Since then it's appreciated 1,292% based on current valuations...
And it hasn't even gone public yet!
Which brings me to an important point about the companies I'm bringing you today...
Because these companies are in the hyper-growth phase of their development, and moving closer to their IPO dates... the price almost always goes up with every funding round.
I told you about the rocket-like growth of Uber, which grew from a 35 cent share price in late 2011...
To $3.56 in the next funding round...
To $15.51 in the next...
To $33.32 six months later.
All the way to a crazy 94-to-1 appreciation.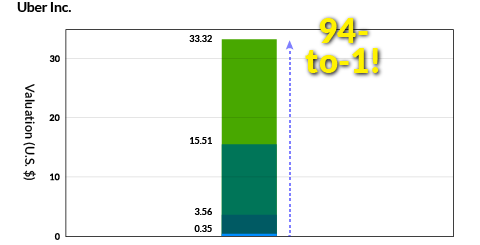 But it's not an isolated event...
Better than 96% of the top 100 pre-IPO companies on the private market have seen their valuations soar...
Room-sharing company Airbnb was valued at $2.7 billion in December 2012.
One funding round and 19 months later, it was valued at $10.5 billion.
That's a 288% appreciation.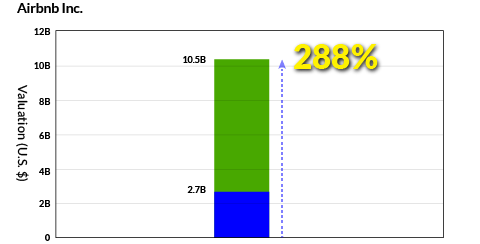 Square, the company that lets any smartphone or tablet accept credit card payments, saw its value jump more than six-fold in just three months – from $253 million to $1.6 billion...
Then to $5.2 billion three funding rounds later.
That's a 1,955% gain!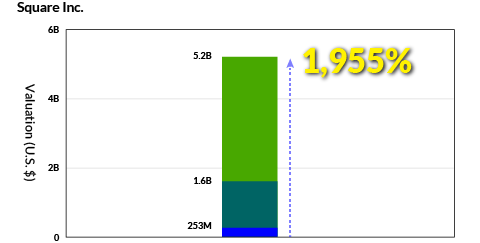 Cloudera has doubled, on average, every funding round...
From $23 million to a whopping $4.2 billion.
That's a total appreciation of 18,160%.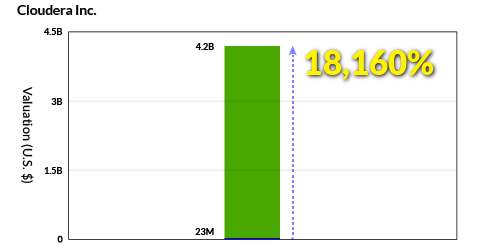 Or how about mobile security company Lookout Inc.
At the start of 2008 it had a $4 million valuation...
And it grew by 29 times to $119 million by the end 2010...
To $345 million in 2011...
$807 million in 2013...
And to $1.3 billion in 2014.
Altogether that's a 324-to-1 appreciation!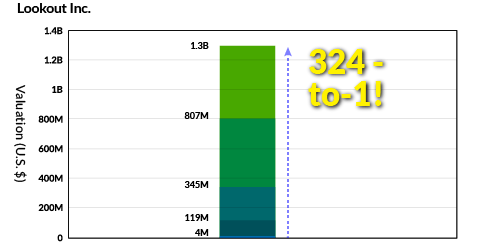 And in each case, all this growth happened before the company went public!
I hope you're seeing the big picture here:
These private, pre-IPO companies offer the potential for the kind of short-term "mega-growth" profits you simply can't find on a consistent basis anywhere else.
Now YOU can be a part of them. And in a minute I'll show you exactly how.
But first, you should know why this big-money boom is so hot right now, and why I'm determined to help you profit from it.
The way I see it, it's a "perfect storm" of events that's creating a money-making opportunity you're only likely to see once every two or three generations.
First, technology is in hyper drive.
New disruptive innovations are coming online at an average of one new billion-dollar technology per week.
According to The Wall Street Journal, "Technology is overtaking nearly every major industry, from city transportation and hospitality to education and health care."
Second, companies are waiting longer to go public.
During the dot-com IPO boom of the late 90s, companies with no revenues and no profits were going public "overnight."
Not anymore.
The average age of the companies going public is now eight years.
They're not pie-in-the-sky startups any more.
Many of today's private companies are said to be generating "tens if not hundreds of millions of dollars annually," according to The Wall Street Journal.
Airbnb is reported to have doubled its revenue in 2013 to $250 million. Dropbox nearly doubled to $200 million.
That's real money and real growth, which translates into real value...
Third, it's not just venture capital money in on these deals. Institutional investors like Tiger Global Management and strategic investors like Intel and Google are getting in on these deals.
Tiger has invested in 12 of the billion-dollar private deals. Conservative T. Rowe Price has invested in 11.
They're getting in on these deals now because, in my view, they see safety AND numbers.
And fourth, valuations are at "sane" levels today.
According to venture capitalist and Facebook billionaire Peter Thiel, the field of new, exciting, and disruptive companies is not overvalued, despite what some naysayers suggest.
Just consider, he says, that the sum of billion-dollar-plus startups in the U.S... $249 billion, according to The Wall Street Journal – is still less than Google's $365 billion market cap.
So it's all these things coming together.
And the result?
A private market "mega boom" that, until recently, regular investors could only stand by and watch...
While millionaire insiders made billions.
But that changes today...
With the deal I'm bringing you today.
Now, you may be wondering...
How was I able to get Money Morning readers special terms on this deal that no one else can claim?
You see, after 34 years in the business, I count some of the biggest names in technology as friends and associates.
I've worked with giants like former McAfee CEO Dave DeWalt, just before Intel acquired the company for $7.8 billion.
I was involved in the early stages of important "MEMS" technology with a tiny startup that was later sold for over $120 million – and now leads a $7 trillion industry.
As a Pulitzer-nominated business journalist I've gotten to know hundreds of entrepreneurs, CEOs, innovators, scientists, Nobel Prize winners, and technology experts...
People whose talent and skills have helped deliver billions of dollars to private pre-IPO investors.
My focus for the last two years at Money Morning has been to recommend leading-edge technologies that make people money.
And I've done just that – from 103% gains in a little company called Santarus... to 120% gains in TriQuint Semiconductors... to 178% gains in Micron Technologies and dozens more.
But I've always known that even these sizeable gains pale when compared to the money you can make owning a piece of a private, hyper-growth company on a clear path to its Initial Public Offering.
That's why for the last six months, I've been working with one of the most renowned venture capital experts of our day to recommend a deal with terms designed exclusively for Money Morning members.
He's a person known throughout Silicon Valley for overseeing billions of dollars in exit profits in such companies as FireEye, Workday, LifeLock, Twitter, Ring Central, and others.
You'll recognize his name because he's one of the people who "run the show" here in the Valley.
And he's in on a lot of the most lucrative deals.
For instance, this past September he took a stake in a late-stage private company called Datalogix when it was valued at "just" $650 million.
He did it knowing some of the biggest names in venture capital were behind it.
He knew it was growing at a fantastic clip.
He knew the company was building up reams of data on the spending habits of 110 million households from over 1,500 data partners...
And that information like this was like pure gold to online marketers.
Turns out he was right on the money...
Just four months later The Wall Street Journal reported that Oracle bought Datalogix... for a whopping $1.2 billion...
The result?
A $550 million appreciation in about three months.
That's how fast these late-stage deals can move.
And there are plenty of them.
And often you don't even have to wait for an IPO...
Nest Labs was valued at about $800 million... one year later, Google bought the company for $3.2 billion – a better than 300% gain in a year.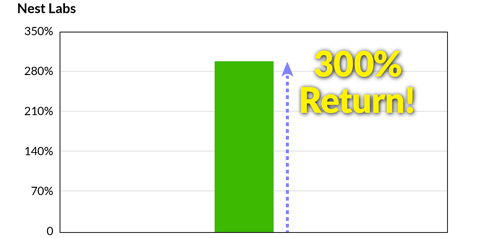 Virtual reality company Oculus was valued at around $250 million before Facebook snapped up the company for a reported $2 billion... handing private investors a potential 700% windfall in less than seven months.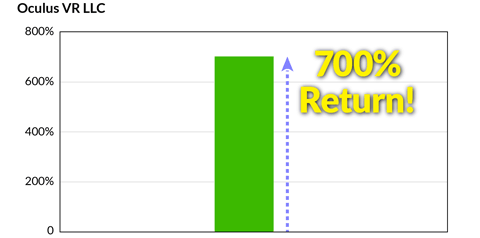 These are the kinds of gains you'll have an opportunity to see when you're a part of the deal I'm bringing you today.
Now, please note:
This man's firm, and the deal you're about to see, is unique.
It is one of the only investments in existence today that can get you into private, pre-IPO gains without needing a $1 million or $100,000 minimum.
The only caveat is this:
This is a "closed end" opportunity...
Which means once the set number of ownership units has been taken, nobody else will be allowed in this deal.
Doesn't matter how qualified you are or how much money you have. There are no exceptions.
And considering that Money Morning has 850,000 readers who will have a chance at this opportunity, we suspect it won't be long before this deal closes for good to new people.
In a minute I'll tell you about another company you can own through this deal.
If you use credit cards online or at many major retailers, chances are you're already using its powerful technology...
And when it goes public, I think insiders will make a fortune on it.
But first...
With all this new technology flooding the market, how do we choose the winners?
I'll let our venture capital expert explain the extremely disciplined and effective methodology:
MICHAEL ROBINSON:
"What's the first step in the selection process?
VC EXPERT:
Investing in private companies, you have to invest a lot into getting the right information at your fingertips in a structured way.
The way we addressed this was building a database, which has now over 100,000 venture transactions of the last 10 to 15 years. And in there, we track who did which deal and which company at what price and what happened to the companies.
And as you might guess, in every firm, there's one or two partners who drive the performance of those specific firms.
We want to know what companies are they invested in today, which is, again, something we do out of the database.
In there, you could see that there's a correlation of outsized performance with the number of top venture capitalists invested and co-invested within the same firm.
MICHAEL ROBINSON:
What else are you looking for?
VC EXPERT:
So, we're not interested in companies that are either no revenue or early revenue. We want to see between $50 million and $100 million of annual revenue. We want to see something like between 30 percent and up to 100 percent revenue growth year over year. The reason for that is for us to take technology risk off the table.
If we have a company with, let's say, $50 million in revenue growing 75 percent per year means, A, you have a product that sells and a product that works. Otherwise, nobody would buy it. And, B, you have a traction in the market that even people not only buy it, they want to buy more of it.
Then it comes down – if you have that profile, this is not a technology risk. It comes down to market-size risk, execution risk, do you have the right management team and is the market big enough to sustain an outsized growth rate of this rate for another two to three years or longer.
MICHAEL ROBINSON:
And as far as market potential goes...
VC EXPERT:
We know that a majority of these companies will have an enterprise value of something like $400 million to $1 billion, a billion-dollar exit and more are something we love to have.
The most important thing is you want to see that there is enough market size that several players can achieve something like a $350 to $500 million revenue without putting stress on the market size.
So, you need a multi-billion dollar – tens of billions of dollars market size minimum where a company has its place and even with the smaller market share can achieve $350 to $500 million revenue with this kind of a growth rate.
MICHAEL ROBINSON:
Why the focus on "late stage" companies?
VC EXPERT:
The big difference between early stage venture capital and late stage venture capital is the amount of risk and the amount of failure rate you, as an investor, are facing.
In early stage, it's typically done as the first money or the second money into a company. You have either just a PowerPoint presentation and a business plan on paper or a first kind of product to look at, but you don't know is the technology scaleable, will people buy this kind of technology, how big the market really is and where does it go.
In that tier, it was called early stage venture capital, you typically face failure rates – companies that really have a good idea, but in the end fail for multiple purposes – between a 30 percent and 50 percent rate of the companies. In later stage, this looks different again.
At that point, the company has significant revenue. Following my matrix here, it would be between $50 million and $100 million in revenue.
So, you have a product, you know the product works, the technology works and you know it was at least able to scale up to $50 to $100 million revenue.
And you have a business model because people are buying it and you figure out at what price and what kind of model people are willing to buy.
Now, from there on, you only focus on execution and market size. The failure rate goes dramatically down.
So, as you just heard, there's a lot that goes into the selection process...
But the biggest thing in my books is we're only dealing in "later stage," hyper-growth companies where the technology risk is off the table.
I don't like undue risk and neither should you.
Every company you'll own through this deal has real products and real customers buying them...
Like the mobile security company you'll have a stake in as a part of this deal called Jumio.
It has proprietary "computer vision" technology that serves users in two ways.
First, it offers online merchants a way to authenticate mobile credit card payments.
Buyers simply scan their credit card and ID via their mobile phone, and within seconds Jumio can determine if the credit card is authentic.
Through proprietary technology that cross-references information and photo-imaging...
It can identify with extreme accuracy if the person using the card and ID is the authorized owner.
In short, Jumio's technology solves the HUGE problem of credit card and identity fraud.
As e-commerce and mobile shopping grow by double digits year over year, fraud is costing retailers billions of dollars.
The most recent industry study shows that the average large company lost between 10% and 24% of its sales to fraudulent mobile transactions....
And that 11.6% of companies experienced 36% to 50% online fraud rates.
In dollar terms, global credit card fraud grew to $14 billion in 2013 – up 19% over 2012's figures.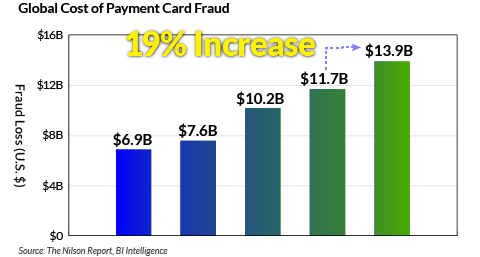 That's why top online retailers are flocking to adopt Jumio's technology... including United Airlines, Travelocity, EasyJet, Kickstarter, Western Union, and more.
The important work Jumio is doing in the online security space has attracted some very high-level investors...
In fact, Citibank Ventures not only invested millions in the company...
But its managing director Ramneek Gupta joined Jumio's board and gave the company access to Citibank's network of customer for the sole purpose of testing new technologies.
Citi joins venture capital powerhouse Andreessen Horowitz, Facebook co-founder Eduardo Saverin, and Match.com co-founder Peng T. Ong, to name a few.
Can I tell you the exact exit gains we could see with Jumio down the road? No.
But I can tell you that high-profile data breaches at Sony, Home Depot, Target, and eBay are helping to make internet security one of the fastest growing markets in technology.
According to CB Research, venture firms invested a record high of $1.4 billion in cybersecurity firms in 2013 alone... and more than 80 were either acquired or went public.
One was FireEye, one of many exits overseen by the VC expert who helped us put today's deal together.
FireEye closed its first day of trading in late 2013 at $36 and climbed to $71.50 by the March 2014 lockup expiration date...
That's a nice 98% gain in its stock price in less than a year...
But it's "small potatoes" compared to what some private investors made – the folks who were snapping up preferred shares three years earlier for $1.36...
Those investors who sold at the first chance in March saw a massive 5,157% gain.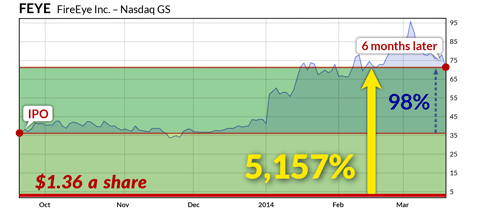 That's $51,570 for every $1,000 invested!
But here's the thing to remember...
Regular investors can't just go out and buy FireEye, Jumio, ZocDoc, Jawbone, or DocuSign...
Or any of the other private companies you'll have a stake in through this deal.
But you can today...
And not at $1 million buy-in... or the minimum $100,000 buy-in... or even a $25,000 buy-in...
And you won't pay an "entry" fee just to get in, either.
Instead, you can claim a stake in some of the fastest-growing pre-IPO companies... with just a $2,500 minimum investment... and save thousands of dollars in fees in the process.
Plus, you do not have to be an accredited investor to take part.
You just have to be a Money Morning member.
Meaning, if you're signed up for Money Morning, or any Money Morning publication, you qualify for the special concierge service we've arranged and the "waiving" of any initial fees.
So you're likely wondering...
How much money can I make?
To be frank, it's impossible to say for sure how much money you could make. You can never know with absolutely certainty what exit gains any company will generate, if any, until it happens.
But I will say this...
The private pre-IPO market is booming.
New disruptive technology companies valued at over $1 billion dollars are appearing, on average, once a week.
Investors are sitting on over $249 billion in potential gains on their books.
Valuations are running 10-, 12-, 15-, 20-, 25-, 31-to-1.
And frankly, this deal lets you in on that new money.
Through the deal I'm recommending, you can take your share of the profits from every exit that takes place...
You can spend the money how you like...
Or roll your wins back into new companies and watch your money potentially soar exponentially.
And as I'll show you in a minute, the way this deal is set up...
Every $5,000 you invest could put $205,000 in your pocket...
Every $12,500 could turn into $512,900...
Every $25,000 into $1,025,800...
Every $50,000 into $2,051,000...
The money you can make here is almost unbelievable...
Until you consider exactly why these gains are all but inevitable:
1) Each company is able to grow in value by billions of dollars during these "pre-IPO hyper-growth" years...
and
2) The HUGE payouts can happen instantly when a private company "exits" with a successful IPO or acquisition.
Again, being a part of this deal is not like stock investing where you log onto your broker's site, enter a symbol, and own a share.
But don't worry... I'll show you everything.
Here's how it will work:
The first thing that will happen is I'll send you a complete and detailed memo that walks you through every step of the sign-up process.
The sole purpose of the memo is to walk you through this process and have you in the deal as quickly and seamlessly as possible.
Here's what my memo will include:
The name and contact information of the firm you'll be working with...
Details on the special "concierge service" we've arranged exclusively for Money Morning members – including the direct phone number and email address you can use to contact the company any time.
The special "identifier number" you'll use that will ensure the traditional 6% entry fee is waived for you.
An overview of every late-stage, pre-IPO company you'll own a piece of through this deal...
Links to any forms you'll need to fill out, depending on whether you want to keep this investment in your regular trading account... or let it grow tax-deferred in a registered retirement account...
Step-by-step instructions for funding your investment...
And full details on the different ways you can choose to be paid whenever a company goes public or is acquired...
But there's more you'll see from me in connection with this deal.
A lot more...
I'll be meeting with our venture capital experts on a regular basis and reporting back to you regularly with important news and developments...
Each month I'll send you updates on the companies– new deals, product, or technology announcements... management updates... important growth numbers... anything that can impact the future value.
I'll also send you updates and information on new funding rounds, new valuation estimates, and full details on any new companies that come into this deal.
And if there's something important and timely to send you right away – like an IPO announcement or details on a potential acquisition – I'll send you an urgent alert via email with all the "inside" details.
In short, you'll know everything about what's going on these companies – just like the big investors who have millions of dollars in these deals.
You get all of this – including those exclusive terms on this deal – through my Radical Technology Profits research.
This is Your Connection to Everything New In Technology
You see, I created Radical Technology Profits to focus on the fastest-moving ground-floor opportunities in biotech, advanced defense systems, big data, cloud computing, genomics, wireless chips and sensors, nanotech, robotics, and every other cutting-edge breakthrough.
Having access to private companies – like DocuSign, Jawbone, ZocDoc, Jumio, and other up-and-coming high-tech innovators – is the perfect match for the work I do at Radical Technology Profits.
In fact, it makes us the only research service I know of in the world that can bring you breakthroughs from both the private AND public markets.
Let me be blunt:
If you're not an investor in today's technology revolution, you're missing out on the greatest financial windfall in three generations.
We are at a unique moment in history where technology is enveloping our lives in new and profound ways.
On the consumer side, people have become dependent on smartphones, tablets, social networks, e-commerce, video streaming, and the tech-laden connected car.
Businesses must have mobile workers, cloud computing, smart data analytics, robotics, cybersecurity, sensors, software, and much more to survive and compete.
And I believe we've just barely scratched the surface of tech's impact on the global economy.
That's why the opportunity that's before you right now is so huge.
With this "pre-IPO" deal, you'll be among the small handful of investors who are truly in on the ground floor of the "next wave" of companies that will shape the way we live tomorrow.
But it's not the only place where we expect to rack up huge gains in technology.
For instance...
The latest public company in my Radical Technology Profits portfolio makes high-performance networking gear that speeds up the time it takes to send and receive data from the cloud.
This is important technology because "cloud" computing is maturing.
And customers – particularly the major players – are not only demanding volume and security... they're demanding speed, too.
And this little company delivers in a big way.
It's won a string of industry awards, and has been given rave reviews on Bloomberg, Business Week, and Fortune.
But most impressive are its blue chip clients, including Cisco Systems... Dell... EMC... Hitachi... Hewlett-Packard... IBM... Lenovo... and Oracle, just to name a few.
It just beat analysts' estimates by 25% and, like every great momentum play, it just hit a 52-week high.
As cloud computing continues its meteoric rise – and as providers spend billions to gain a competitive edge – my research suggests this little company could double in the very near term.
Here's another opportunity I think could pay off big time for Radical Technology Profits readers.
It's a tiny biotech firm that has a deep pipeline of sleep aid drugs... antibiotics for ear infections... and cough and cold medicines.
However, it's not the drugs or patents that caught my attention in this case.
It's the new CEO.
His name is Doug Drysdale... and for the past 25 years, I've watched Doug turn small biotech firms into multinational giants.
His last project was Alvogen. He took the company from inception to having operations in 30 different countries with a pipeline of 200 drugs.
Before that, he was an executive at Actavis Pharmaceuticals. His work in strategic partnerships and acquisitions helped drive that stock from as low as $23 to over $221 today.
That's a 944% spike.
And at his new position, he's poised to do the same thing.
He's already brokered major drug acquisitions with GlaxoSmithKline and Pfizer... and investors are pouring money in right behind him.
Over $65 million since he came on board earlier last year.
Knowing the players and having connections at high levels makes a huge difference.
And it's led to some remarkable gains for those who've stayed ahead of my recommendations.
Not too long ago, for instance, I met with a senior advisor to Rare Element Resources LTD.
As the name suggests, Rare Element Resources is a leader in the unusual, expensive, and hard-to-find metals that go into everything electronic.
Metals you've never heard of, like Scandium, Neodymium, Thulium, and others.
With the help of this senior advisor, I was able to bring not just this company, but also three other leaders in rare metals to my readers.
Those include Avalon Rare Metals, Inc., Quest Rare Minerals, and Great Western Minerals Group, Ltd.
I put together a comprehensive presentation on each of these companies...
Guided my readers step-by-step through the whole opportunity...
And in a matter of months, showed them how to grab profits as high as 990%.
Then there are the incredible profits we were able to offer our members from a new innovative "fuel injection system" called CFIS technology.
This technology was invented and controlled by a small company called Westport Innovations.
And it was about to be licensed by GM for use in ALL of their vehicles.
So we alerted our members to this opportunity. And because of our recommendation...
Readers had the chance to capture total gains of 1,116%.
In fact, since I came to Money Morning and began offering premium research in 2012, I've helped readers to more than 30 double-and-triple-digit winners in high-tech companies over the last few years, including:
102% gains in LIN TV Corp...
103% gains in Santarus Inc...
106% gains in Kratos Defense and Security Solutions...
178% in Micron Technologies...
103% in Autobytel...
100% in Horizon Pharma...
102% in Repligen Corp...
120% in TriQuint Semiconductors...
We're currently up double digits in 15 open plays.
Plus, right now, Radical Technology Profit readers are riding additional gains of 105%... 221%... 175%... and 311% in what I call "free trades"...
These are situations in which we cashed out half of our initial investment at 100% gains, and we're letting the rest of the profits climb for free.
My only objective with Radical Technology Profits is to bring you the most exciting and most potentially profitable technology plays.
When I find a company with big upside potential, I'll send you a full report on my findings, complete with details of the technology, the market, and the expected gains I see in the play.
Often I'll record audio and video reports with the CEOs at the companies we're targeting and include those.
I'll give you details for managing each and every recommendation.
In addition to my weekly research briefing, I'll send you urgent "anytime" updates and "sell" recommendations the instant there's an opportunity to grab profits.
If you like, you can even request to have a text sent to your cell phone any time I send out a new alert.
Plus you'll have 24/7 access to my Radical Technology Profits website, where every communication and broadcast is archived.
Here, you can see current recommendations and prices in real time.
And if you need any help with your subscription, you can call my special Concierge Team directly anytime Monday to Friday 9-5 EST through a special service I've set up.
That's how Radical Technology Profits works...
Of course the "pre-IPO" opportunity I'm recommending today is special. It also may just be the biggest money-making opportunity you'll ever see in your lifetime...
The numbers don't lie...
There are more companies graduating to billion dollar or better valuations than ever before.
Last year there were 40...
Today there are 78...
And – with a record 588 pre-IPO tech companies in the pipeline so far for 2015 – we could see as many as 132 billion-dollar-or-more deals over the next 12 months!
That's money you want to be a part of. So here's how this "pre-IPO" opportunity will work:
The instant you sign up I'll activate your Radical Technology Profits subscription and send you my detailed "Instruction Memo" for your review. You'll get it instantly.
This document will give you everything you need to participate in this unique opportunity:
The number to call, the information you'll need to supply, how the buy-ins work, and so on.
Then, today they will open the phone and email lines at 8 a.m. PST (11 a.m. EST) and they will remain open during business hours (8:00 a.m. till 5:00 p.m.) until such time that the capital limit for this deal is met.
Now, that last part is something you need to be very aware of.
This is something out of our hands...
Once the limit on the set number of ownership units has been met, NOBODY will be able to get in.
There's zero flexibility on that.
It's part of the terms of the prospectus, a legal document filed with the government.
There's nothing we – or anyone – can do to get you in after that cap is met and this deal closes.
BUT – once you are in, you're IN. And you can keep investing in these "pre-IPO" deals at any level you like, and never pay a fee.
It's a little like an exclusive private country club in that regard...
If you're not in, you can never play.
But once you're in... you can continue to use and benefit from all the "perks" of membership forever.
And the big "perk" here, of course, is having pre-IPO access to wave after wave of the hottest private companies in the world!
That's why it's important that you to act now.
With over 850,000 Money Morning readers seeing this invitation...
I suspect the response will be very strong.
And given the low entry price... and what we've seen with past deals...
I fully expect many of investors who come in to gobble up the available units very quickly.
I think you "get" what I'm saying here.
This is a new way to make money... but it's also a very limited one.
And once it's full, you may never have an opportunity like this again.
We've recommended private investment deals where the cost to get in was over $5,000.
Minimum investments in some of the companies you'll have an ownership stake in through this deal can cost $100,000 and up – plus thousands in broker fees.
But you can bypass all those costs and fees...
You can get access to our unique terms for this deal just with a one-year subscription to my Radical Technology Profits.
And here's the thing...
Based on the average investment we typically see in these private deals...
You can save over 150% of your "Radical Tech" subscription fee the moment you take advantage of this deal!
So if you're interested – and you're serious...
And if you're ready to be a part of something new that can deliver life-changing gains in a pre-IPO market that's exploding in profits right now...
Then let's not waste another moment.
Now, before I direct you to the page where you can sign up, I want you to be absolutely thrilled with your entire Radical Technology Profits experience.
To that end I want to leave you with the following guarantees:
Guarantee #1:
If you feel this deal or my research isn't perfect for you during the next 30 days, you pay nothing for your subscription.
Look over the "pre-IPO" memo I'll send you within minutes of signing up...
Then take the next 30 days to analyze Radical Technology Profits. Review all the research... the current recommendations...
You'll have full access to the pre-IPO opportunity and every investment briefing I release.
You'll receive my weekly alerts and analyses.
You can review all of my past investment reports on the Radical Technology Profits opportunities I've discussed throughout this summary.
You can listen to my audio briefings and take full advantage of the video training I provide on the members' only website.
Plus, you should utilize the "direct access" and phone concierge service so you can learn more about this very unique "pre-IPO" deal.
In fact, I'll even include the business card with the direct phone number of the firm who's handling the deal, so you'll know who you're talking to when you call.
Then, if for any reason, you feel this isn't right for you, simply contact us and we'll refund every penny you paid for your entire subscription.
That's my first guarantee to you...
The second concerns performance.
Guarantee #2:
You'll see "exit profits" in at least one of the companies before the end of this year...
Remember, the way venture investors make their millions is when companies go public or get acquired at huge multiples.
That's the high-profit endgame...
And I'm so confident that at least one company you'll have ownership in through this deal will exit successfully before the end of this year...
That I'll pay for your full second year's subscription to Radical Technology Profits if it doesn't happen.
I'm talking about NEW exits and NEW profits from companies you'll already own through this deal.
For instance, another of the companies you'll own through our deal could go public any day now.
It's a peer-to-peer lender making big waves in the $1.2 trillion student loan industry called Social Finance, or "SoFi."
It's got some of the biggest names in the industry behind it – firms that were once behind Twitter, Instagram, Vonage, Legal Zoom, and more.
And just a few weeks ago, Dan Leob's Third Point Ventures made a big splash by leading the biggest round of funding yet – over $200 million – driving SoFi's valuation to more than $1.3 billion.
Another major player is eBay founder Peter Thiel, who not only put millions of his own personal cash into the 2014 funding round...
But keeps an office three floors above SoFi's and acts as a personal advisor.
Potential exit gains for SoFi? Can't say for sure...
But another prominent peer-to-peer lender called Lending Club recently wrapped up one of the most successful IPOs of 2014...
Closing its first day of trading at a more than $8.5 billion valuation, or $23 a share.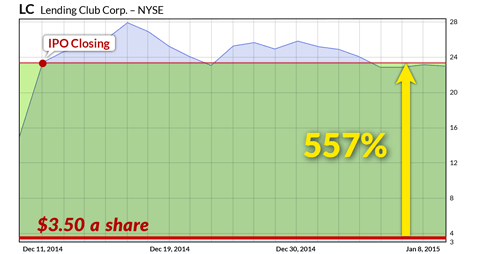 Of course, investors who bought Lending Club when it was a late-stage private company at $3.50 were thrilled...
They saw their investment rocket 557% on a single day.
I'm confident SoFi will soon make pre-IPO investors just as happy...
But if I'm wrong and SoFi or at least one other company doesn't "exit" this year, simply call my VIP concierge team to claim your second year.
I have one more guarantee for you.
Guarantee #3:
At least six (6) triple-digit gains from our regular stock plays before the end of the year...
Or I'll pay for your second year's subscription. Again, all you have to do is call our VIP concierge team to claim it.
How can I offer such a bold promise?
Simple, really.
Like I told you before, technology has only begun to transform all aspects of our daily lives.
Because I "live" this stuff every day, I understand the opportunities coming down the pike – in medicine... in e-commerce... in cyber security... in cloud computing... in data management.
But new technologies are being created in each of these areas that I believe will drive our economy for the next decade at least...
And make a lot of people rich in the process.
I've already delivered over 40 double- and triple-digit gains all totaled...
But it's this new access to private pre-IPO companies that I believe will deliver the BIGGEST gains.
Remember, 588 new technology companies attracting hundreds of billions of dollars in new money this year alone...
Money that wouldn't be here if it were not for the potential for enormous, fast "exit" gains of 5-to-1... 10-to-1... 15-to-1... 20-to-1... 27-to-1... 32-to-1 and more.
That's why I say that we're in the midst of one of the biggest money-making events in investment history...
An event most investors will miss out on.
As a Money Morning member, you can be a part of it under our exclusive terms... but ONLY through this offer.
If you're the type of person who hates missing out while others pocket billions...
If you think it's fundamentally unfair that a handful of rich investors get to profit from these fast-growing private companies – while most regular investors never will...
If the idea of watching private companies you own "exit" for big, overnight gains of 500%... 1,200%... 2,700%... 3,100%... and more, excites you to no end...
Then you need to be part of this deal.
Remember – all of this...
This "pre-IPO" opportunity with terms exclusive to us...

The dramatically discounted subscription price you'll see on the invitation page...

My "triple barreled" satisfaction guarantee...
They're only available to Money Morning readers through this offer... and only for a very limited time.
But I need to hear from you today.
This won't be open for long.
And the last thing in the world you would want is for the strict limit of ownership units on this deal to be snapped up – and for you be shut out forever.
You'll get everything within minutes of signing up...
Full access to all my Radical Technology Profits research as well as full details on the "pre-IPO" deal.
And don't forget – you can test drive everything for 30 days at ZERO RISK to you.
So what are you waiting for?
Why let this rare opportunity slip from your grasp?
You may never see it again.
To get all the details... including how to immediately take advantage of this first-of-its-kind deal...
A deal that's exclusively reserved for you as a Money Morning member...
Simply click the button below.
Or, if you prefer to speak to a member of our VIP services team by phone... please call them toll-free at 1.855.509.6600 (1.443.353.4770 for international callers) between 8 a.m. and 5 p.m. Eastern time and mention Priority Code: WTIMR432.
But please do it now...
Before this deal closes...
And before new rounds of private funding drive up the value of these hyper growth companies by millions of dollars, quite literally, overnight.
Sincerely,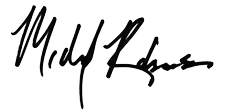 Michael Robinson
Editor, Radical Technology Profits
March 2015

Copyright - 2015 Money Map Press, LLC. The Money Map Press is a publishing company that does not act as a personal investment advisor for any specific individual. Nor do we advocate the purchase or sale of any security or investment for any specific individual. The proprietary recommendations and analysis we present to readers is for the exclusive use of subscribers. Readers should be aware that although our track record is highly rated, and has been legally reviewed for presentation in this invitation, investment markets have inherent risks and there can be no guarantee of future profits. Likewise, our past performance does not assure the same future results. Warning: The past performance of any trade whether actual or hypothetical is not necessarily an indication of future results. Stocks, futures, currencies, commodities, CFDs, options and all types of investment trading can have large potential rewards, but also carry large potential risks. We make absolutely no representation that gains or losses demonstrated in services published by Money Map Press LLC are likely or achievable. Hypothetical trading examples also cannot possibly take into account the impact of liquidity or buyer and seller demand, and do not allow for slippage and associated trading costs and concerns. One must be aware of the risks and be willing to accept them in order to invest in the markets. One should never trade with money that one cannot afford to lose, and one must accept that there will be losses, and one must be able to sustain these losses, both from a financial as well as an emotional perspective. Recommendations are for the exclusive use of subscribers and can change at any time. This work is based on SEC filings, current events, interviews, corporate press releases, and what we've learned as financial journalists. It may contain errors and you shouldn't make any investment decision based solely on what you read here. It's your money and your responsibility.