Have Two Nobel Prize Winners, 14 Ph.D.s, and Two MDs from MIT, Harvard, Penn, Scripps, and Johns Hopkins, just discovered...
How To Live Forever
"The biggest change in our understanding of biology since the discovery of the double helix."
- The New York Times
"We have the means right now to live long enough to live forever."
- Ray Kurzweil
"The implications are breathtaking... almost mystical."
- M.I.T. Technology Review
When you think of the end of your life, what do you picture?
Will you leave the world in a few short years, having made a difference?
Will your family remember you as a strong provider? A loving parent or grandparent? As someone who paved their way for a better future?
Or will the inevitability of death rob you of the opportunity to provide all the things you once planned on leaving behind?
If you still have goals and dreams you want to make a reality, then you need to read this letter to the very end.
Because what I'm going to share with you today will inspire you to rethink your future – your understanding of mortality – and the very concept of death.
Thanks to recent breakthroughs in biology, medicine, and genetics, you may be able to accomplish much more in your life than you ever imagined possible.
Imagine finally having the time and ability to travel and explore the world...
Imagine never being too sick or tired to play an active role in the lives of your children, grandchildren, and even great-grandchildren...
Imagine having enough money to enjoy the retirement of your dreams without ever worrying that you'll outlive your money...
With what I'm about to show you, that's just the beginning.
You see, the medical and technological breakthroughs you'll discover today are changing everything we've been raised to believe about aging.
In the next few years, these discoveries could extend your life expectancy to 120...

But, before you turn 120, another technology will be improved so much that your life expectancy reaches 150...

And by the time you celebrate your 150th birthday, yet another technology could be so advanced that doctors simply stop predicting you'll die at all.
In fact, because of what you'll discover today, Dr. David Sinclair of Harvard's Genetics Department has announced that:
"There is no limit on human lifespan."
His colleagues at Harvard, MIT, Penn, Scripps, and Johns Hopkins have helped to develop a treatment that could be the first step toward a permanent cure for mankind's most deadly disease: aging.
Here's what this is all about...
After decades of experimentation, recent human clinical trials, and two Nobel Prize-winning genetic advancements...
Doctors have discovered an "Immortality Gene" hidden in our DNA.
And... they've developed a treatment
that could allow us to switch it on.
This treatment could require as few as four injections a year.
And besides unlocking our ability to stop aging, these injections could allow our bodies to return to the health and vitality we had in our 30s, and stay there indefinitely.
Imagine...
Never losing a memory or forgetting a face.
Being restored to your sexual peak.
Looking and feeling like you did when you were 30.
And it doesn't stop there.
Clinical tests have already shown that these injections make it possible to reverse the effects of age-related diseases.
At the Dana-Farber Cancer Center in Boston, doctors used them to shrink a patient's liver tumor by 70%.
In a 76-man study in Leeds, England, just four of these injections a year dropped patients' cholesterol levels by 77%.
These particular treatments are now being pushed through the FDA's 4-phase approval process.
In as little as two years, they could be distributed to medical facilities across North America...
If the effects of this treatment are combined – if the diseases of aging are shut down with these injections and the immorality gene is activated...
There could be only one way to distinguish the average 90-year old from a 30-year old: Ask them their birthday.
At that point, there's only one thing standing between you and these treatments.
Your ability to pay for them.
And now there's a way for everyday Americans to overcome this final obstacle.
That's because there's is a powerful movement building to get the first of these breakthroughs out as quickly as possible.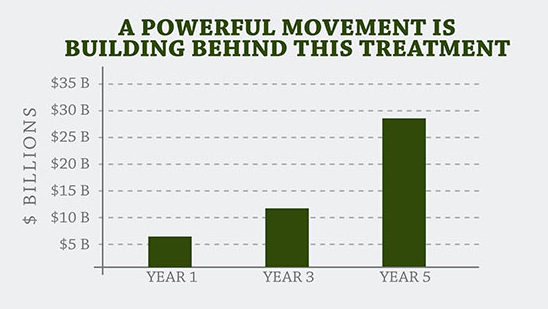 One company has already received $25 million in advanced research funding for it, and there's another $725 million coming right on its heels.
This deal has given them access to distribution agreements with medical organizations in the U.S. and in 170 countries around the world.
Within the first year of this treatment's release, we could be looking at a $6.2 billion industry.
And from there it's going to take off.
By year three it could be at the center of an $11.65 billion medical phenomenon.
Within five years it could explode to at least $29.78 billion annually.
And there's one small lab at the center of this story.
It's extremely important that you act on this information right now. Let me explain why.
My name is Michael Robinson. I've spent the majority of my 35-year career in Silicon Valley, acting as a board member of one venture capital firm and as a senior advisor for two more.
I've worked personally with top executives at:
Aerospace giant Boeing
Cutting-edge biotech firm InVivo Therapeutics
Cloud-computing leader Symantec
And alongside household names like:
Lee Iacocca of Chrysler
Fred Smith of FedEx
Dave DeWalt of McAfee
I've seen new technology releases firsthand in nearly every industry.
And there's one fact that holds true for every new product, whether it's computers, mobile devices, or biotech breakthroughs.
In the early stages, these technologies are only available to the very wealthy.
This is no exception.
The treatment that unlocks the potential for human immortality is going to cost over $40,000 per year in the initial stages.
For most Americans, even for a chance at biological immortality, that's simply unaffordable.
But is it fair for longer life spans and better health to be available only to the rich?
Is it right for those with limited means to die while those who have been more fortunate live?
I don't believe it is. Which is why I'm doing something about it.
I've written a special report that reveals everything you need to know about this revolutionary new treatment...
It's called Unlocking the Immortality Gene.
And I want to send it to you for FREE.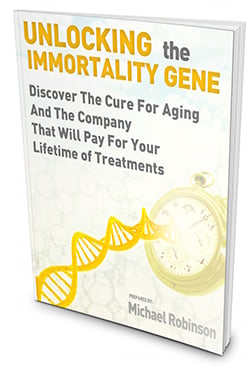 You see, the amazing fact is that right now, the windfalls from investing in the same small lab that's bringing this incredible new therapy to the world could pay for your treatments for life.
Which is why I want to send you this report today.
Nothing I've seen in my 35-year career with Silicon Valley technology is as important as this breakthrough.
Imagine never fearing cancer, heart attacks, Alzheimer's... or any symptoms of aging.
And imagine never worrying about money again.
That's what is now possible thanks to this discovery.
And I'm giving away my full report on these "immortality gene" breakthroughs to anyone who requests it.
All I ask in return is that you pay $5 to cover my publisher's processing costs.
Why am I doing this?
Because it's time that the full story came out.
Most people have only heard bits and pieces about these breakthroughs in the mainstream press...
Time Magazine ran a cover with the headline: "The Year Man Becomes Immortal."
60 Minutes aired a special they called "The Quest for Immortality."
And Fox News published an investigation titled "Who Wants to Live Forever," in which they reported that the first person who will live to 1,000 has probably already been born.
But while each of these news outlets touched on one or two aspects, none of them gave folks the full story.
And none of them mentioned the name of the company making this all possible.
Which is exactly what you'll discover in my report, Unlocking the Immortality Gene.
And I'm going to send it to you as part of a FREE bundle as long as you're willing to cover my publisher's $5 processing cost.
Now, if this is the first time you're hearing any of this, I'm sure it sounds almost unbelievable.
But the fact is, immortality is not as farfetched as it may sound.
In fact, it's already been achieved.
There are at least nine species of animals that have a naturally occurring immortality gene.
These animals simply don't age.
Some of them you probably know.
Look at the lobster.
As they get older, lobsters continue to grow larger, stronger, and more fertile.
Aging is not a death sentence for them.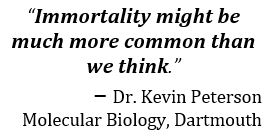 They're eaten by us or another animal...
Or they grow so large their own shell kills them. Not a pretty picture, I know...
However, it demonstrates that if you removed outside threats – lobsters can nearly achieve immortality.
In fact, there is another animal – a specific type of jellyfish – that already has.
It's called Turritopsis dohrnii.
It's also known as "the immortal jellyfish."
Anytime it gets sick or injured, it sinks to the ocean floor, transforms back into a polyp, and reemerges as a newborn.
It biologically turns back the hands of time.
Without predators, the immortal jellyfish can live forever.
Another animal with an immortality gene is the Red Sea Urchin.
As it ages, it regenerates damaged parts infinitely. It never really dies.
So what has granted these animals immortality?
And how can we replicate it?
For decades, scientists have carefully studied these animals, analyzing their genetic code for hints about their longevity that might translate into human medicine.
You see, in many ways, most animals are a lot like us.
They age in similar ways.

They have genes that cause cancer, heart disease, and memory loss. And just like us, after a certain age, they die.
But these immortal animals have a special gene. One that stops the aging process entirely.
But here's what's truly amazing:
We all have this same "Immortality Gene" hidden inside our DNA.
Unfortunately, unlike the immortal animals, when we're born this gene is switched off.
That's what doctors have been working to change. And now, they've accomplished it.
So in your free copy of Unlocking the Immortality Gene, you'll discover exactly what that can mean for you.
How a discovery in Australian pond scum could make you immortal.
There's a microscopic organism in Australian freshwater ponds that lives forever. By studying its genetic code, doctors at UC Berkley were able to uncover the mechanism it uses to turn back the biological hands of time.
And this same genetic secret is hidden in each one of your cells, too.
On page 4 of your free report, you'll see how this Nobel Prize-winning discovery could soon grant you immortality.
"Hack" your DNA and live 40% longer.
Doctors at the Spanish National Cancer Research Centre successfully switched on a single gene in a group of mice by injecting them with modified DNA.
This experiment extended the lifespan of the mice by 40%.
In the near future, that could mean an additional 32 years of healthy life for you. (See how on page 5 of your free report.)
"Immortalize" every cell in your body.
Every time a cell in your body divides, your telomeres (the protective end caps on your chromosomes) get a little bit shorter. Eventually, they get so short the chromosome falls apart, and the cell dies.
But in this report, you'll discover how one naturally occurring enzyme can not only stop your telomeres from getting shorter, but also how it can actually rebuild them to full length.
When this enzyme is introduced into your cells, you stop aging. This has been tested at over a dozen universities, including Stanford, Harvard, and the University of California.
Tap into the genetic "Fountain of Youth"
Dr. Ronald DePinho, a geneticist at Harvard Medical School, describes the effects he witnessed by switching on just one gene as "The Ponce de Leon Effect."
If you know your history, you know de Leon is the explorer who went looking for the Fountain of Youth. And Harvard is suggesting they've found it.
In your free copy of Unlocking the Immortality Gene, I'll show you what doctors are doing to implement this same effect in the human body – and where you'll be able to receive it as soon as it's available.
Wind back your biological clock by 20 years (proven in human clinical trials).
In a 24-week clinical trial, doctors stimulated very low levels of the "immortality gene" in 36 men between the ages of 60 and 85.
After six weeks, the men's vision had improved by 20%.
At 12 weeks, symptoms of erectile dysfunction were disappearing.
And 24 weeks in, they had a 14% increase in the measurable strength of their immune system.
By the end of the trial, the men had literally aged backward – on a biological level – between five and 20 years.
And in Unlocking the Immortality Gene, I'll show you the all-natural supplement they used to accomplish these incredible results.
Click here to claim your copy of Unlocking the Immortality Gene as a part of a FREE package (plus $5 processing).
Now, I think you'll agree that these results are impressive.
They give us the ability to literally age backwards.
However, none of them can truly unlock our ability to live forever.
There are two reasons why.
First, these old methods are slow and have to be done in a lab setting. Making a mass-scale treatment out of them is nearly impossible.
Second, they do nothing to prevent the terrible diseases that come along with aging, like cancer, heart disease, strokes, and diabetes.
That's because they don't deal with the core problem.
Inside of every cell in our body, we have DNA that contains all of our genes. Genes determine our eye color, our height, the structure of our bodies... literally everything.
But there's a final piece of the puzzle that you may not have heard of before.
It's something 114 million times smaller than a red blood cell... 428 million times smaller than a single skin cell.
It's called RNA.
Each of our genes creates a unique type of RNA. There are over 200,000 different forms.
They're instructions written to the rest of our body.
When doctors say a gene is "switched on," what they mean is that it's creating RNA and sending it out into the cells.
On the other hand, when a gene is switched off, it isn't creating any RNA.
Here's where the breakthrough that could finally unlock human immortality comes into play.
There are two different kinds of RNA.
The vast majority of the RNA is our body is healthy. It's what keeps us alive and functioning.
The problem occurs when our genes don't produce enough of it. Sometimes they don't naturally produce any at all, like with the Immortality Gene.
But we also have genes that produce RNA we don't want. This is what causes cancer, heart attacks, and every other genetic disease.
So to achieve immortality, or even get close, we have to increase the amount of healthy RNA in our body and eliminate all the unhealthy RNA.
And that's what doctors have just learned how to do.
This is a new field of medicine called RNA Therapy, or RNAi.
With RNA Therapy, doctors can now switch on or off any gene in our DNA.
Here's how it works.
Doctors identify the gene that they want to target and copy the RNA it creates.
If their goal is to activate a gene (for example, the telomerase-producing immortality gene) they simply have to duplicate that RNA over and over and inject it back into the cell.
So if a particular gene isn't producing RNA and you want it to, we can now simply add more of that RNA into the cells.
On the other hand, if their goal is to switch off a gene, they can use RNA therapy to have the opposite effect.
They simply make a counter-agent for that particular gene's RNA called siRNA.
These are molecules specifically designed to bind to unhealthy RNA and "silence" their effects.
By eliminating the RNA of that gene, the instructions are never carried to the rest of the cell, and the gene is, in essence, turned off.
It's hard to overstate how significant this discovery is.
For the first time in human history, we have the ability to turn genes on and off at will.
Which is why, in 2006, this discovery won the Nobel Prize in medicine.
Now, at that time, doctors could only use RNA therapy in a specific type of worm, called C. Elegans.
But the technology has been advancing rapidly.
Today, it's progressed to advanced clinical trials. The company behind it is already moving far along in the FDA approval process.
And you can harness this therapy not only for its life-saving – potentially immortalizing – ability – but also to capture windfall gains from the company making it possible to bring this miraculous therapy to the world.
I'll show you how to do both in your free copy of Unlocking the Immortality Gene. You'll discover:
How doctors can reverse 25 years of aging in days, not months.
In January 2015, doctors at Stanford used RNA therapy to reverse 25 years of aging in just a few days. They took 60-year-old human skin and muscle cells and made them 35 again!
The lead scientist on the project, Stanford microbiologist Dr. Helen Blau, says, "We have found a way to turn back the internal clock by the equivalent of many years of human life."
Want to be the first in line to wind back your own biological clock? Your FREE copy of Unlocking the Immortality Gene shows you how.
The 4 injections that banish heart disease.
Using RNA therapy, doctors in Leeds England reduced "bad" cholesterol by 77% with only four injections.
Imagine statins, stents, and bypass surgery becoming a thing of the past. Thanks to this discovery, that's now coming true.
But this won't be available everywhere. If you want to see how this will eliminate piles of medication and put an end to dangerous surgeries, you need to know about the small lab where this is happening. (You'll find this on page 13 of your free report.)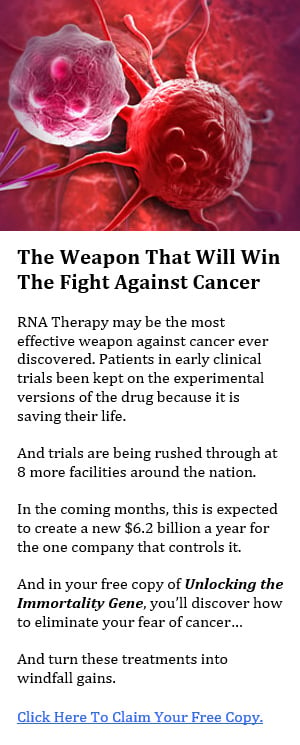 Switch off cancer cells and eliminate tumors.
Why use dangerous chemotherapy, surgery, or radiation when these simple injections could work faster, more powerfully, and with almost no serious side effects?
That's what happened for one woman in the early clinical trials. The injections worked so well that her tumor shrank by 70%.
And she's not alone. RNA therapy has stopped the spread of nine different types of cancer tumors.
(Page 7 shows you how this works and where these treatments are being administered today.)
Wipe out deadly viruses with a single injection.
RNA therapy doesn't just work in human cells. By using a specially designed counter-agent, doctors can wipe out the RNA that allows viruses to infect your cells.
After one dose in a clinical trial, RNA therapy removed every measurable trace of the Hepatitis C virus in 43% of the participants. This didn't require four injections. It worked with the very first shot.
(How will this translate into permanent cures for today's most deadly viral pandemics? See the answer on page 15 of your FREE report.)
How the company behind this therapy could pay for your lifetime of treatments.
A current projection shows RNAi treatments could hit the market as little as 24 months.
In your free copy of Unlocking the Immortality Gene, I'll show you where this therapy is likely to be released. And how to ensure you're at the front of the line for any RNA treatment you need.
The New York Times reported that RNA therapy is "The biggest change in our understanding of biology since the discovery of the double helix."
MIT Nobel Prize winner, Dr. Phillip Sharp, says "RNAi is the most exciting insight in biology in the past decade or two."
But the University of Michigan biochemist, Dr. David Engelke, probably summed it up the best when he said:
"Science has just changed."
And in your free copy of Unlocking the Immortality Gene, you'll discover exactly how this is going from human clinical trials to your doctor's office in as little as two years.
Click here to claim your free copy of Unlocking the Immortality Gene.
Now, as I've already mentioned, RNA treatments are going to be expensive at first. Over $40,000 a year, during the initial release.
But don't worry, because in your free report, Unlocking the Immortality Gene, I'm going to show you something extraordinary...
How the company at the center of this story could pay for your treatments for life.
You see, this isn't an ordinary biotech or medical company. They've assembled one of the most incredible networks of doctors in history.
They've formed strategic partnerships with Stanford, MIT, Harvard, the Mayo Clinic, and Scripps.
Their network of doctors includes MDs and Ph.D.s from Penn, Rockefeller University, and Massachusetts General.
They're working with two Nobel Prize winners, a senior scientist from the Human Genome Project, and no fewer than 12 senior Ph.D.s and MDs leading an army of doctors, geneticists, and biologists.
They're making our bodies impervious to cancer, heart disease, and viral infections. In the near future, this RNA therapy could, notionally, be combined with Immortality Gene activations...
Giving us the ability to wind back the biological clock in each of our cells.
And in your free report:
I'll introduce you to the entire team behind this revolutionary RNA therapy...
You'll see how in clinical trials – with human cells – RNA therapy reversed as much as 25 years of aging safely – without creating a single cancer cell...
You'll see how this could be the first in a series of treatments that unlocks human immortality...
And I'm going to show you how to ensure that you're at the front of the line when the first RNA therapy reaches the market.
Now if you're already wealthy and won't have a problem shelling out $40,000 a year, that may be all you need.
But in case you're not, this report will show you how a single investment with the lab at the center of this could pay you enough to cover the costs for this RNA therapy for life.
In these early stages it's easily one of the hottest investments in the market.
Getting in right now could deliver not two times...
Not five times...
But as much as 12 times your money.
And that could be a conservative estimate.
By 2018, the anti-aging market is projected to hit $345.8 billion a year.
But with this RNA therapy, we're not talking about the temporary fixes like hair plugs and wrinkle creams that dominate the market.
We're talking about a treatment that unlocks the ability for your body to become younger on a biological level.
Now, even having said that, I want to be really conservative with our estimates.
So let's say this RNA therapy only captures 5% of the existing anti-aging market.
That small slice alone would be $17.29 billion a year in additional profits.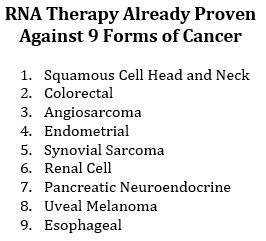 You see, they aren't only interested in using RNA therapy to activate your immortality gene.
And this one company is getting a slice of the profits from every type of RNA therapy.
And those profits will be significant.
For example, RNA therapy has stopped the spread of nine different cancers.
The market for cancer treatments (oncology) is $124 billion a year, but again, let's apply that same conservative 5% estimate that we used for anti-aging.
That's $6.2 billion a year in new revenue.
But it doesn't stop with anti-aging and cancer.
RNA therapy has been shown to shut down 77% of the "bad" cholesterol that causes most symptoms of heart disease.
In America, this is big business. Cardiology treatments generate $108.9 billion a year.
But again, let's stick with a very conservative 5% projection.
That's a brand new $5.45 billion a year revenue stream this company can tap into.
And we're not done yet.
In a clinical trial for Hemophilia – a genetic disease where a patient's blood doesn't clot – RNA therapy has increased the ability of the blood to clot by an average of 138%.
The hemophilia market is expected to grow to $11.4 billion a year by 2016.
So 5% of that would create...
A new $570 million revenue stream.
What about RNA's applications in shutting down viruses?
Well, you don't have to look further than the Hepatitis C treatment already in the FDA approval process.
Remember, after one dose in a clinical trial, RNA therapy removed every measurable trace of the virus in 43% of the participants with the very first shot.
Hepatitis C treatments generate about $5.46 billion a year in revenue.
So again – sticking with a conservative 5% projection...
We're looking at a new revenue stream of $273 million a year.
These are only some of the most advanced RNA therapies.
There are at least 15 more in the development pipeline, covering everything from big conditions like lung and liver disease to rare genetic conditions like Amyloidosis and Porphyria.
Right now, this company's entire total portfolio of genetic treatments generates $2.4 billion a year.
But with the conservative estimates I've just shown you... they could be tapping in to a new $29.8 billion a year revenue stream.
That means we're looking at revenue growth from RNA therapy of 1,141%.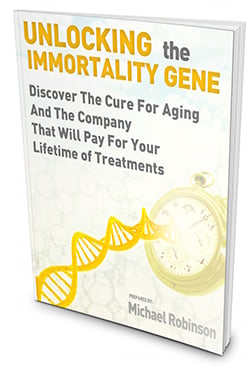 The windfall from investing in this company now could single-handedly pay for a lifetime of RNA therapy, when it's released.
And in this report, I'll show you everything you need to know about the company, including how to invest in it today.
I want to rush you a copy right now.
As soon as you have it, you'll discover:
The true cause of aging and how RNA Therapy can stop it. As clinical tests at Stanford proved earlier this year, it can even wind back your biological clock by the equivalent of 25 years in "a matter of days."
How to ensure you're at the front of the line when this becomes available. There are three primary contenders right now – all partnering with the lab at the center of this story – that you have to keep tabs on if you want to be among the first to receive RNA therapy. In this report, you'll learn the names and locations of all three.
And what you must do today to claim a slice of the coming 1,141% windfall that could pay for your treatments, for life. Plus, why if you don't act before this story reaches the mainstream news, you could miss out on every cent of the profits.
Again, I'm willing to give you this report as a part of a free bundle as long as you cover my publisher's nominal $5 processing fee.
Now, as a Silicon Valley advisor and as the director of Venture Capital and Technology Investing at Money Morning, I'm constantly monitoring new technologies that will improve our lives and deliver life-changing profits to early investors.
So in this bundle, along with Unlocking the Immortality Gene, I have four more bonus gifts I want to send you.
Bonus Gift #1: The Nanotech Revolution
There are currently designs for nanotechnology devices the size of red blood cells.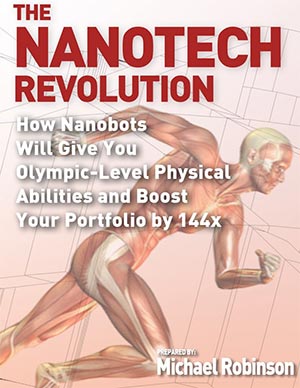 These devices are capable of elevating our physical abilities far above what we're naturally capable of.
In this report, you'll discover:
How nanobots can repair your body from the inside. Why use drugs when nanobots can work from the inside to clear out clogged arteries and fix damage?
20x better than blood.These nanobots can hold 20 times more oxygen and move much faster through our circulatory system.That could allow you to run at an Olympic sprint pace for 15 minutes without stopping.Or for those same 15 minutes you could hold your breath underwater without returning to the surface even once.
$20 million to $289 billion?Testing of the most advanced prototypes is underway at MIT. But the first generation of this technology has just been approved by the FDA.And one small company is behind this. Right now, their revenue is only $20 million a year. But they're set to dominate what the NEIH has estimated to be a coming $289 billion market.
How to claim IPO profits.This is not a public company yet, but in your free bonus gift, The Nanotech Revolution, I'll show you a way to claim a backdoor stake in the company before they go public.
Bonus Gift #2: Information Lockdown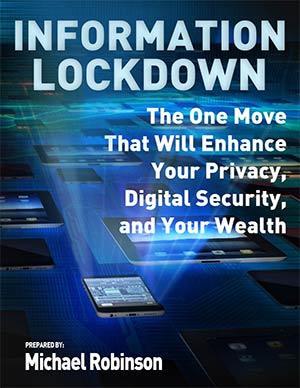 The fastest-growing threat to Americans is online security. But our biggest challenges are often the biggest business opportunities.
So in this free bonus, I'll show you:
The 50 billion device problem.By 2020, there will be 50 billion devices connected to the internet. That includes everything from cell phones to sneakers.That's 50 billion vulnerable points that hackers and cyber criminals can exploit. And 50 billion opportunities for digital security to make our lives safer and more private.
How to claim a 1,100% reward for securing the Internet of Everything. In this report I'll show you the one small firm that is quickly emerging as the global leader in security for the "Internet of Everything."Right now, they have 146 million users worldwide. By the end of the decade – based on current growth projections – they'll have a billion.And their stock could shoot up 1,100%, while keeping your money, your credit, and your identity, completely safe.
Bonus Gift #3: The Digital Battlefield
In a recent discussion I had with Major General Michael Mazzucchi, he told me point blank: The U.S. Army is embedding millions of tiny sensors into their equipment to conquer what I call the "digital battlefield."
These special sensors are called micro-elctro-mechanical systems – or MEMS.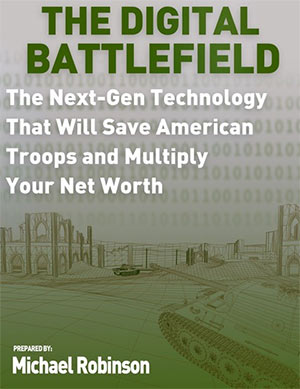 I personally know of highly sensitive military programs that are implementing them.
The Air Force is using them for fifth generation fighter sensors.
MEMS are also being implemented in the MQ-9/Block 5 Aircraft Program, for the transfer, encryption, and communication of classified intelligence.
The Dominate in Unmanned Systems program uses MEMS that have been integrated into unmanned underwater, aerial, and ground vehicles to carry out explosive detonation and surveillance assignments.
Now, the budget for these programs is classified.
But I do know that the Department of Defense is looking at MEMS as one of their main resources for streamlining operations by $487 billion between now and 2021.
And when it saves the military a lot of money, it could create windfall profits for MEMS producers.
So in this report you'll discover the one defense contractor at the center of this all.
As I said, all three of these reports are completely free.
I'll also give you a 30-day free trial to my technology-investing newsletter, the Nova-X Report.
Every month, through the Nova-X Report, I bring you into my world. I show you how to get involved with the world's most disruptive technologies as they're being developed. And I help you claim the financial windfalls available only to early investors.
This is the perfect way to stay on top of the latest developments with the "Immortality Gene," as well as new breakthroughs in biotech, cloud computing, military and defense technology, and much more.
If you enjoy this monthly research, you can choose to stay on after your trial and your card will automatically be billed a fully refundable $79 for a 1-year subscription.
If you find that it's not for you, just cancel within those 30 days and you won't be charged another dime.
So let's recap everything you're receiving today...
First, you'll receive my special report, Unlocking the Immortality Gene. This will show you the cure for aging, and the one company that could pay for a lifetime of treatments.
You'll also receive the three bonus reports: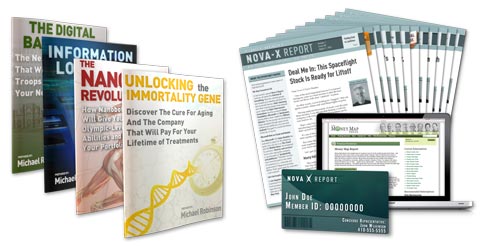 The Nanotech Revolution: How Nanobots Could Give You Olympic-Level Abilities and Boost Your Portfolio by 144x.
Information Lockdown: The One Move That Will Enhance Your Privacy, Digital Security, and Your Wealth.
The Digital Battlefield: How Next-Gen Military Tech Will Save American Lives and Multiply Your Net Worth.
Plus, you'll receive a 30-day free trial to my technology investing newsletter, the Nova-X Report.
Again, I'm going to send you everything for FREE after the small processing fee.
So by paying just $5 today, you'll have access to a wealth of information – information that could save your life and dramatically enhance your wealth.
You can get started right now by clicking on the Order button below.
This takes you to a secure order form, where you can review all the specifics of this deal once more.
You'll receive electronic copies of Unlocking the Immortality Gene, the three bonus reports, as well as access to the Nova-X Report members' website immediately after placing your order.
So right now you have a choice.
First you can choose to be proactive. For only a $5 processing fee, you can become fully informed about how to activate your own immortality gene. You can follow this treatment from the lab to the market and be the first in line when it's available.
And if you act today, you have a chance to have the same small lab that's pioneering this field pay for your treatments for life.
Or you can follow the path of least resistance. You can wait for a few years – maybe a decade – until the price comes down to a level that you can afford.
You can take the chance that you're young and healthy enough now that you'll still be around for it... or you can wait for a raise or a lucky break to give you all the money you need to pay for it.
Most people will choose the second option. There's always someone else to blame if things don't work out.
But I hope, for your sake, you'll choose the first.
Click the order button below to proceed to the checkout form.
Thank you, and have a great day.
Sincerely,
Michael Robinson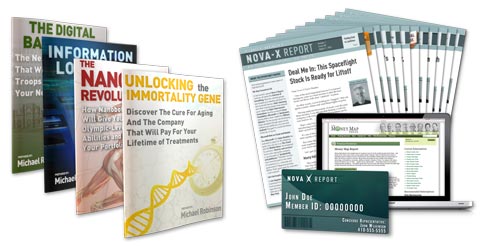 Copyright – 2015 Money Map Press, LLC. The Money Map Press is a publishing company that does not act as a personal investment advisor for any specific individual. Nor do we advocate the purchase or sale of any security or investment for any specific individual. The proprietary recommendations and analysis we present to readers is for the exclusive use of subscribers. Readers should be aware that although our track record is highly rated, and has been legally reviewed for presentation in this invitation, investment markets have inherent risks and there can be no guarantee of future profits. Likewise, our past performance does not assure the same future results. Warning: The past performance of any trade whether actual or hypothetical is not necessarily an indication of future results. Stocks, futures, currencies, commodities, CFDs, options and all types of investment trading can have large potential rewards, but also carry large potential risks. We make absolutely no representation that gains or losses demonstrated in services published by Money Map Press LLC are likely or achievable. Hypothetical trading examples also cannot possibly take into account the impact of liquidity or buyer and seller demand, and do not allow for slippage and associated trading costs and concerns. One must be aware of the risks and be willing to accept them in order to invest in the markets. One should never trade with money that one cannot afford to lose, and one must accept that there will be losses, and one must be able to sustain these losses, both from a financial as well as an emotional perspective. Recommendations are for the exclusive use of subscribers and can change at any time. This work is based on SEC filings, current events, interviews, corporate press releases, and what we've learned as financial journalists. It may contain errors and you shouldn't make any investment decision based solely on what you read here. It's your money and your responsibility.