Dear Reader,
There's no question about it... those little penny stocks from tiny companies – often priced below $1 a share – are making people filthy rich.
It's not unusual to see little stocks that no one has ever heard of... stocks that are not covered by any analysts... stocks that have no news or important events...
Run from a buck to $30, $40, $50, or more... turning every $10,000 grubstake into $500,000.
Of course, when it comes to penny stocks, the risk is a lot higher, but...
The fact is, the biggest stock market gains every single year are typically penny stocks that no one has ever heard of.
And the average guy never seems to get a real chance to get rich on them... until now.
You see, after 34 years of analyzing these HUGE moves, I've discovered something critically important...
A way to play this "rigged system" and have the chance to make ridiculous money.
And the reason is simple:
I've discovered a group of 7,524 millionaires (and billionaires) who are oftentimes behind the market's biggest gainers...
This group will deliberately and legally target penny stocks and pump millions of dollars into them, which causes an eventual jolt to the price.
We're talking exceptional gains of 1,400%, 2,135%, and 3,900% – in as little as six months alone.
Now... you could get upset about this... and report this group to the SEC.
But they won't do a thing.
This group operates according to all the rules and regulations. In fact, there's nothing illegal about what they're doing.
But in the next few minutes, I'm going to show you how you could use this knowledge to invest in very specific stocks nearly every single week for a chance to make huge gains.
And if you have any doubts, let me explain...
My name is Bill Patalon.
I'm not a billionaire, like some of the people you're going to meet in a moment.
But I do quite well for myself.
And it's not because I got lucky or invested at the "right time."
It's because I've spent decades tracking this group of 7,524 people and now have access to a database I use to determine exactly which small stocks they've just invested in and have the greatest chance of driving upwards.
You could say this creates an "unfair" advantage in that I don't have to pick stocks and rely solely on the whims of the market to drive them up.
Instead, I can pick stocks and know – in advance – that this group of 7,524 millionaires is already in position to drive the price way up.
This is how I've been able to see total peak gains of 17,781%.
But it wasn't through conventional stock picking.
I did it by tracking a group of 7,524 millionaires (and billionaires) who regularly target small stocks throughout the market... pump millions of dollars into these stocks, sometimes over the course of single day...
...and cause an eventual, powerful jolt to the price.
If you find this hard to believe, I can't fault you.
Few people know this group exists...
Only a tiny handful know which companies they are investing in at any given point in time. But that's because this group is private. They operate on the fringes of the market.
Some of them don't even have offices. They work out of their homes.
Others rarely ever speak to the press.
And many use private networks to communicate.
It's taken me 34 years to identify all of these 7,524 millionaires.
But the payoff has been extraordinary...
Because today, I no longer have to buy stocks and rely on the market to make me rich.
Instead I can now buy stocks and know – in advance – that this group of millionaires is backing my trades... driving the price of those stocks up.
This is why of the 304 stocks I've targeted over the last five years...
295 of them (or 97%) have gone up in price.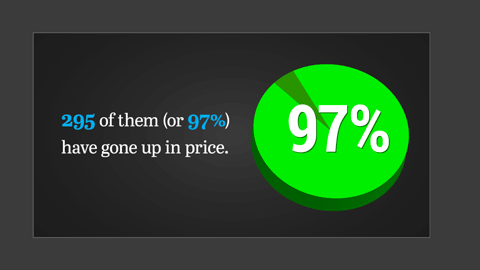 As you're about to see, with $2.3 trillion in collective buying power, this group has more wealth and political sway than most small countries.
And when they apply this buying power to a stock – no matter what the company is– they often send the price into uncharted territory within a matter of days.
Take a look at the stock chart on your screen.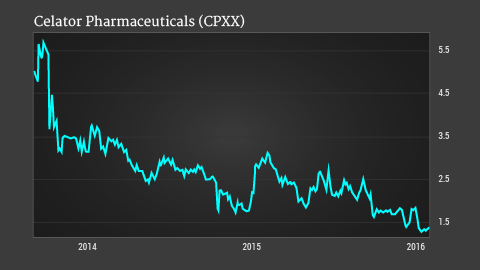 It belongs to a tiny drug company called Celator Pharmaceuticals (CPXX). This is a losing stock. No question about it.
Since its birth in November 1999, Celator has not made a single penny in profit.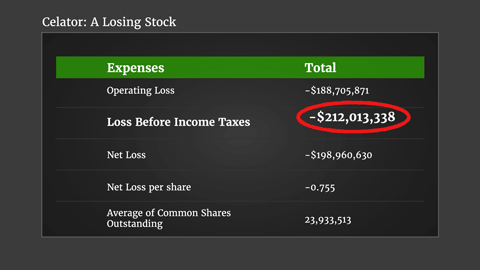 It has actually LOST over $169 million.
Based on publicly available information you wouldn't buy this stock if your life depended on it.
But in March 2016, something inexplicable happened...
Celator's stock exploded.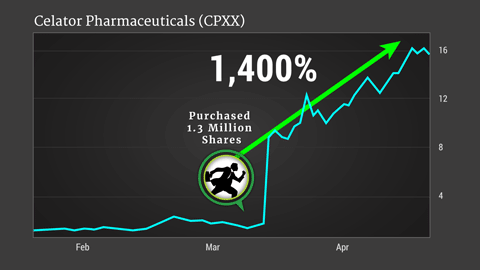 It has been one of the biggest stock gains of 2016.
The rise of Celator's stock wasn't a coincidence nor was it a random event triggered by everyday investors.
It happened because this group of 7,524 millionaires purchased over 1.3 million shares of Celator's stock... helping to drive the price up 1,600% in just three months.
Then there's Golden Star Resources (GSS)...
This tiny gold miner has a $180 million market cap. It's one of the smallest, most obscure stocks trading on the market today.
If you were to look at their recent financial statements you wouldn't touch the stock with a ten-foot pole.
Since 2012, their revenue has fallen 40%.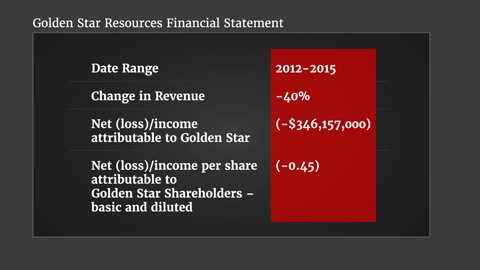 But recently, for whatever reason, this group of 7,524 millionaires targeted the stock and bought over 2 million shares.
It was a sudden move that caused an instant surge in Golden Star's price.
In just three months it shot up 370%.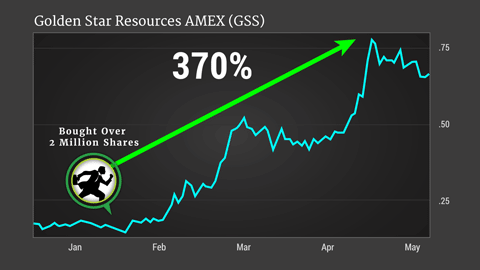 These outrageous, millionaire-making moves are taking place all across the market.
Select stocks in various sectors are rising inexplicably and without warning, often producing triple-digit gains in a matter of weeks. And as you're about to see, this group of 7,524 millionaires is often behind each and every one of them.
Energy Recovery (ERII), for example is a small company that manufacturers equipment used in oil drilling. In 2015, they increased their revenue 47%.
But even still, it hasn't made a penny in profit.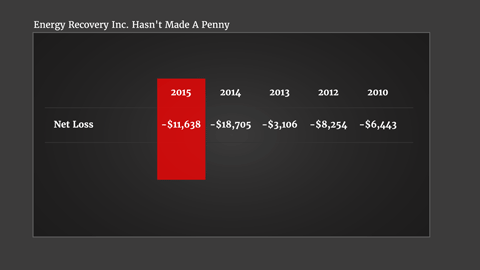 Depending on what kind of investor you are, you'd maybe throw a few hundred dollars into this stock...
But it's certainly not the kind of company you'd peg your retirement on.
For two years the stock was on a crash course to nowhere.
But at the end of 2015 – for whatever reason – this group of 7,524 millionaires bought 4.3 million shares in the company. The impact was immediate.
The price has since catapulted to $13 – a 500% windfall.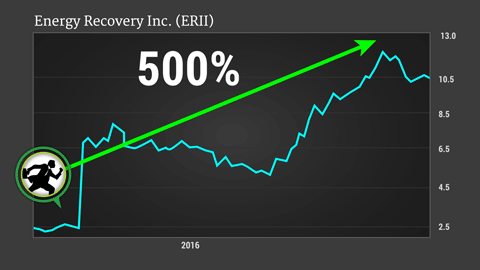 You're probably wondering...
Why has this group of 7,524 millionaires targeted these stocks?
The truth is, no one knows.
These are private individuals.
They don't have to reveal why they invest in a particular stock. They can buy as many shares in any stock they want, whether it's a tiny $1 stock or a large blue chip company
All you have to do is "make their shares, your shares"... and you can let them drive the price of these stocks up for you.
Back in 2002, one of these 7,524 millionaires – a computer scientist from MIT – bought 3.7 million shares in a tiny software developer called Activision (ATVI) – giving him 5% ownership in the firm.
What drove his decision? No one knows.
But it doesn't matter.
All you had to do was make his shares in Activision, your shares in Activision.
This way you could have watched the price of that stock shoot up by 87% over the next 12 months.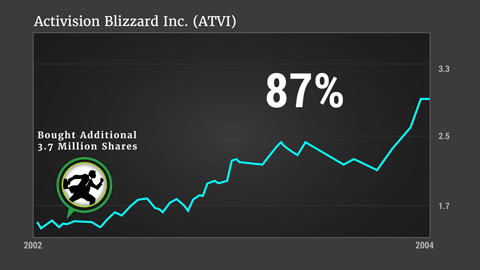 But it didn't end there...
Over the next several years, this same individual acquired an additional 9.8 million shares in Activision's stock.
And as you can see, the price has been rising ever since... reaching a high of $40 at the end of 2015 – a total gain of 2,074%.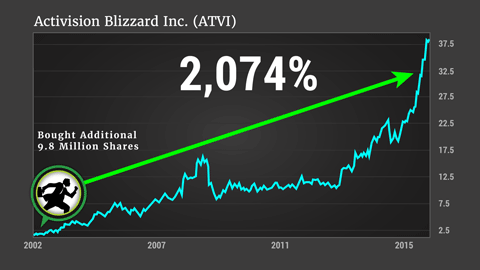 As you can see the sheer force of these millionaires is so extraordinary....
That all it takes is for one of them to target a stock, buy a significant percent of its outstanding shares, and it can send the stock into overdrive within a matter of weeks... even when no one sees it coming.
On February 10, 2009, during the height of the financial crisis, one of these 7,524 millionaires – a Princeton University graduate and former airline executive – revealed that he had just purchased over a million shares of Lions Gate Entertainment (LGF).
This took his total position to 12.2 million shares, giving him 14% ownership in the company.
At that point all you had to do was make his shares in Lions Gate, your shares in Lions Gate.
Then, you could have watched this stock rise by as much as 851%.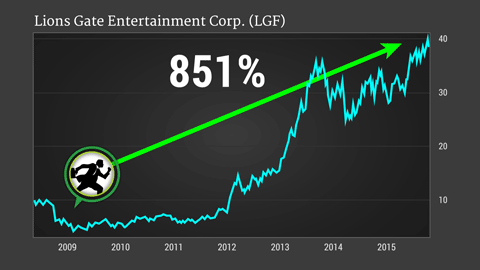 A few years later, on October 31, 2012, this same millionaire reported a purchase of 5.5 million shares in a streaming media company based out of Scotts Valley, California.
Again, I can't tell you exactly why he targeted this stock.
But it doesn't matter....
All you had to do was make his shares, YOUR shares and you could have capitalized on this outstanding 1,092% gain.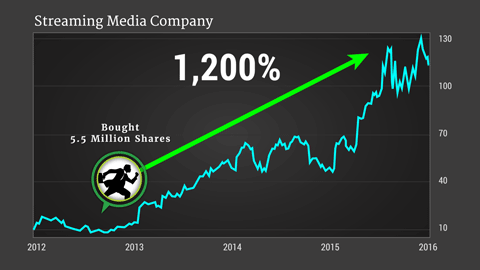 I'll admit, for years I wouldn't touch a stock unless I knew every little detail about it, from its total debt to any back taxes it may have owed on its properties.
But if I've learned anything it's that no matter how much research you put into analyzing a company...
Whether it's reading their SEC filings, touring their facilities, or even speaking directly with their CEO...
If you want to make get rich in today's market, like the pros do – every single day – the only thing you could ever care about is the price of a stock. That's it.
Everything else plays "second-fiddle."
Because when someone targets a particular stock – regardless of whether it's a profitable company or not – when they buy a significant portion of its outstanding shares, it creates a demand vacuum.
This happens when the supply of a stock dwindles down, causing demand to go up, which makes the remaining shares that much more valuable.
This in turn will cause the price – in plain English – to explode.
Try to buy a last minute ticket to the Super Bowl after and you'll see what I mean... demand rises as everyone wants to get into the same game. This makes tickets much more valuable, causing the price to rise significantly.
Stocks work the same way.
That's why I follow this group of 7,524 millionaires.
They are the only private group in America (that I know of) that practically has permission from the SEC to target any stock they want and inject millions of dollars into those stocks... even if it's for the sole purpose of jacking up the price.
And not just by a few percentage points...
But by multiple magnitudes...
Coeur Mining (CDE), for example, is the largest silver producer in America...
This past year they took in $646 million in revenue.
Based on its public filings there is nothing about Coeur's stock that make it an attractive investment.
Despite a minor increase in revenues from the previous year, its silver production is at a six-year low.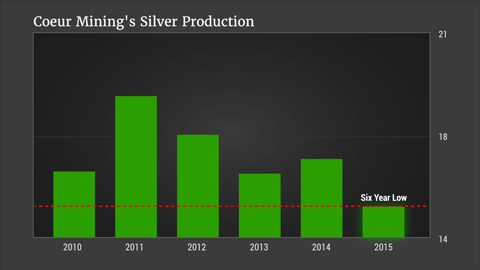 But again, it doesn't matter...
At the end of 2015, this group of 7,524 investors targeted the stock and bought 15.1 million shares.
Whatever drove their decision is unknown.
But look at what happened to the price soon after...
From an historic low of $1.75, Coeur shot off like a rocket, producing 295% returns in less than three months.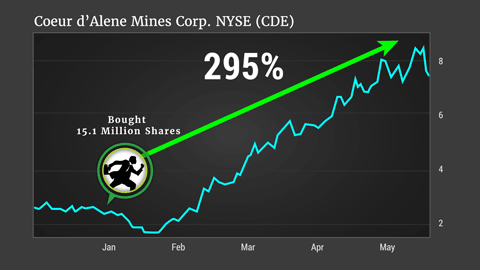 As you can see, it doesn't' matter what the stock is...
Once this group of 7,524 millionaires targets a company, the sky is the limit.
Educational Development Corporation (EDUC) – is a tiny business that publishes children's books. Last year they made about $48 million, a 19% increase from the previous year's earnings. They also made the recent decision to cut themselves from Amazon, where they generate about 20% of their sales.
But even when you mix the good with the bad, there is nothing about this company that stands out as a stock you'd absolutely want to own.
But in 2015, these 7,524 millionaires saw something that nobody else did, which led them to purchase over 240,000 shares.
The stock shifted into overdrive, rising up 240% in just five short months.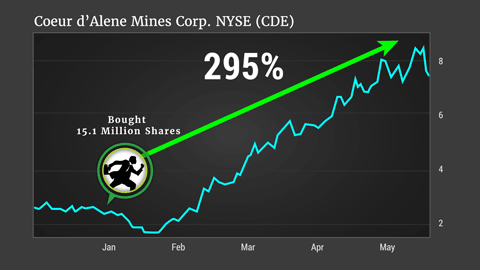 Again, why these millionaires targeted these stocks is entirely irrelevant.
What matters is that right now, this same group is actively pumping millions of dollars into some of the smallest stocks on the market...
And you can now get behind these same exact trades.
It's like you're making their shares your shares.
I realize this may completely shatter your perception about investing...
But as someone who has spent 34 years scouring 10ks, earnings, releases, and analyst reports – probably more so than anyone else – I've realized that the only thing that matters when it comes to getting rich with stocks is the price. Nothing else.
Look at this list...
These are some of the 100 best performing stocks of the last year... Do you recognize a single name? Probably not. Only two of these stocks have a market cap of over $20 million.