Snap Inc. (NYSE: SNAP) broke headlines again last week – for all the wrong reasons.
And now, some analysts are actually suggesting that it's the perfect buying opportunity – despite three of SNAP's executives selling off nearly $10 million worth of the stock last Monday.
But before you go loading up on "cheap" shares…
Here's what my tools are saying could happen in four months.
Thanks to Instagram, SNAP's Future Looks Grim
Shares of Snap, the parent company of Snapchat, closed 44% higher – at $24.48 – on the first trading day back on March 2, 2017. All 200 million shares – the size of its offering – traded hands that day. On top of that, SNAP's market cap at that time was about $33 billion, which put it on par with the likes of Marriott and Target.
Fast forward to now, and its share price has been cut in half – trading at $12.48 as of the time of writing…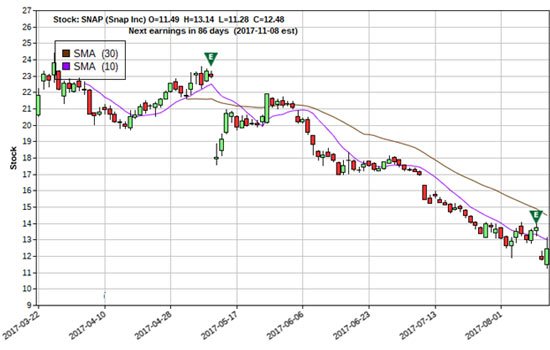 From a charting point of view, the stock's been testing its 10-day simple moving average (SMA) as resistance since June, sliding lower every time it gets to or near it.
After missing second-quarter earnings expectations on Aug. 10, SNAP dropped to an all-time low, closing at $11.83. The company posted a loss of $0.36 per share on revenue of $181.7 million (the consensus estimate was for a loss of $0.14 on a revenue of $187 million). Now keep in mind that these numbers are better than in the first quarter – with revenue up 135% and a 21% increase in daily active users on a year-over-year basis. But the fact that it missed expectations again this quarter rocked the stock – driving it down nearly 10.5%.
Remember… this company went public only six months ago.
Now, some of the analysts who've been following this stock have been steadily lowering expectations, targeting future prices as low as $13.50 to even $12.00 per share. But others, as I mentioned above, are still bullish.
And I couldn't disagree more…
In fact, I see SNAP plummeting as low as $5.00 within the next four months – and these are the two catalysts for a declining share price:
Facebook Inc.'s (Nasdaq: FB) Instagram, which surpassed the Snapchat platform in daily active users earlier this year
Continued decline in daily active users
So as far as all those bullish predictions on the stock… not for this kid. I wouldn't even consider spending any money on it right now – not until its future prospects and future earnings potential improve.
If you do feel inclined to put some money into SNAP options, I'd consider buying puts with expirations under 60 months or possibly even Long-Term Anticipation Securities (LEAPS), which would give you time to capture even more profits on a longer-term decline in the stock.
Two Ways to Make Money If You Already Own SNAP
Whether SNAP is a holding you and your financial professional decide is worth hanging on to, there are two things you can consider doing with your SNAP shares to bring in some capital…
Join the conversation. Click here to jump to comments…
About the Author
Tom Gentile is one of the world's foremost authorities on stock, futures and options trading.
With more than 25 years' experience trading stocks, futures, and options, Tom's style of trading systems and strategies are designed to help individual investors propel themselves past 99 percent of the trading crowd.