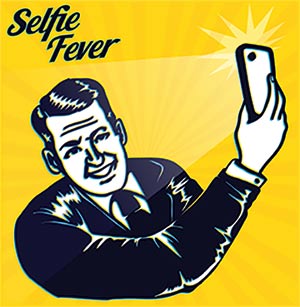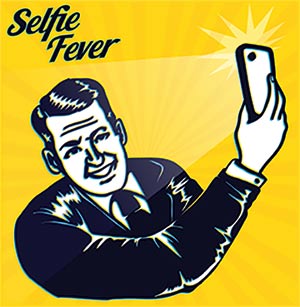 Are Snap Inc. (NYSE: SNAP) and Snapchat the same company? The answer is yes. Snap Inc. is the parent company of Snapchat.
Near the end of September 2016, CEO Evan Spiegel rebranded the company after unveiling Snapchat's first hardware product, tech sunglasses called Spectacles.
Editor's Note: Here's why Spectacles could eventually be worth billions…
According to CNN, Spiegel said they changed the name because Snapchat was just the company's first product. Now that it has more products, it needed a new name.
Unfortunately for some overeager investors, the name change has created problems…
Invest in Snap Inc. (NYSE: SNAP), Not Snap Interactive Inc.
The Snapchat IPO date could happen as early as March. But until then, retail investors can't invest in Snapchat stock.
However, that hasn't stopped people from trying…
Some investors have mistaken Snap Interactive Inc. (OTCMKTS: STVI) for Snap Inc. That has helped shares of STVI skyrocket since Feb. 4.
Shares of STVI opened at $4.60 per share on Feb. 3.
By Feb. 6, the STVI stock price opened at $10 per share.
That's an increase of more than 117% in just three days.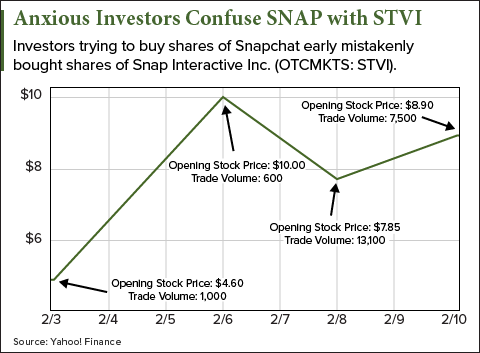 While the share price of STVI eventually dropped to $7.85 per share by Feb. 8, investors still confused the two companies.
The stock price opened at $8.90 on Feb. 10, and 7,500 shares were traded. That was a 650% increase from the amount of shares that were traded on Feb. 6.
Now that you know the correct symbol for Snap Inc. (NYSE: SNAP), here's the most important question to ask: Should I buy Snapchat stock?
To find the answer, I interviewed Money Moring Director of Tech & Venture Capital Research Michael A. Robinson, a giant in tech investing for over 30 years.
Here's what Robinson told me…
What to Do on the Snap Inc. (NYSE: SNAP) IPO Date