Many investors know that income should play an important role in their investment portfolio, but most have no idea how to go about lining it up. So they go without, or worse, pay too much, which essentially amounts to the same thing.
Fortunately, there's a simple solution.
The "YARP" test.
YARP, if you've never heard the term before, stands for "yield at a reasonable price."
The idea is very simple.
Pay as little as possible for as much income as possible.
I know that sounds obvious, but you'd be floored by how many investors have quietly approached me over the years in hushed tones asking for help sorting this out.
Many are deeply embarrassed that they just "don't get it." Yet, there's nothing to be embarrassed about. I know plenty of Wall Street professionals who are completely clueless when it comes to income investing.
Let's start with how you define the term.
"Yield at a Reasonable Price"
Income investing is what you do when you assemble a portfolio of investments with the goal of maximizing the passive income they kick off.
Investors typically do this for all sorts of reasons. Some want to spend the cash they receive (via dividends, interest, or rent) on things they can buy today. Examples include college tuition, groceries, their mortgage, charity, medicine, or other life events.
My preference, however, is always to see as much of that income reinvested for as long as you can. That way you can build wealth faster and more consistently by making your money work for you instead of you working for it.
This is especially true when it comes to investments that are constantly growing the income they kick off. That's because you can ultimately receive more in income than you originally paid to make the investment.
Buy the right stock, for example, and you could literally own it "for free" over time.
The difference this can make when it comes to the financial future of your dreams is positively jaw-dropping.
Take one of my favorite companies, for example.
Had you invested $10,000 in Altria Group Inc. (NYSE: MO) on Aug. 1, 1995, and left that money alone until the close of trading yesterday, your return would be a staggering 664.15%, adjusted for dividends and stock splits.
But with dividends reinvested in this tobacco behemoth, your stake would be worth a whopping $356,535.05 versus just $76,486.04 had you merely owned the stock but not reinvested the dividends.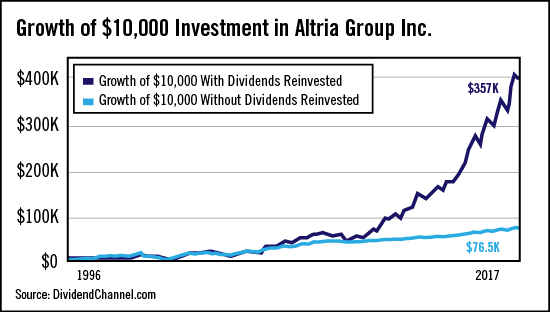 As always, there's a catch. And, ironically, it's one most people don't expect.
Join the conversation. Click here to jump to comments…
About the Author
Keith Fitz-Gerald has been the Chief Investment Strategist for the Money Morning team since 2007. He's a seasoned market analyst with decades of experience, and a highly accurate track record. Keith regularly travels the world in search of investment opportunities others don't yet see or understand. In addition to heading The Money Map Report, Keith runs High Velocity Profits, which aims to get in, target gains, and get out clean, and he's also the founding editor of Straight Line Profits, a service devoted to revealing the "dark side" of Wall Street... In his weekly Total Wealth, Keith has broken down his 30-plus years of success into three parts: Trends, Risk Assessment, and Tactics – meaning the exact techniques for making money. Sign up is free at totalwealthresearch.com.