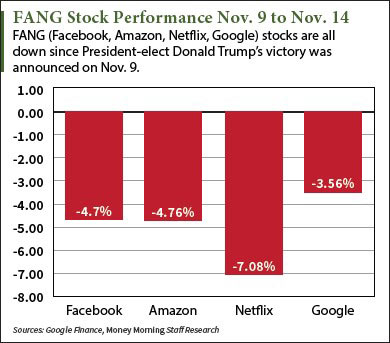 The Dow Jones Industrial Average is trading at all-time highs, but there hasn't been a positive correlation yet between President-elect Donald Trump and tech stocks.
In fact, many of the biggest tech stocks on the market have suffered greatly since Trump was elected.
Since Nov. 9, Facebook Inc. (Nasdaq: FB), Amazon.com Inc. (Nasdaq: AMZN), and Alphabet Inc. (Nasdaq: GOOGL) are all down more than 3.5%. Netflix Inc. (Nasdaq: NFLX) has fallen more than 7%.
This has many of our readers worried.
After all, Facebook, Netflix, and Alphabet all beat expectations in their Q3 2016 earnings reports...
FANGs Fall Despite Strong Earnings After Trump Win
Facebook was only expected to report earnings per share (EPS) of $0.92 on $6.92 billion in revenue. Instead, Facebook reported $1.09 on $7.01 billion. Netflix was expected to report $0.06 on $2.28 billion, but reported $0.12 on $2.29 billion.
Alphabet reported $9.06 on $18.3 billion in revenue, beating expectations of $8.64 on $18 billion.
Amazon fell short on EPS expectations, but beat revenue expectations of $32.69 billion, reporting $32.7 billion in revenue.
So what exactly has caused the sell-off in tech stocks?
Why Tech Stocks Are Down This Week
Here's the answer: Investors are worried Trump's immigration and trade policies will lead to lower earnings for multinational tech companies.
And specifically for Amazon and Facebook, investors are worried about President-elect Trump's relationship with Amazon CEO Jeff Bezos and Facebook CEO Mark Zuckerberg.
In May, Trump told FOX News Bezos was "getting away with murder tax-wise" through his ownership of The Washington Post. Trump believes Bezos bought the newspaper in 2013 to keep Amazon's taxes low.
Trump has also been critical of Zuckerberg's immigration policies, as the Facebook CEO wants to make more H-1B visas available so tech employers can hire more foreign skilled workers, according to CNN.
But Trump viewed this as a way to keep wages low and thinks this limits the chances in Silicon Valley for black, Hispanic, and female workers.
This has caused retail and institutional investors alike to panic. And when I talked with Money Morning Director of Tech & Venture Capital Research Michael A. Robinson yesterday (Tuesday), he told me Wall Street has overreacted because that's what Wall Street does.
He believes the fundamentals are still strong for these companies.
And despite the short-term sell-off, President-elect Trump could actually help tech stocks thrive in the long run.
Editor's Note: Busted 35-year-old machine holds potential $914,565...
These two reasons are why Trump and tech stocks could be a perfect match...
Donald Trump and Tech Stocks Make Strong Partners