Editor's Note: You might find some losing positions when you give your portfolio a year-end review. It happens - which is why we're revisiting this strategy piece from Shah today. In it, he reveals how to handle those losers with confidence. Here's Shah...
While there's no really bad time to kick underperforming stock positions out of your portfolio, some times are actually better than others.
The good news is, if you're sitting on losing positions, now may be a great time to exit them.
It's great because stocks are near all-time highs. That makes it easier to see which stocks in your portfolio haven't participated in the long run-up we've had.
It's also a good time because some investing themes that saw big gains are fading, some are dead in the water, and others are just starting to take shape.
And with this investing strategy, you can handle those losing positions with confidence.
So let's get to work...
Why You Shouldn't Be Afraid to Get Rid of Losing Stocks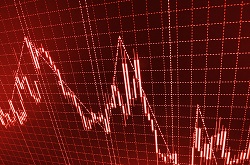 The length of time you hold a position doesn't matter, as long as it's working for you. That is, if the price of the stock you own has been rising steadily, or if it pays a good, secure dividend.
Hold onto those positions.
But if your investments are not working for you after giving them a reasonable period of time to do what you expect them to do, chances are they're not all of a sudden going to explode higher and prove you right.
Too many investors fall in love with their positions. They think the stocks in their portfolio that were once expected to be the next big thing, or that were once high-fliers, will eventually start moving up or will come back after they fall out of favor.
Because there's no way of knowing whether a "dead in the water" stock will all of a sudden take off, or whether a fallen angel will ever rise again, you're almost always better off getting rid of those stocks and replacing them with more promising prospects.
But hold on right there.
I know what you're thinking. In fact, I know why most investors don't sell those positions that they think will come back to life. They're afraid to sell them because they're afraid they'll take losses on the positions and then watch them skyrocket to all-time highs.
I say, good luck with that. It could happen. But if it doesn't, you're left with a big loser. Not only will you not make money on those positions, you won't have a chance to make money in other opportunities because you didn't "take the risk."
One of my trade recommendations closed out for a 995% win. And I've got seven more trade recommendations lined up right now. Click here to learn more...
That's how most investors look at selling loser positions - they actually think that selling them is taking a risk!
You can break that bad habit by telling yourself losers hold onto losing positions and winners buy winning positions. So sell your losing position and if it starts to act like a winner again, buy it back.
I don't like to sit on losers too long. I hate the feeling of being wrong, but I hate losing money more. So I'll sell my losers, cry for a second, and move on.
After I sell them, I look at them as if they're new positions I'm interested in. If they act like I want and expect them to start acting, I'll buy them back.
That's how you deal emotionally with losers you're afraid to sell. You look at them like new positions after you sell them. That way you can tell yourself you won't miss out on them bouncing back to the moon because you'll get back in when they start moving.
You have to sell losers because that's the only way to free your mind... and your capital.
Sometimes you'll want to sell because the stock isn't performing, sometimes because the investment theme you bought into isn't working, and sometimes you'll want to sell because there are better opportunities right in front of you.
Join the conversation. Click here to jump to comments…
About the Author
Shah Gilani boasts a financial pedigree unlike any other. He ran his first hedge fund in 1982 from his seat on the floor of the Chicago Board of Options Exchange. When options on the Standard & Poor's 100 began trading on March 11, 1983, Shah worked in "the pit" as a market maker.
The work he did laid the foundation for what would later become the VIX - to this day one of the most widely used indicators worldwide. After leaving Chicago to run the futures and options division of the British banking giant Lloyd's TSB, Shah moved up to Roosevelt & Cross Inc., an old-line New York boutique firm. There he originated and ran a packaged fixed-income trading desk, and established that company's "listed" and OTC trading desks.
Shah founded a second hedge fund in 1999, which he ran until 2003.
Shah's vast network of contacts includes the biggest players on Wall Street and in international finance. These contacts give him the real story - when others only get what the investment banks want them to see.
Today, as editor of Hyperdrive Portfolio, Shah presents his legion of subscribers with massive profit opportunities that result from paradigm shifts in the way we work, play, and live.
Shah is a frequent guest on CNBC, Forbes, and MarketWatch, and you can catch him every week on Fox Business's Varney & Co.