Stocks tend to decline during the first year of a new president's term. At least, according to a research study by Yale Hirsch.
The problem is… this is more than a bit vague – and doesn't give the detailed "forecast" you need to actually adjust your portfolio and capture the most profits.
The "Four Corners" of the Markets You'll Want to Watch Closely in 2017
You may have been hearing media chatter lately about something called the "January Effect," which refers to a seasonal increase in stock prices in January. Personally, I'm not one to make any trading or investing decisions based on that theory.
In fact, my research has proven that January isn't that great of a month to be entirely bullish. For example, the SPDR S&P 500 ETF (SPY) goes up in price only 50% of the time and typically drops 0.3% on average. Also, as you may recall, the markets suffered the worst volatility since 1930 around this time last year. And since the broader index has had a hard time in January, it's pretty much a no-brainer assessment that most sectors will, too. The one sector that performs better than the others most of the time is the healthcare sector. So a way you can profit from that sector without having to pick specific stocks is to trade the Health Care Select Sector SPDR ETF (XLV), which has traded higher 61% of the time in January since 1988.
Take a look at what my seasonal proprietary tool, Money Calendar, shows for the rest of the month…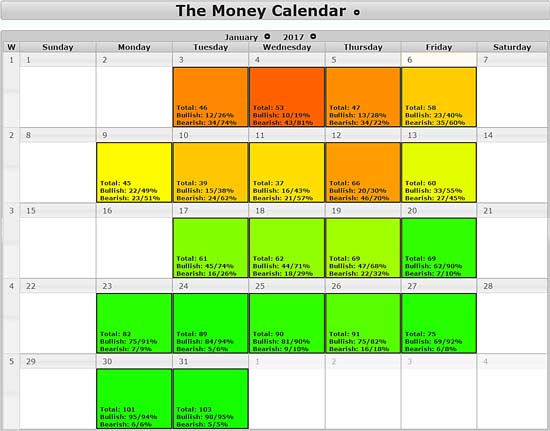 As you can see, the first two weeks of the month run bearish. Then you've got about a week of neutral markets before they finally turn bullish for the rest of the month. The one primary factor that has the capacity to keep the markets in a more positive light is the new presidency.
I do see the markets remaining optimistic that Trump and his new administration will do as promised when it comes to tax reform, decreasing government regulations, and rebuilding infrastructure (which could lead to job growth within that sector). Just last month, consumer confidence hit its highest level since August 2001. On top of that, the Dow has moved higher by nearly 7%, and the S&P 500 has moved higher by almost 5%.
But there are what I call "four corners" of the market that you'll really want to focus on after Inauguration Day: equities, bonds, currencies, and commodities. And what you can expect in 2017 is based on historical price patterns during a new president's first term, the current political landscape, and the data my propriety tools are giving me.
For equities, I primarily analyzed the SPDR S7P 500 ETF (SPY), which tracks the price and yield performance of the S&P 500. For bonds, I primarily analyzed the iShares 20+ Treasury Bond (TLT), which tracks an index of U.S. Treasury bonds with maturities greater than 20 years. For currencies, I analyzed the CurrencyShares Euro ETF (FXE), which tracks the prices of the U.S. dollar and the euro. And for commodities, I analyzed both United States Oil (USO), which tracks West Texas Intermediate crude oil futures, and the SPDR Gold Shares ETF (GLD), which tracks the gold sector.
Equities: SPY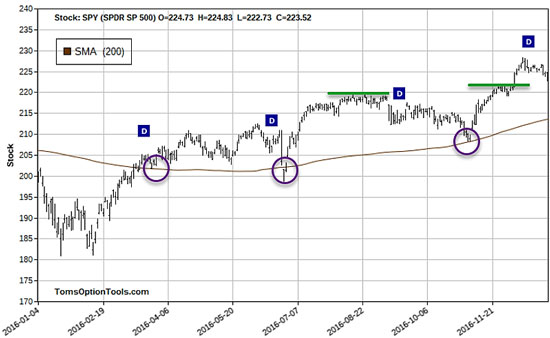 For January, expect to see a continued pullback from the all-time highs of the Dow and S&P 500. We may also see some sideways, choppy price action. The Dow's been flirting with 20,000 for the past month, and it may take until Inauguration Day (or shortly thereafter) before that number finally gets breached.
In the chart above, I've  drawn in two green lines to indicate old resistance points for SPY. These are the price points SPY could likely retrace to. The key things to look for are whether these prior peaks in price were old resistance becoming new support, making SPY a more attractive to buyers. If that happens, you can expect the price to propel higher. If those price points don't hold as support, then there's always the 200-day Simple Moving Average (SMA) that you can use as your longer-term support price area.  You can see three prior cases over last year (shown by the purple circle on the chart), where SPY retraced to the 200-day SMA, found support and moved higher.
What's also interesting is that two other sectors, Materials Select Sector SPDR ETF (XLB) and the Industrial Select Sector SPDR ETF (XLI), both performed poorly up until Election Day. Since Trump won, they've both been performing well.
Bonds: TLT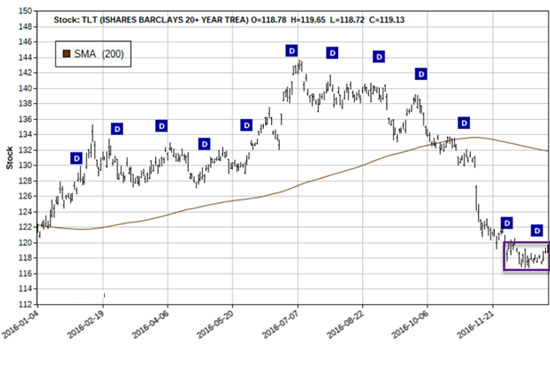 There is a known dynamic between the price action of equities and bonds. And it pretty much boils down to where the better value is found. Naturally, investors and traders  want to camp their money in the financial instruments that will turn a better profit. If investing in equities (stocks) will provide higher rates of return, then money is transferred out of bonds and into equities. Conversely, when bond yields are deemed more attractive, money flows into bonds and out of equities.
As you can gather, the correlation is this: when equities prices rise, bond prices decrease. When equity prices decline, bond prices rise.
If you look both the chart on SPY and the chart on TLT, you can clearly see this inverse correlation playing out – with equities making new highs while TLT hits its lows of the year. So long as the Fed raises interest rates again (as they vowed to do three times this year), you can expect to see the bond market continue to fall.\
Currencies: FXE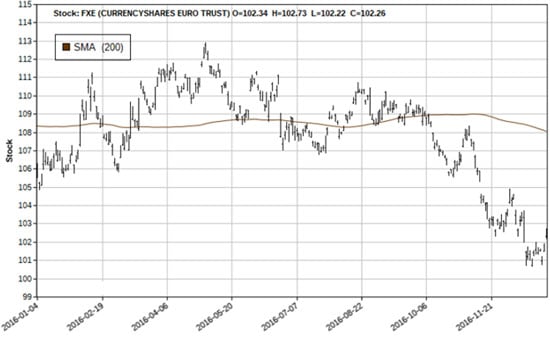 Like TLT, this ETF is also trading at or slightly off its lows of the year. And the way I see it, the strength of the U.S. dollar has got a lot do with that. The question is whether it's best for us to have a strong dollar or a weak dollar?
Now this isn't always the easiest question to answer. But here's the "yin" and the "yang…"
A strong dollar means U.S. currency goes a lot further overseas. This could be good for you if you're planning on taking an international trip or are looking to buy your electronic gizmos and gadgets from foreign companies. When prices are cheaper, you get more money in your wallet, which tends to lead to more spending. And as you know, more money to spend typically leads to a higher consumer confidence level. From a company's perspective, more money to spend and more confidence about spending it leads to bigger profits and more job growth. And this ultimately helps drive the markets higher.
The counter to that point is that U.S. companies selling goods to foreign customers face the risk of declining sales because the cost of domestic products may be deemed too expensive to buy internationally. And this could get tricky for our new president…
A strong dollar speaks to a healthy U.S. economy. But it may also compel U.S. companies to move some manufacturing overseas where the cost of goods is cheaper – and they have a better chance at staying competitive.
Based on all of my research, you can expect big bets by big names on the U.S. dollar, especially against the Chinese yen and Australian dollar. And as you can see in the chart above, FXE will remain depressed at these levels if the U.S. dollar stays strong.
Commodities: USO and GLD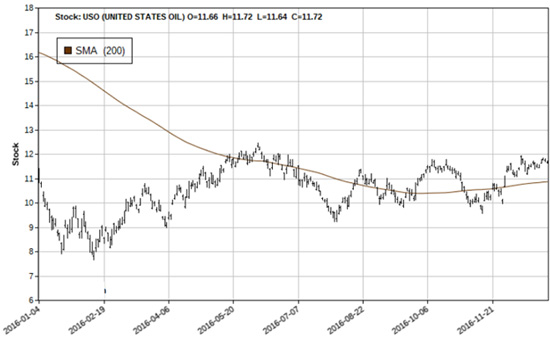 You'd think oil and energy stocks would be ramping much, much higher with Trump winning the Oval Office. But they haven't necessarily been all-stars…
Oil has gone up nicely, but the other global factors have kept the price from going dramatically higher. In the chart above, you can see that USO was trading at a support price of $10 per share since last August. After Trump won the White House, it moved a couple points higher, increasing by nearly 20%. But it has yet to clear its 2016 highs of $12.50, and I believe it it has a more likely chance of staying in this trading range for at least the first half of the year.
The second half of the year will be a different story, though. There's a proven, seasonal pattern on oil that happens during a very specific time frame. But we'll talk about that when we get closer to it.
In the meantime, the big bet of this year will be on gold…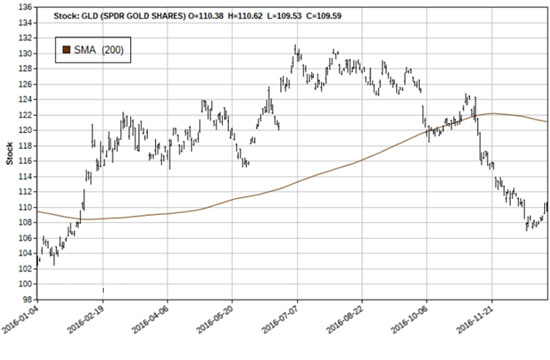 Gold has been hit so hard, but I believe it will come back. Even with a strong U.S. dollar, gold is long overdue for at least an oversold bounce.
Above, you can see GLD showing a healthy retracement from its 2016 highs. Now it hasn't retraced to the lows it established at the start of last year, but it came close. In fact, it recently formed a bottom just a bit under the $108 price mark on the chart above. This could just be a temporary bounce, so you'll want to monitor any long positions you have and consider using a stop loss beneath this recent pivot price area. I wouldn't suggest looking at any short-term trades right now.
But by the end of the year, you can expect to see some nice upward price moves by GLD this year. Here's a look at a Fibonacci chart on GLD in 2016: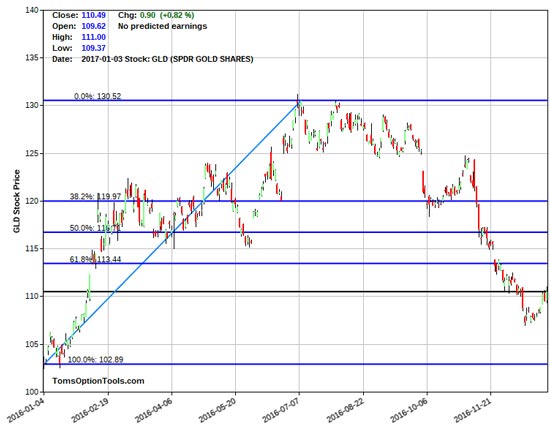 As you can see, there's a run up from its closing low to its closing high to the tune of $27.63. What I could see happening this year is a run back up to its 2016 highs, and if that happens, you could assess a price range on GLD between $130 and $140.
Now as a trader, my go-to is options. So options strategies you could employ to capitalize on higher moves are long calls. But since it will take the year for this price movement to happen, I wouldn't suggest considering any options that expire in less than a year. Long-Term Anticipation Securities (LEAPs) would be your best bet, in that case.
Two other option strategies you could consider that will lower your cost, lower your risk, and maximize your profits are bullish loophole trades (bull call spreads) and butterfly call spreads.
Here's Your Trading Lesson Summary:
There are "four corners" of the stock market as well as four specific exchange traded funds (ETFs) that you should track in order to maximize your profits this year:
Equities: The SPDR S7P 500 ETF (SPY), which tracks the price and yield performance of the S&P 500.
Bonds: The iShares 20+ Treasury Bond (TLT), which tracks an index of U.S. Treasury bonds with maturities greater than 20 years.
Currencies: The CurrencyShares Euro ETF (FXE), which tracks the prices of the U.S. dollar and the euro.
Commodities: United States Oil (USO), which tracks West Texas Intermediate crude oil futures, and the SPDR Gold Shares ETF (GLD), which tracks the gold sector.
I wish you a happy, healthy, and prosperous 2017!
The post "Four Ways Trump Will Move The Stock Market Starting Jan. 20" appeared first on Power Profit Trades.
Join the conversation. Click here to jump to comments…
About the Author
Tom Gentile is one of the world's foremost authorities on stock, futures and options trading.
With more than 25 years' experience trading stocks, futures, and options, Tom's style of trading systems and strategies are designed to help individual investors propel themselves past 99 percent of the trading crowd.