Stocks tend to decline during the first year of a new president's term. At least, according to a research study by Yale Hirsch.
The problem is… this is more than a bit vague – and doesn't give the detailed "forecast" you need to actually adjust your portfolio and capture the most profits.
The "Four Corners" of the Markets You'll Want to Watch Closely in 2017
You may have been hearing media chatter lately about something called the "January Effect," which refers to a seasonal increase in stock prices in January. Personally, I'm not one to make any trading or investing decisions based on that theory.
In fact, my research has proven that January isn't that great of a month to be entirely bullish. For example, the SPDR S&P 500 ETF (SPY) goes up in price only 50% of the time and typically drops 0.3% on average. Also, as you may recall, the markets suffered the worst volatility since 1930 around this time last year. And since the broader index has had a hard time in January, it's pretty much a no-brainer assessment that most sectors will, too. The one sector that performs better than the others most of the time is the healthcare sector. So a way you can profit from that sector without having to pick specific stocks is to trade the Health Care Select Sector SPDR ETF (XLV), which has traded higher 61% of the time in January since 1988.
Take a look at what my seasonal proprietary tool, Money Calendar, shows for the rest of the month…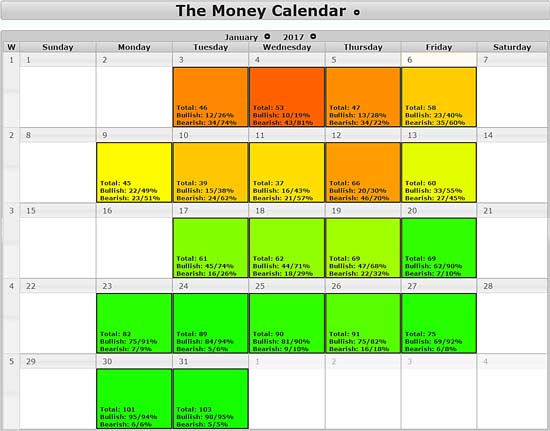 As you can see, the first two weeks of the month run bearish. Then you've got about a week of neutral markets before they finally turn bullish for the rest of the month. The one primary factor that has the capacity to keep the markets in a more positive light is the new presidency.
I do see the markets remaining optimistic that Trump and his new administration will do as promised when it comes to tax reform, decreasing government regulations, and rebuilding infrastructure (which could lead to job growth within that sector). Just last month, consumer confidence hit its highest level since August 2001. On top of that, the Dow has moved higher by nearly 7%, and the S&P 500 has moved higher by almost 5%.
But there are what I call "four corners" of the market that you'll really want to focus on after Inauguration Day: equities, bonds, currencies, and commodities. And what you can expect in 2017 is based on historical price patterns during a new president's first term, the current political landscape, and the data my propriety tools are giving me.
For equities, I primarily analyzed the SPDR S7P 500 ETF (SPY), which tracks the price and yield performance of the S&P 500. For bonds, I primarily analyzed the iShares 20+ Treasury Bond (TLT), which tracks an index of U.S. Treasury bonds with maturities greater than 20 years. For currencies, I analyzed the …
Join the conversation. Click here to jump to comments…
About the Author
Tom Gentile, options trading specialist for Money Map Press, is widely known as America's No. 1 Pattern Trader thanks to his nearly 30 years of experience spotting lucrative patterns in options trading. Tom has taught over 300,000 traders his option trading secrets in a variety of settings, including seminars and workshops. He's also a bestselling author of eight books and training courses.