Editor's Note: Since Shah first broached the student loan issue with his readers, debt burdens have soared to $1.5 trillion, up from $1.2 trillion. That staggering 25% increase in just over three years makes this updated exposé more important today than ever before. Here's Shah…
Here's a question for you: Has higher education become another great American scam?
I'm not talking about the rich getting scammed. They get what they pay for. They can afford to be scammed – they know what's up.
A lot of rich people send their kids to expensive private colleges hoping they'll get a good education that will lead them into their chosen careers. If they haven't chosen a career, rich parents are more than happy to give their kids the "experience" of college, with all its social aspects, country club accommodations, and alumni status.
But then there are kids who want a higher education because they believe a college education is their ticket to gainful employment and well-compensated careers. They pay for it themselves, or their hardworking parents cosign on loans or take out personal loans on behalf of their kids' college dreams.
For them, higher education is increasingly looking like a scam…
These Aid Programs Only Add to the Debt Burden
Some critics complain that this is students' own fault, that they're pursuing the wrong majors. Or they say that colleges themselves are lacking, that they're not teaching what kids need to know in our ever-changing economy.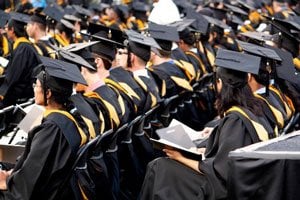 However, my problem isn't with education or kids' choices. Today I'm telling you where my beefs are – and why they're costing today's kids and their parents billions…
My first beef is with the come-ons that lure kids and their parents who can't afford college into indentured servitude.
Personally, I don't get what costs $10,000 a year (which is dirt cheap these days) or $25,000 a year. And I especially don't get what costs $50,000 and higher a year.
Maybe if kids were guaranteed jobs that allowed them to pay off their loans, those crazy costs might be justifiable.
Urgent: An $80 billion cover-up? Feds use obscure loophole to threaten retirees. Read more…
But there's no guarantee on jobs, and so those costs aren't justified.
Half of all kids who recently graduated colleges and universities are unemployed.
Outstanding U.S. student loan debt now exceeds $1.5 trillion.
Students are saddled with an average of more than $37,000 in debt (as of 2017). This takes into account both those who got out relatively early without a degree and graduates who can owe $100,000 and more – well into their 50s.
And now they're being victimized by secondary scammers.
My second beef is with these "debt help" outfits that promise borrowers help and end up ripping off those least able to afford such scams.
Join the conversation. Click here to jump to comments…
About the Author
Shah Gilani is the Event Trading Specialist for Money Map Press. In Zenith Trading Circle Shah reveals the worst companies in the markets - right from his coveted Bankruptcy Almanac - and how readers can trade them over and over again for huge gains.Shah is also the proud founding editor of The Money Zone, where after eight years of development and 11 years of backtesting he has found the edge over stocks, giving his members the opportunity to rake in potential double, triple, or even quadruple-digit profits weekly with just a few quick steps. He also writes our most talked-about publication, Wall Street Insights & Indictments, where he reveals how Wall Street's high-stakes game is really played.