Editor's Note: Markets keep notching new all-time highs, but that doesn't mean high-flying stocks have exhausted their gain potential. As Keith first explained a couple years back, the right companies can quadruple your money even after a 1,000% run. You just have to know how to find them…
I get one question more than any other at the moment: XYZ has already had a huge run up – should I buy it?
The fear, of course, is that the stock they want to buy has already had a huge run up and is going to tank immediately after they plunk down their money. I know – I've thought the same thing plenty of times over the years, too.
It's easy to think that many "expensive" stocks are going to roll over given that today's dismal headlines range from the unimaginably mundane to the truly horrific.
But that'd be a very expensive mistake.
What most investors fail to understand is that there are still fabulous companies out there with equally unimaginable potential to quadruple your money.
Even though they've already had a 1,000%-plus run.
Contrary to what most investors think, you haven't missed a thing if you know what to look for.
The Best – and Most Famous – Companies Deliver Mega-Gains for Decades
I've talked with tens of thousands of investors around the world over the years, and if there's a common regret, it usually centers around a stock that everybody knows had a tremendous run… yet most people missed.
If only I'd known, goes the thinking.
The sense of loss is palpable because they imagine how different their lives could have been "if only" they'd invested in Microsoft when it IPO'd, or Starbucks, or Amazon.
What they don't realize is that there are plenty of "if only I'd known" moments happening every day right in front of their very eyes. Many times they involve the very same "expensive" stocks.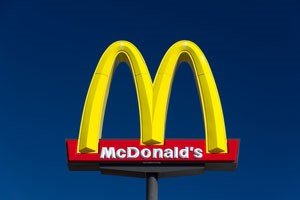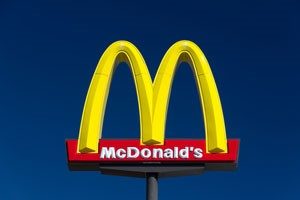 Take McDonald's Corp. (NYSE: MCD), for example.
Mickey D's went public April 21, 1965, at $22.50 a share and shot up to $30 by day's end as thousands of investors watched incredulously from the sidelines. Market professionals scoffed, believing that there was no way a hamburger chain could sustain that kind of performance in an economy dominated by manufacturing and services – real businesses, or so they thought.
Their arrogance cost them – dearly. MCD stock returned 110% over the next six years versus just 12.3% from the S&P 500. And still millions didn't buy because they thought that the stock was overvalued, too expensive, or just not worth it at the time.
McDonald's would go on to return another 176% over the next 10 years, turning every $10,000 invested into $27,655. The S&P 500, by contrast, chalked up only 29.02% over the same time frame, leaving anybody who wasn't on board far behind.
This Guy Put Up $9.75 Million: His deceptively simple theory? Regular investors could pull down enough wins to turn a small stake into $813,800 in a year with this. Learn more…
Human nature being what it is, many investors still thought they were too late and the stock was too expensive. It went on to quintuple the following decade. Then quadrupled from 1991 to 2001, when the dot-bomb hit and people thought the markets were going to hell in a handbasket.
Fast forward to today and MCD has – you guessed it – quadrupled again.
Now I could run the numbers and tell you that every $10,000 invested in 1965 is worth more than $1.5 million today, but to do so would be a cheap shot.
What I want you to understand is that investors had plenty of time to invest even if they thought they were "too late" to the initial party. They still do.
For instance, in 1981, even if you had supposedly been 16 years "too late" to McDonald's, you could have still turned $10,000 into more than $755,000. Had you waited 26 years, you would have still been able to turn $10,000 into $160,800 – a return of 1,508%.
And don't think for a minute that I'm cherry-picking McDonald's, either…
Join the conversation. Click here to jump to comments…
About the Author
Keith Fitz-Gerald has been the Chief Investment Strategist for the Money Morning team since 2007. He's a seasoned market analyst with decades of experience, and a highly accurate track record. Keith regularly travels the world in search of investment opportunities others don't yet see or understand. In addition to heading The Money Map Report, Keith runs High Velocity Profits, which aims to get in, target gains, and get out clean, and he's also the founding editor of Straight Line Profits, a service devoted to revealing the "dark side" of Wall Street... In his weekly Total Wealth, Keith has broken down his 30-plus years of success into three parts: Trends, Risk Assessment, and Tactics – meaning the exact techniques for making money. Sign up is free at totalwealthresearch.com.