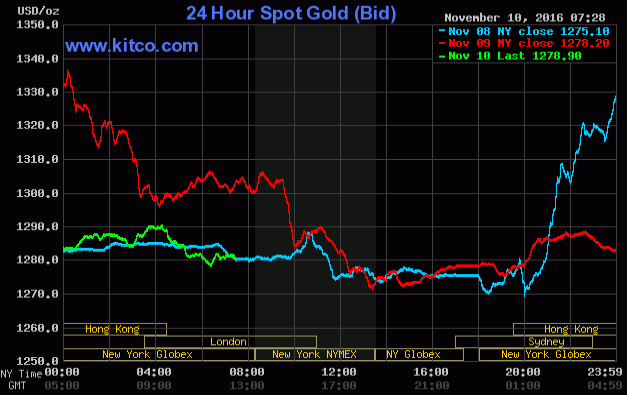 The upcoming Trump presidency is affecting silver prices in a big way today (Wednesday).
Silver prices today jumped roughly 2%, or $0.38, to $18.81 (as of 11:00 a.m. EST) on the news.
On Nov. 7, Money Morning Resource Specialist Peter Krauth rightly predicted that silver prices would climb if Trump beat Hillary Clinton.
"…my sense is that a win by the 'anti-establishment' Trump would drive silver prices higher than a win by Clinton," he said.
Looking ahead, there are other fundamental drivers behind silver that will boost its price in the coming months and years, Krauth says.
Here are the indicators he's paying attention to…
Where Silver Prices Are Headed from Here
In 2017, Krauth estimates that a Trump presidency could drive silver prices to $22 in 2017. Trump tends to value unpredictability as a political and diplomatic virtue, and he has said so in the past, including in his popular book, "The Art of the Deal."
Unpredictability, however, isn't valued by the markets. They want stability. So a Trump presidency increases the appeal of silver as a safe haven against any sudden drops in the dollar.
Other firms agree with Krauth's silver price prediction. A recent report from ETF securities shows that it expects the price of silver to rise between $22 and $24. The report cites increasing industrial demand as a major silver price catalyst.
In addition, analysts at HSBC Bank increased their five-year projection for renewable energy, which is another strong catalyst for silver.
"With over 500,000 solar panels installed on a daily basis in 2015, silver should see strong demand as it is crucial in the manufacture of solar panels," Krauth said.
The Bottom Line: A Trump presidency is affecting silver prices today as they soar more than 2%. And this news will likely send silver prices to $22 by the end of next year. The markets see Trump as an unpredictable political figure, which will boost silver's appeal as a safe haven.
Up Next: Check Out Our Gold Price Prediction for After Election Day
Follow Money Morning on Facebook and Twitter.