Editor's Note: Credit default swaps, the risky derivatives that starred in the last financial crisis, never truly disappeared – and now they've made a comeback. The latest system-gaming scheme, which Shah first exposed in 2014, may be even more maniacal than the last…
The madness of the manipulation machinery on Wall Street knows no bounds.
Remember credit default swaps (CDS)? They're the risky financial derivatives traded among FDIC-insured banks that, during the 2007-08 financial crisis, took down Lehman Bros. and almost bankrupted giant insurer AIG Inc. (NYSE: AIG).
Well, they never went away. And now they're making a comeback, and Wall Street is using them in ever more maniacal ways.
Today, I'm going to show you how Wall Street manipulators are using CDS and a false front of "activism" to make huge profits from troubled companies – and why that's becoming routine.
Good Idea Gone Bad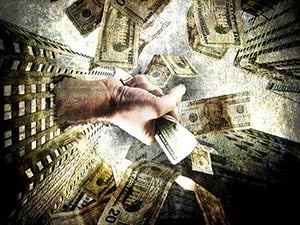 This is about outright, legitimized (as in it's not only legal – it's business as usual) manipulation.
Think of CDS as a kind of insurance. Companies issue debt, and investors buy their obligations to collect interest and expect their principal to get paid back at maturity.
But sometimes debtors get into trouble. CDS sellers offer the holders of debt insurance against the debtor defaulting.
That's not a bad idea. In fact, it's a good product.
But, Wall Street being Wall Street, that good idea became a great way to gamble. That's because there's no limit on how many "insurance policies" can be written on any company's debts.
One of my trade recommendations closed out for a 995% win. And I've got seven more trade recommendations lined up right now. Click here to learn more…
For example, RadioShack had about $1.4 billion in outstanding debt in 2014, and so the storied retailer was in trouble. Speculators betting on RadioShack defaulting, however, had bets that add up to about $23.5 billion.
That's like everyone in your neighborhood taking out fire insurance on your house. These gamblers would be hoping your house burned down so they could collect.
Sooner or later, someone might toss in a match to light the pile of potentially profitable bets.
Of course, that's happening on Wall Street.
The RadioShack story is complicated. To keep it simple, today I'm going to let you know about a less known but less complex example of CDS manipulation…
Join the conversation. Click here to jump to comments…
About the Author
Shah Gilani is the Event Trading Specialist for Money Map Press. In Zenith Trading Circle Shah reveals the worst companies in the markets - right from his coveted Bankruptcy Almanac - and how readers can trade them over and over again for huge gains.Shah is also the proud founding editor of The Money Zone, where after eight years of development and 11 years of backtesting he has found the edge over stocks, giving his members the opportunity to rake in potential double, triple, or even quadruple-digit profits weekly with just a few quick steps. He also writes our most talked-about publication, Wall Street Insights & Indictments, where he reveals how Wall Street's high-stakes game is really played.