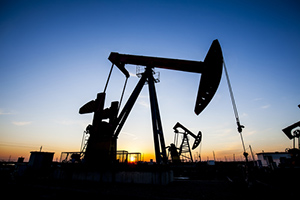 The price of oil has soared more than 50% in just over one year. And in the last two months, it has jumped an impressive 15% since the OPEC deal to curb production.
That's why we're bringing Money Morning readers a complete list of oil stocks to watch that are profiting from soaring oil prices.
But just because oil prices are rising doesn't mean that every oil stock is a good investment.
Some oil stocks will benefit from the forces behind climbing oil prices. Some will not.
Below, we're going to give you a list of oil stocks to watch, along with list of oil stocks to avoid now.
But first, let's look at why oil prices are climbing and why that's so bullish for certain oil stocks...
Why Oil Prices Will Continue to Climb
Oil prices hit a decade low roughly a year ago. The January 2016 price for one barrel of West Texas Intermediate (WTI) was just $35.73.
Recently, WTI has been selling at $54.12 per barrel. That's a more than 50% jump in just one year.
Money Morning Global Energy Strategist Dr. Kent Moors forecasts a continuation of price increases for oil this year for three reasons.
The first reason is an agreement by the Organization of Petroleum Exporting Countries (OPEC) to cut production in order to drive the price of oil higher.
Trending: Natural Gas Prices in 2017 Will Soar Double Digits
In November 2016, the OPEC countries and 11 other nations agreed to cut their oil production by 32.5 million barrels per day in 2017. Since then, crude oil prices have increased approximately 18%.
Moors forecasts that the price of oil will remain over $50 per barrel as long as OPEC's agreement remains in place.
The second reason to expect increases in the price of oil is worldwide demand. The EIA estimates that energy demand will rise 25% by 2040, citing both the expected increases in populations in India and China and expanded energy demand from these two countries.
Oil is expected to play a major role in fulfilling the demand for energy. In fact, the 2017 Energy Outlook from Exxon Mobil Corp. (NYSE: XOM) estimates that oil will remain the world's primary energy supply through 2040.
The third reason behind an expected climb in 2017 oil prices is the new presidential administration's policies on energy and oil. President Donald Trump's proposals are good news for companies who work with crude oil.
Trump's proposals are aimed at more U.S. energy independence for the United States. This could reduce restrictions on U.S. energy exploration and oil drilling.
His cabinet secretary nominees indicate that cutting restrictions could be very much part of the plan.
Scott Pruitt, the Oklahoma attorney general, was nominated to lead the Environmental Protection Agency (EPA). As his state's attorney general, Pruitt filed a lawsuit against the EPA aimed at its environmental regulations and their impact on oil and gas companies based in Oklahoma.
In addition, the former CEO of Exxon, Rex Tillerson, was been nominated as secretary of state. If he is confirmed, Tillerson could have one of the most important jobs in any president's administration.
But before we get into the oil stocks we recommend for 2017, here's a look at the oil stocks that should be avoided this year...
List of Oil Stocks to Avoid: Big Oil
Along with a list of oil stocks poised to benefit, we have a list of oil stocks we do not recommend investors buy.
This list is made up of Big Oil: BP Plc. (NYSE: BP), Exxon Mobil Corp. (NYSE: XOM), Total SA (NYSE ADR: TOT), Chevron Corp. (NYSE: CVX), Conoco Phillips (NYSE: COP), Eni SpA (NYSE ADR: E), and Royal Dutch Shell Plc. (NYSE ADR: RDS.A).
These companies explore, produce, refine, transport, and sell.
But they also have massive expenses. Although the price of oil per barrel rose through 2016, it is still below the $90 per barrel price it hit in 2014.
Big Oil companies have invested in extremely large projects in the past. Moors points out that right now, they are having to sell assets just to pay down debt from these huge projects to keep their dividends afloat.
Big Oil stocks all have robust dividends, but they cannot fund them from profits because of their debt service burden.
Because of the condition of their balance sheets, investors should not choose Big Oil from the list of oil stocks to buy.
So, what is on our list of oil stocks to buy? Here are our top two picks...
List of Oil Stocks to Watch: Magellan Midstream Partners LP
As oil prices rise, oil exploration and drilling will become a higher priority. Higher prices make oil more profitable and drilling increases.
[mmpazkzone name="in-story" network="9794" site="307044" id="137008" type="4"]
When that happens, the oil and its associated products have to go somewhere. Companies engaged in transportation and distribution are going to benefit.
One of the best of these companies is Magellan Midstream Partners LP (NYSE: MMP). MMP is worth more than $17.5 billion.
Magellan sees the writing on the wall. It is currently expanding to meet the expected climb in oil production, by adding 1.7 million barrels worth of storage.
Magellan is also strong financially. The company's operating margin is 39.69%. For every dollar of sales, it receives 39.69% in profit, versus the 21% profit margin of the S&P 500.
MMP stock currently trades at $74.66 per share. The share price has advanced roughly 20% in the past 12 months.
MMP's earnings per share are expected to rise 8% on the year, according to analysts surveyed by Yahoo Finance.
Finally, MMP's current dividend yield is 4.49%, a strong incentive to buy the stock.
List of Oil Stocks to Watch: Plains All American Pipeline LP
The next company on the list of oil stocks to watch provides a crucial element in transportation: pipelines. Plains All American Pipeline LP (NYSE: PAA) moves 4 million barrels of crude oil and natural gas every day.
More oil drilling and increasing prices for oil means that its pipelines will very likely be subject to rising demand. That's good news for the stock.
PAA has been increasing its capacity, too. In 2016, PAA and Phillips 66 Partners LP (NYSE: PSXP) partnered to create a $15 million expansion in a pipeline between Oklahoma and Canada. The expansion can handle 100,000 barrels of oil every day.
Yahoo Finance reports that a basket of 19 analysts forecast a stellar 52% rise in PAA's earnings per share (EPS) for the year.
PAA offers investors an excellent dividend, with a current yield of 7.23%, versus the S&P 500's 1.96% average. PAA shares, at the current price of $30.44, have climbed 48% over the past 12 months.
This year is shaping up to be a profitable year in the oil sector. But Money Morning's Global Energy Strategist says there are some big changes coming, too. Read how Moors says you can make big profits from these changes...