The massive growth potential of China's economy could turn savvy investors into millionaires within five years, especially as China kicks its $5 trillion spending plan into gear. Today, we're bringing investors one of the best China stocks to buy in 2017 to capitalize on that tremendous spending growth.
China is already the largest economy in the world in terms of GDP (in current purchasing power parity, or "PPP dollars"). The country boasts an annual GDP growth rate of 6.6%, which is triple the United States' annual growth.
And China is launching a new economic plan that could reward investors with life-changing profits. Before we get to one of the best China stocks in 2017 to harness that profit potential, here's how China's economic growth could mint a new class of millionaires…
Investing in Chinese Stocks Could Create Generational Wealth
You see, China is transitioning from a rural, agrarian economy to a modern manufacturing power. So its growth is much more dramatic than developed countries like the United States.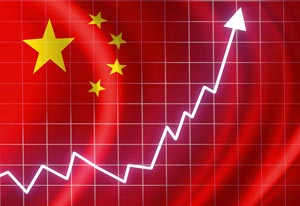 China's GDP has skyrocketed 1,800% since 1990. Even though the United States still had the largest economy during that time, its economy grew only 210% during the same time.
That's why investors turn to emerging economies like China's to find once-in-a-lifetime profits.
While its growth in the 1990s was dramatic, China continues to grow at a staggering pace. Since 2006, China's annual GDP growth rate averaged 9.3% a year, compared to just 1.6% for the United States.
That economic growth is a boon to Chinese businesses and companies that sell to the Chinese market.
Just look at the Chinese auto market. Since 2009, China has had the biggest passenger car market in the world. Even American car companies are selling more cars there than in their home markets. In 2016, General Motors Co. (NYSE: GM) sold 3.87 million cars in China, compared to 3.04 million in the U.S. market.
Must See: This Great Depression-Era "Secret" Helped Transform Two Teachers into Millionaires. Read more…
All of this growth has been a huge catalyst for Chinese stocks. The PowerShares Golden Dragon exchange-traded fund (Nasdaq: PGJ) is up 30% in 2017 alone. For comparison, the Dow is up 7.7% this year and trading within 100 points of its all-time high.
And this soaring Chinese economic growth is going to continue.
That's why Money Morning Chief Investment Strategist Keith Fitz-Gerald says investing in China's growth "will create an entirely new batch of millionaires within the next five years."
China is about to undertake a new economic initiative that will kick its economy into overdrive, making the top China stocks one of the best places to invest for mega profits…
China's Massive New $5 Trillion Infrastructure Project
China's "One Belt, One Road" Initiative will inject $1.4 trillion dollars into infrastructure and connect China to trade partners along the new Silk Road.
But Keith says this is a conservative estimate. The real price tag could be over $5 trillion.
Video
Fitz-Gerald Says Investors Have to Act Quickly on China
While that sort of money is creating an investment opportunity of its own – General Electric Co. (NYSE: GE) is "laser-focused" on winning contracts there – the Belt and Road Initiative is designed to kick China's economic growth back into overdrive.
China's infrastructure spending across the new Silk Road is really an investment to open up new markets and customers for Chinese firms while expanding the influence of Chinese leadership on a global scale.
And the One Belt, One Road Initiative is a global undertaking.
Just Released: These "Second Salary" Plays Could Make You and Your Grandkids Rich
The completed plan could involve 68 countries across Europe, Asia, and Africa. That would directly connect roughly 65% of the world's population and over a third of the world's GDP to China.
But Keith says this once-in-a-lifetime opportunity won't last much longer. By the time the mainstream media starts taking it seriously it will be too late to catch most of the profits. That's why Keith says investing right now is the only option.
"Not tomorrow. Not next month. Not next year. Today."
To help you do just that, we're bringing you one of the best China stocks you can own right now. Our China stock pick could bring you over 40% gains this year alone, and you don't have to buy it on a Chinese stock exchange, either…
The One China Stock You Need to Own Now