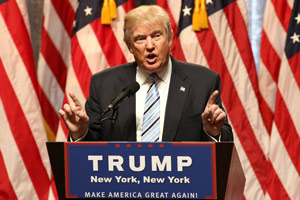 Global stock markets have rallied in the wake of Donald Trump's presidential win on Nov. 8, and we have found one of the best "Trump Stocks" to buy now.
While some economists and investors question whether the Trump rally is sustainable, we've found a stock to buy now with long-term potential.
The stock is a leading player in the aerospace and defense industry, a sector widely expected to benefit under Trump. In fact, Trump's victory has already been widely applauded by stocks and investors in this sector.
That's why we're classifying this as one of the best "Trump stocks" to buy now.
In the two days following the Nov. 8 election, the Dow Jones U.S. Aerospace & Defense Index rose 7%. In comparison, the S&P 500 climbed only 1.1% in the same time.
You see, Trump's pre-electoral campaign promises of greater spending and expansion of the defense sector have been a major catalyst for defense stocks.
In a September speech to the Union League of Philadelphia, Trump said he will ask Congress to reverse cuts to defense spending enacted under the 2013 budget sequester. He said that will happen once he takes office and submits a new budget to rebuild the U.S. military.
Don't Miss: Get the Best Investing Research Today to Grow Your Money
Trump maintains the United States is unprepared to confront increasing threats…
"History shows that when America is not prepared is when the danger is greatest," Trump said. "We want to deter, avoid, and prevent conflict through our unquestioned military dominance."
Trump has also said defense spending this year is "on track to fall to its lowest level as a share of the economy." In 2015, the United States spent more than $600 billion on defense.
So investors can expect to see a large jump in defense spending. And that's why we're targeting defense when looking for some of the best Trump stocks to buy now…
The Best Trump Stocks to Buy Now as Defense Spending Soars