Donald Trump promises to create 25 million new jobs over the next decade with his economic plan.
And as we've been discussing over the past few weeks, I think that plan is a good one – and will be very good for tech companies and their investors.
However, there's also this…
Robotics and artificial intelligence – "automation," in a word – will eliminate tens of millions of jobs over that same stretch.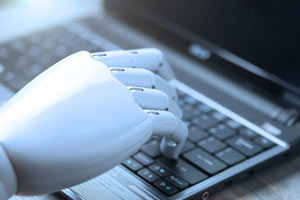 It makes many of us planning our retirement – trying to put together enough money and investments to guarantee that our "golden years" are prosperous – wonder how we'll do it. Moreover, it makes us worry about our children's and grandchildren's futures.
How can anyone save or invest if they're looking at a "jobless future"?
One way to do it – to not just survive but to thrive in this unknowable future – is to profit from the very automation technologies that are threatening humanity's livelihood.
And to do that, you have to "pick" the best stocks in this sector.
I've just spotted such a company – one whose technology could to displace millions of "back office" workers in the coming years. You know, the folks doing data entry and handling the customer service lines.
Its technology is known as robotic process automation (RPA).
And its shares are primed for a quick 50% gain.
Eliminating the "Back Office"
As we've been discussing over the past few months, our research has found that there are really four "windows" of opportunity – "How We Live," "How We Work," "How We Survive," and "How We Thrive" – that make up the Singularity Nexus.
These windows represent pools of innovation that will lead to huge profits for the companies that develop the best technologies – and their investors. As we believe here, "The Road to Wealth Is Paved by Tech"… and in the Singularity Era, that's truer than ever.
And right now, whether it's through AI or robotics, automation is the biggest factor impacting the "How We Work" window.
The World Economic Forum, in a report out of the Davos meetings earlier this year, predicts AI and robotics will cause 7.1 million job losses by 2020 in the world's top 15 economies. Moreover, the United Nations' International Labor Organization sees an increase in global unemployment of 11 million in the next four to five years.
Those are conservative estimates. I hate even looking at some of the more "out there" predictions.
That's why when we look at advances like robotic process automation (RPA), which are being rapidly deployed at thousands of businesses around the world, we can't be scared. We can't let fear rule the day.
Instead, we need to see them as investment opportunities.
For its part, RPA uses software robots to replicate the actions of human workers for such "back office" tasks as data entry and customer service. The researchers at Gartner call thi…
Join the conversation. Click here to jump to comments…
About the Author
Michael A. Robinson is one of the top financial analysts working today. His book "Overdrawn: The Bailout of American Savings" was a prescient look at the anatomy of the nation's S&L crisis, long before the word "bailout" became part of our daily lexicon. He's a Pulitzer Prize-nominated writer and reporter, lauded by the Columbia Journalism Review for his aggressive style. His 30-year track record as a leading tech analyst has garnered him rave reviews, too. Today he is the editor of the monthly tech investing newsletter Nova-X Report as well as Radical Technology Profits, where he covers truly radical technologies – ones that have the power to sweep across the globe and change the very fabric of our lives – and profit opportunities they give rise to. He also explores "what's next" in the tech investing world at Strategic Tech Investor.