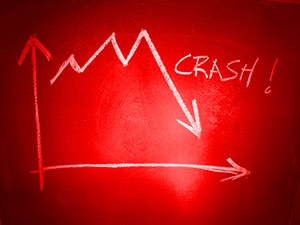 Should you be prepared for a stock market crash in 2017?
The major market indexes are making new highs. Even with minor pullbacks, the Dow Jones Industrial Average (DJIA) still trades near its all-time high of 19,974.62 seen on Dec. 20. The Nasdaq as well as the S&P 500 reached historical highs in the first trading week of 2017.
But there are many signs that a stock market crash could possibly happen in 2017…
With stocks rising to record highs, investors worry we're currently in a stock market bubble. That's when stock prices are much higher than what those stocks are actually worth. This can scare investors into selling what they own because they think the market is overvalued.
While no one ever knows for certain if the market will drop, it's always important to have a backup plan just in case. That's why we're going to provide a three-step strategy for protecting your money from a possible stock market crash in 2017.
Trending: Double Your Money with the Fastest Moneymaker on the Planet
First, here's a look at the worst stock market bubbles ever – and what they mean for a possible stock market crash in 2017…
How Bubbles Lead to Stock Market Crashes
The stock market crash of 1929 occurred because of a stock market bubble. It was the Roaring 20s when investors borrowed $8.5 billion to invest in the stock market (in today's figures).
The theory was that stocks would only go up. Anyone investing in the stock market will make money. Anyone not is missing out.
Once share prices began to descend, those investors were caught unaware. They had planned on paying back their loans with profits. When they had no profits, they couldn't afford the loans.
From September 1929 to June 1932, the Dow Jones Industrial Average fell a massive 86%. That meant people had 14% of their onetime net worth left.
Let's look at another stock market crash from just nine years ago…
It's the 2008 stock market crash. This time, the bubble was in the real estate market. Housing prices nearly doubled in the decade from 1996 to 2006.
It was the merry-go-round that couldn't end. People borrowed on the assumption that rising home prices would allow them to profit on homes that they really couldn't afford.
Then the music stopped. Prices went down. They dropped 30% from 2007 to 2009.
On Sept. 29, 2008, the Dow Jones dropped 7% in the largest one-day decline in its history.
Are we in one of the dreaded bubbles today that will lead to a stock market crash in 2017?
No one can tell with certainty. But there is reason to be cautious in 2017…
Economic fundamentals are not fueling climbing stock prices. What's fueling the rise in the major averages is a long period of low interest rates.
Interest rates are less than 1%. Since 2008, the Federal Reserve has only hiked rates twice. The most recent Fed rate hike was this past December.
Don't Miss: Our Gold Price Prediction Shows an Insane 451.4% Return
The low rates were meant to stimulate the economy. The Fed thought if borrowing money for expansion becomes cheap, businesses would indeed expand.
But companies have been more likely to use inexpensive money to buy back their stock. Since 2008, U.S. firms have borrowed nearly $2 trillion.
The fact that the stock market is artificially inflated rather than rising from a sound U.S. economy begs the question…
Is a Stock Market Crash in 2017 Likely to Happen?
While no one can predict the likelihood or timing of a stock market crash, the end of the Fed's low interest rate policies won't be good for the stock market.
In December 2015, the Fed raised interest rates for the first time in a decade. Over the next four weeks, the major market averages dropped over 10%.
Pullbacks or corrections could occur like they did in early 2016 in response to Fed tightening.
This year, the Fed anticipates three interest rate hikes. If those happen, interest rates would be above 1%. That level hasn't been seen since 2008.
Companies will likely stop their share buybacks with borrowed money. Investors who entered the stock market because bond yields are historically low will now have options to pull out and buy bonds.
All of these things point to the possibility of a stock market crash in 2017. But investors can weave their way through any crash if they're careful and diligent.
That's why we've developed this three-step strategy to help you hold onto your profits in case of a market disaster…
Your Three-Step Strategy to Surviving a Stock Market Crash in 2017
The first step is making gold 10% to 20% of your portfolio. Money Morning Global Credit Strategist Michael Lewitt says investors flock to gold during extreme market volatility.
We recommend buying into the SPDR Gold Trust (NYSE Arca: GLD). This exchange-traded fund (ETF) is backed by physical gold and tracks gold prices. Shares of GLD are up 5.1% year to date and are expected to go much higher this year.
The second step to protect yourself against a stock market crash in 2017 is to buy into the six "Unstoppable Trends."
According to Money Morning Chief Investment Strategist Keith Fitz-Gerald, these trends include: technology, health, energy, scarcity, demographics, and war. These are aspects of humanity that are permanent. Therefore, they're perfect for long-term profits.
He advises buying shares in three "Unstoppable Trend" stocks…
The first is Raytheon Co. (NYSE: RTN), one of the largest American defense companies. Raytheon has captured huge contracts for both traditional and cyber defense from governments globally. If the market tanked tomorrow, nations would still want products strengthening their security.
And it's on a rally right now. As of Jan. 18, the RTN stock price currently trades at $147.26 and has gained 22.5% over the last year.
The second stock is Microsoft Corp. (Nasdaq: MSFT) simply because technology is necessary to billions of people around the globe every day. They will still use Microsoft software and still start their computers tomorrow if a crash happens. That's why buying shares of MSFT stock is such a good protection plan for a stock market crash in 2017.
MSFT now sells at $62.37 and has climbed 22.3% since Jan. 2016.
The third stock is from a company that makes medical supplies – Becton Dickinson and Co. (NYSE: BDX). Many of Becton Dickinson's products are intended for patients with chronic illnesses. Both demographics and healthcare trends support this pick. People are going to be ill whether or not the stock market drops, rises, or falls. Many older people develop chronic illnesses. They are going to get older no matter what the market does.
BDX trades at $173.92. Shares of Becton Dickinson are up 22.1% in the last year.
The third and final step to protect yourself from a stock market crash in 2017 is to short the S&P 500. However, this is for investors who are comfortable taking on more risk.
As recommended by Money Morning Capital Wave Strategist Shah Gilani, investors should consider ProShares Short S&P 500 ETF (NYSE Arca: SH). Its market moves will go in the opposite direction from the S&P 500. If a stock market crash in 2017 occurs and the S&P 500 crashes, SH will rise.
Note, however, that SH is not a recommendation for the long term. Once the S&P 500 advances again, SH will lose value. To be effective, it has to be purchased right before any stock market crash in 2017 occurs.
Give Your Portfolio a Much-Needed Edge: Chances are, your investing returns aren't where they could be if you had the proper tools. Learn how you can double your money in just days, profit on a trend that's gearing up to generate massive returns, give your portfolio a 325% performance advantage, and more. Click here…
Follow Money Morning on Facebook and Twitter.