We don't know too much about the Donald Trump energy plan - but we know enough to see a major opportunity for certain U.S. energy companies and their investors.
President Trump's "America First Energy Plan" is light on details. The information on the White House website is only 361 words long.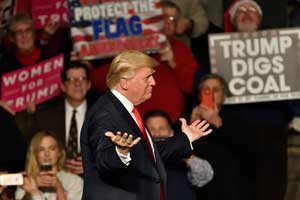 What we do know is the centerpiece of the Trump energy policy is to "achieve energy independence" for the United States.
To do so, the president wants to rely on the "vast untapped energy reserves right here in America," referring to "$50 trillion in untapped shale, oil, and natural gas reserves."
The president plans to cut "burdensome regulations on our energy industry" that have "held back" the country. He specifically talks about undoing policies like the "Climate Action Plan" and the "Waters of the U.S. rule." He mentions removing regulations protecting federal land from drilling. But he doesn't outline anything new to put in place.
Here's the thing about the future of U.S. energy: Even without specifics from the president, we know the country is well on its way to reducing its reliance on foreign oil.
"It's likely the United States is now just five to 10 years away from attaining 'energy independence,'" said Money Morning Global Energy Strategist Dr. Kent Moors on April 17. "We're on the brink of a completely new era, with huge implications for investors."
And we're going to show you three of our favorite stocks to ride this wave of energy growth to double-digit profits this year...
Why American Energy Independence Is Achievable
Energy independence is the ability of the United States to produce all the energy it consumes itself.
American energy independence has been a goal of U.S. presidents going back to Nixon. But that goal is now a likely event - one we could hit during President Trump's tenure.
The United States produced 83.9 quadrillion Btus of energy in 2016, while it consumed 97.4 quadrillion Btus in the same year. (American energy consumption has ranged between 94 quadrillion Btus and 101 quadrillion Btus since 2000, so the 2016 figure is average.)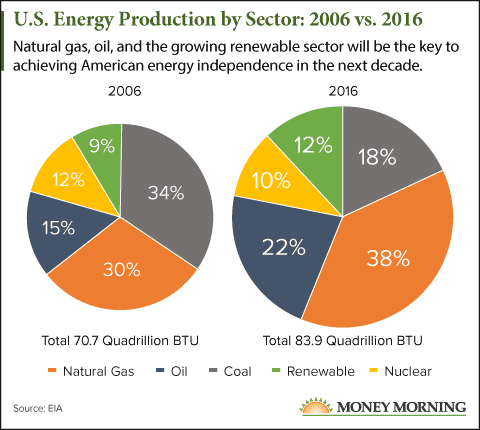 The United States will need to produce 13.5 quadrillion Btus of energy to make up the difference and achieve energy self-sufficiency. That sort of production growth - 16% - is entirely possible. In just the last decade, American energy production has grown 18.5% thanks to jumps in oil, natural gas, and renewable energy production.
And as long as President Trump lets America's three leading energy sectors - oil, gas, and renewables - continue to thrive, we'll be energy independent.
Let's look at oil and gas. President Trump's plan to roll back restrictions on oil and gas companies comes just as those two sectors are experiencing major breakthroughs...
Since 2008, hydraulic fracturing - or "fracking" - has unlocked vast reserves of natural gas in the United States. Fracking allows gas producers to access natural gas trapped between underground rock formations. This gas was previously too difficult to extract.
But now fracking has opened up large shale formations, like the Marcellus shale, to gas producers. The Marcellus formation is the largest natural gas play in North America. When fracking first started in the Marcellus formation in 2008, geologists estimated the play contained over 500 trillion cubic feet of natural gas.
The Marcellus formation has sent natural gas production surging. Gas production is up 40% since 2007, the year before fracking opened up the Marcellus play. And that's a big reason why the United States is currently the largest producer of natural gas in the world.
The surge in natural gas production led to natural gas overtaking coal as the dominant source of electrical power in the United States, too. Natural gas now makes up over 31% of power plant energy.
President Trump plans to open up federal lands to fracking. On April 26, President Trump signed an executive order allowing the Department of the Interior to revoke protections for federal lands.
Similar developments have also increased U.S. oil production...
Trending Now: Tar Sands in Canada Are on the Verge of an Explosive Comeback
Like the natural gas developments I mentioned earlier, horizontal drilling has allowed American oil producers to recover shale oil. Shale oil is crude oil trapped inside rock formations, and it requires a special drilling process to recover. This process has unleashed an incredible amount of oil in the United States.
According to the Energy Information Administration (EIA), U.S. production skyrocketed from 5,000 barrels a day in 2008 to nearly 9,000 barrels a day in 2016.
A massive 20 billion barrels of oil was just discovered in the Permian Basin of Western Texas in November of last year. In fact, this huge discovery could be "one of the world's largest sources of oil in the future," according to Daniel Yergin, the vice chairman of IHS Markit.
This mother lode of oil in the Permian Basin could do the heavy lifting for helping to end America's dependence on foreign oil. But Trump's energy plan is also opening up more space for oil drillers to operate in the United States. Just last week (April 28), President Trump signed an order allowing expanded oil drilling in the ocean and arctic.
While Trump's oil-friendly policies can only help oil producers, American energy independence isn't achievable with fossil fuels alone.
Crude oil is trading at $47.68 a barrel, and the price might not be high enough to encourage more oil production. Oil is only profitable in the easiest-to-reach reservoirs at that price. Low oil prices mean oil found in some shale regions, like the Three Forks or the Bakken fields, might not be profitable to extract. Break-even prices in those areas can be as high as $70 a barrel.
If President Trump hopes to achieve American energy independence, he's going to need renewable energy to do it. And while the current Trump energy plan doesn't mention renewable energy, all the president needs to do is stay out of its way...
Trump Needs Renewable Energy to Thrive
As long as President Trump doesn't actively work against renewable energy, it will continue to grow to help match America's energy consumption. Renewable sources of energy, led by solar energy, are already helping fill America's energy demand.
**insert pull quote from below, right align w/ Twitter
"A necessary cog in the energy balance and national energy self-sufficiency is renewables, specifically solar," said Moors.
The EIA forecasts U.S. energy production will match its consumption around 2026. The EIA also predicts renewable energy production will need to grow at least 22% to make that happen.
Renewable energy includes everything from hydroelectric power to biomass sources, but it's really solar energy that will have to grow to meet this demand. Renewable sources like hydropower and geothermal energy simply don't have the growth potential of sources like wind and solar. In fact, with projects like the Hoover Dam and the Grand Coulee Dam completed, there are fewer options available for hydropower to grow.
Between 2006 and 2016, energy produced by hydroelectric power actually declined by 15%, while solar energy production grew an astounding 862%.
The solar energy sector is growing more and more as new technologies reduce the cost of harnessing solar energy.
Bloomberg reports solar energy costs are now 1/150th of what they were in the 1970s. On top of that, solar costs fell 10% just over the last year. That's a big part of why solar energy has achieved grid-price parity over the last several years, according to Moors. It's now no more expensive for electric companies to use solar power than traditional sources.
And because energy from the sun is unlimited, solar production will continue to soar as solar prices fall.
Grid parity is a major reason solar energy has overtaken coal as a source of energy industry jobs in the United States.
The jump in solar industry jobs is a sign the solar sector is preparing for 60% growth by 2018, according to projections by the EIA.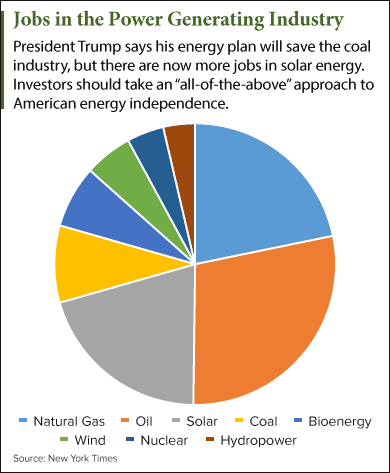 Now for how to invest in energy growth...
We've picked three of our favorite energy stocks from oil, gas, and solar. As the United States moves toward energy independence, these stocks will soar...
How to Profit from American Energy Independence
Here Are 10 "One-Click" Ways to Earn 10% or Better on Your Money Every Quarter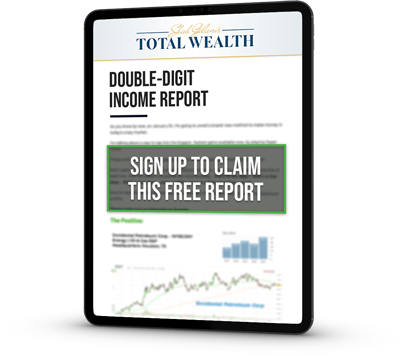 Appreciation is great, but it's possible to get even more out of the shares you own. A lot more: you can easily beat inflation and collect regular income to spare. There are no complicated trades to put on, no high-level options clearances necessary. In fact, you can do this with a couple of mouse clicks – passive income redefined. Click here for the report…