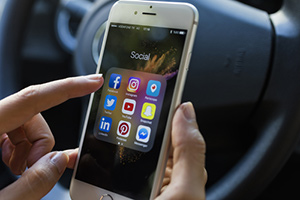 The potential Q1 2017 IPO launch for Snapchat is creating a buzz on Wall Street, which is why investors are asking us, "Should I buy Snapchat stock after the IPO?"
That's because when Snapchat goes public, it could be the biggest public offering since the 2014 Alibaba Group Holding Ltd. (NYSE: BABA) IPO. In its IPO, Alibaba raised $25 billion.
Snapchat wants to raise $4 billion and could be valued between $25 billion to $40 billion.
But just because Snapchat has a lofty valuation, that doesn't automatically make Snapchat stock a great investment.
Today, we are going to show you how Snapchat operates and how it makes money. After that, we're going to let you know how to play the Snapchat IPO.
Here's more on how Snapchat operates…
What Is Snapchat?
Snapchat is a messaging service that allows users to add animation, drawings, videos, and images to messages.
But it's most attractive feature for many users is the disappearing messages…
Snapchat was founded in 2011, a time when companies started to look at Facebook Inc. (Nasdaq: FB) profiles while making hiring decisions. Snapchat protected a user's privacy by having images and videos automatically disappear after several seconds.
The benefit of disappearing messages is also attractive because it encourages users to share experiences that were currently happening. Facebook's model was to share pictures after an event.
These features have made Snapchat popular among teens and millennials.
According to Bloomberg, 70% of 18- to 24-year-olds with smartphones use Snapchat. Snapchat also has a growing base of users aged 25 to 34. Over the past three years, use in this age group has risen from 6% to more than 40%.
And with this rapid user growth, rapid revenue growth has followed…
Snapchat's Rapid Revenue Growth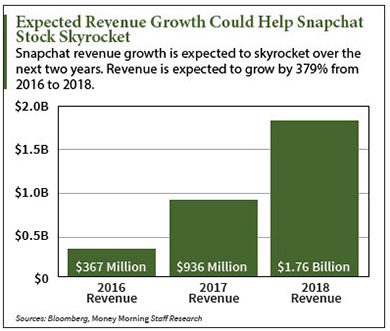 The reasons the Snapchat IPO has so much hype is its outstanding revenue growth forecast.
In 2014, Snap Inc. earned $3.1 million in revenue. This year, revenue is expected to hit $367 million, according to Bloomberg.
But that's just the beginning…
By 2017, Snapchat is projected to generate $936 million in revenue. By 2018, Snapchat could generate $1.76 billion in revenue.
In comparison, Twitter Inc. (NYSE: TWTR) generated $2.2 billion in revenue for 2015 and took nine years to do it.
With so much hype and climbing revenue, it will be tempting to invest in Snapchat. But here's what you need to know before investing in Snapchat stock…
Should I Buy Snapchat Stock?
According to Money Morning Chief Investment Strategist Keith Fitz-Gerald, there's only one way to play the Snapchat IPO: as a speculative investment.
That's because retail investors aren't the ones who make money from IPOs.
"Silicon Valley venture capitalists have put a few billion into Snapchat privately (after three or four earlier rounds of financing), and they're counting on an IPO to cash out at 10 or even 20 times their money," Fitz-Gerald said on Nov. 21.
You see, IPO offerings are always offered to large institutions and wealthy individuals before retail investors can invest. That means wealthy investors and large institutions will always see the largest returns, while retail investors will always be buying in at a higher price.
Wealthy investors and large institutions, for example, were able to purchase Twilio Inc. (NYSE: TWLO) stock for $15 per share before TWLO was available to the public.
When it opened to the public on June 23, retail investors had to pay $23.99.
It closed on June 23 at $28.79, so some retail investors made a profit of 20% in one day. But those wealthy investors who bought in at $15 made a profit of 91% in one day.
Fitz-Gerald also warns Silicon Valley manipulates valuations.
"Silicon Valley manipulates the hell out of these numbers and it's one of the dirtiest secrets in modern finance," Fitz-Gerald said. With a valuation of $25 billion, that means Snapchat could trade at 25 times its projected revenue in 2017.
This will not be an IPO for value investors.
But if you still want to invest in Snapchat, Money Morning Director of Technology and Venture Capital Research Michael A. Robinson recommends placing a limit order on Snapchat stock.
By placing a limit order as close to the IPO offering price as possible, investors limit their risk and could increase their profit potential.
Because this could be one of the biggest IPOs in years, we know investors have a lot of questions. That's why we made this guide for our readers that covers everything you need to know about the Snapchat IPO.
Editor's Note: Timing is everything when it comes to making money in markets – and this new, free service we created puts timing on your side…
Follow Money Morning on Facebook and Twitter.