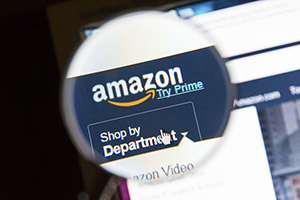 A chart of the Amazon stock price history since its IPO in the late 1990s is an impressive sight.
While the stock has had some periods of volatility in the nearly 20 years since the shares were first offered to the public, investors who got in early are looking at incredible profits. More than 44,000%, in fact.
At $795.54 per share, Amazon.com stock has risen 24% this year. That price also makes it one of the 10 most expensive stocks on U.S. markets.
Its price/earnings ratio, at 181.26, may seem expensive. But Money Morning remains bullish on Amazon.com Inc. (Nasdaq: AMZN).
We'll tell you why in a minute. First, let's look at the Amazon stock price history…
The Complete Amazon Stock Price History
Like many tech titans, Amazon founder Jeff Bezos founded his company in a garage. He founded Amazon there in 1995, betting that people would be willing to buy books on the then somewhat fledgling Internet.
That was the first incarnation of mighty Amazon.com: a bookstore to compete with Barnes & Noble Inc. (NYSE: BKS) and Borders.
Bezos and company were successful in a competitive space. So competitive, in fact, that Borders eventually went out of business after contracting with Amazon to ship its books.
The IPO happened two years later, in 1997.
At the end of the 1990s, Amazon became a powerful online retailer. It wasn't just books anymore: It began selling almost anything you could buy in a normal brick-and-mortar retail store. Kitchen equipment; electronic equipment; clothing; lawn and garden; and more.
Amazon even established shipping centers throughout the United States and throughout the world.
Bezos initially had a powerful idea. People would find online shopping much more convenient than walking through the mall. It was quicker, and customers could tell from the comfort of their own home whether merchandise was available. They could look up reviews. They could comparison shop for both products and prices.
If you think back through the nearly two decades that Amazon has been public, you'll realize that Amazon has to some extent grown up with the Internet. When it began, not everyone routinely shopped online or even necessarily had an email account.
Online shopping is so common now that it has its own post-Thanksgiving day, Cyber Monday, just as brick-and-mortar retailers have Black Friday.
Amazon Now: Dominance in Retail Sector and Expanded Services
After looking at how Amazon was founded, it's when you look at the present that you begin to realize how large of a company Amazon has become.
First, it simply crushes its retail competitors. Amazon's revenue for full-year 2015 was $105 billion. Compare that with the companies that have historically dominated U.S. retail. Macy's Inc.'s (NYSE: M) revenue in the same period was just $27.08 billion. Sears Holdings Corp. (Nasdaq: SHLD) had revenue of just $25.1 billion.
In other words, Amazon booked four times as much revenue last year as these two competitors. Not only that, but when a retailer goes out of business, Amazon often gets their customers. This certainly happened to Borders and Circuit City.
In late June, more than 60% of defunct sports retailer Sports Authority's customers said they would take their business to Amazon. MKM, a retailing analyst firm, estimated that Dicks Sporting Goods Inc. (NYSE: DKS) would garner $560 million more in 2017 sales if 20% of Sports Authority's customers came to them.
So Amazon stands to gain $1.6 billion in sales from former Sports Authority customers next year.
These are just some of the reasons that Amazon sales figures have skyrocketed from $10.7 million in 2006 to more than $105 billion last year.
But that's not the only reason why Amazon stock now trades at such a high price…
Why Amazon Stock Price Is So High Now
We told you we'd get back to the relative expense of Amazon.com stock, as measured both by the price and the P/E ratio.
Money Morning Chief Investment Strategist Keith Fitz-Gerald says Amazon trades so high for three reasons.
Reason 1: Because it is based on expectations of future profitability. Amazon routinely invests a large percentage of its profits every year. For example, in June it announced that 35% of the profit from the second quarter would be spent on developing film and television in India.
At some point, though, the spending on new ideas and new facilities will reach a saturation point. When that occurs, operating expenses will fall. And profits? They will go up because they won't be deployed in expenditures any longer.
Reason 2: The number of revenue streams. Amazon sells both hardware and software. Kindle and Echo are a market to upsell Amazon Prime subscribers to.
It develops TV and movies. It plans to start grocery service with Amazon Fresh. It has started brick-and-mortar retail stores for groceries and books.
Reason 3: Jeff Bezos is a visionary. He showed this when he founded Amazon initially. He showed it when the company moved big time into retail. Now he's showing it by positioning Amazon in cloud computing and the Internet of Things (IoT).
The IoT uses cloud computing to establish interconnectivity between products and the Internet. A smartphone can tell you when your car tires need replacing, for example. Cisco Systems Inc. (Nasdaq: CSCO) estimates that the IoT will be worth $14.4 trillion in sales by 2022. That's just over five years away.
A year ago, Bezos established Amazon Web Services (AWS) to ride that wave. It accounted for just 7% of revenue during 2015. In the first half of 2016 alone, however, AWS contributed more than 9% of revenue.
Money Morning believes AWS will be just one of the factors driving the Amazon stock price higher.
A number of analysts upgraded the stock price target recently. Analysts at SunTrust believe it could reach $1,000 per share.
We continue to be bullish on the stock and consider it one of the best investments in the tech sector. Here's our full outlook on what to expect from the Amazon stock price in the long term…
Follow Money Morning on Facebook and Twitter.