With all the COVID-19 whipsawing we're experiencing in the U.S. economy – and the uncertainty that's created for folks like you and me – Money Morning is seeing more direct inquiries about stocks than at any time since the Great Financial Crisis of 2008 to 2009.
And one of the most intriguing queries we're seeing is this one: "I have $2,000. I want to invest it in stocks. But I'd sure be grateful for some guidance on which stocks to buy and what 'strategy' to employ."
Let me tell you folks: I love this question.
And I respect the heck out of those who posed it, or who were thinking along those lines, for a few reasons…
For one, the answer to this question is important for all investors – not just the folks who are starting out. That's because the core of this question is about identifying the most important stocks in your portfolio – the ones you buy first and likely the ones you'll sell last.
You're ignoring the near-term "noise" and focusing on the long term, which is exactly what you should be doing.
Second, you're taking action – and taking control of your own financial destiny – which is always one heck of a lot better than just sitting back and letting stuff "happen to you."
And, finally, it can be a difference-maker. That two grand is merely the first step. But it shows that you're serious about changing your future. It puts "skin in the game." It forces you to pay attention. And you'll be stunned at how much you learn.
It takes courage to act, to make tough decisions, to move forward.
And by posing this question, you're doing just that.
Just as a long journey can start with a single step, the journey toward a secure financial future can begin with a single investment – even one as seemingly small as $2,000.
And I'm going to start by sharing a personal story that proves the value of a "mere" $2,000 investment. I'll even offer some stock recommendations that will help you take that first step…
The Awesome Power of "Just" $2,000
As I've told my Private Briefing subscribers, my interest in stocks began with the Crash of '87. I became an avid investor and found fulfilling success with a new professional path that focused on economics, finance, and investing.
I was 25 years old.
Why the Internet could snap (and what the government is doing about it). Click here to learn more…
I wanted my son Joey to have those same advantages – but with the benefit of a much-earlier head start. So two years ago, I sat down with my 11-year-old son, Joey, and told him we were going to start picking some stocks for him to invest in.
I'd set aside some cash to make this possible. And just by happenstance, the "seed money" totaled $2,000 – the same amount of investment capital that so many of our readers have been asking for advice about.
And with free electronic trading on most big brokers – Fidelity, Charles Schwab, and TradeStation, to name a few – it's no longer cost-prohibitive to buy "micro blocks" of individual stock.
And I like the strategy of buying individual stocks vs. exchange-traded funds (ETFs) or mutual funds because of the real-world education you'll get from following the shares of real companies.
With Joey, the results have been dramatic. Not only did he choose well, but he's also reaped some very nice returns. More important is the "situational awareness" his investments seem to have spawned. While he's not talking about P/E ratios, or short-interest or earnings forecasts, Joey is noticing the headlines "his" companies are making. Since I've been working from home during the coronavirus pandemic, my son has actually come to me each day to ask what I'm writing about for my Private Briefing subscribers.
Strategy No. 1: Invest in What You Know
If you're starting with $2,000, there are plenty of ways to organize your investing.
But there's one strategy I like a great deal.
I call it the "invest in what you know" strategy – an approach championed by former Fidelity fund manager and best-selling author Peter Lynch. The approach is simple: You buy stock in companies whose products, services, and offerings are those that you use.
Imagine if you could profit every time someone logged onto Facebook. Click here now…
This is exactly what I did with Joey. By sitting down with him, talking it over, and really listening to what he said was important to him, we were able to zero in on the companies who make, market, and service the things he really likes.
Here's an "invest in what you know" stocks list, including some that Joey picked and some additional ones we've all gotten to know as part of the COVID-19 pandemic:
It shouldn't have taken this long for the Internet to pay you. Here's how…
How to Allocate the Money
At recent trading prices, buying a single share of each stock would give you a "portfolio" valued right around that $2,000 threshold.
So for those of you just beginning, that's not a bad way to start.
But as you accumulate more capital, I like the "50-40-10" portfolio model.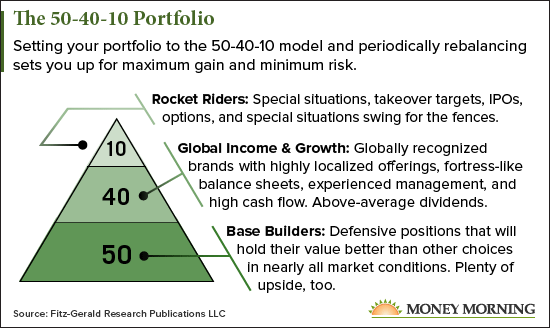 The 50-40-10 portfolio is designed to decrease volatility and increase profits, so you have the smoothest, safest possible ride to your own personal fortune.
Here's a breakdown:
Each layer of stocks has a name and a clear purpose in your portfolio:
Base Builders – We allocate 50% of our investment capital to assets chosen because of both their stability and their income-producing potential. This provides a safe foundation that will better withstand downturns, while also giving us a solid base from which to pursue growth.
Growth and Income Holdings – 40% of our funds are invested in this category, typically targeting companies with a strong local presence that are also expanding globally – what we like to call "glocal." They provide the potential for capital appreciation, as well as income in the form of above-average dividend yields.
Rocket Riders – At this higher-risk level, we invest up to 10% of our capital in assets that offer greater growth potential based on a catalyst our research has uncovered. Examples may include new patents, contracts, buyouts, spin-offs, etc.
By design, most of the stocks on Joey's list fall into the first two categories. Stalwart institutions like Berkshire Hathaway, Microsoft, Disney, and Visa are strong Base Builders, while faster-moving stocks like Apple, Alibaba, Nvidia, and Facebook make for nice Growth and Income Holdings.
Beyond Meat and Teledoc, on the other hand, are using world-changing new technology to capitalize on fast-growing trends. Don't get me wrong – these aren't wild speculations. But these up-and-comers don't offer the same safety or income as trillion-dollar juggernauts like Apple or Microsoft.
The name of the game for Rocket Riders like these is growth, growth, growth.
As the value of your stocks change, you'll want to "rebalance" your portfolio annually to maintain the 50-40-10 ratio.
For example, if your Rocket Riders really shoot up while the others move more gradually, you may end up with something like a 40-30-30 portfolio. In this case, you can simply sell some of your Rocket Riders and invest more in the other "categories" of stock until you reach that 50-40-10 ratio once more.
But that doesn't mean you should only be buying stock once a year.
My favorite way to add to your long-term holdings is the "Accumulate" method.
After taking these initial "foundational" stakes, look to add to your holdings on pullbacks or as you get more cash. You can even consider some kind of "automated" investments, so you're forcing yourself to keep investing – at regular, scheduled intervals.
Most important of all: Focus on the long haul.
If stocks fall – which they will at some point (whether it's next week, next month, or next year) – view it as an opportunity, and add to your stake.
Do this, and your little fund will turn into a large one more quickly that you can imagine.
Down the road, when you're financially secure – and quite possibly even wealthy – you'll look back and remember that it all started right here.
I'll see you folks back here real soon.
And in the meantime, don't miss out on this new investment opportunity presented by my colleague Michael Robinson…
You see, 5G isn't just an Internet upgrade anymore. The FCC just injected an unprecedented amount of money to roll it out faster than 1G, 2G, 3G, and 4G combined.
But this isn't just a positive sign for the roughly 162 million Americans who've recently experienced slowing Internet. If our projections hold, you could net a huge payout by year's end. Click here to find out how…
Join the conversation. Click here to jump to comments…
About the Author
Before he moved into the investment-research business in 2005, William (Bill) Patalon III spent 22 years as an award-winning financial reporter, columnist, and editor. Today he is the Executive Editor and Senior Research Analyst for Money Morning at Money Map Press. With his latest project, Private Briefing, Bill takes you "behind the scenes" of his established investment news website for a closer look at the action. Members get all the expert analysis and exclusive scoops he can't publish... and some of the most valuable picks that turn up in Bill's closed-door sessions with editors and experts.