Editor's Note: The EPA's Nov. 30 decision to maintain the ethanol levels required in transportation fuel was a win for renewables. That's why we're revisiting Kent's outlook for biofuel, its place in the new energy balance, and the investment opportunities it's opening up now...
As we shift into the "new age" of energy, one thing is very clear: This is no longer a zero-sum game.
While crude will continue to be the star, other sources of energy, such as renewable energy, will start to gain market share.
A new energy balance will begin to take hold, and it will have less and less to do with crude.
This new world will include a massive move into renewables like wind and solar power.
But the truth is even bigger than that.
This new era will be driven by a major move into biofuels as well.
In fact, the projected future size of this market is nothing short of eye-opening...
Old Paradigms and Limitations Are Irrelevant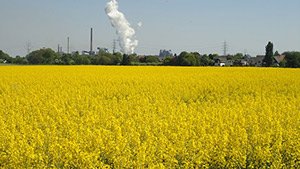 According to a report entitled "Global Second Generation Biofuels - Size, Industry Analysis, Trends, Opportunities, Growth and Forecast, 2013 - 2020," the second generation, or "advanced," global biofuels market, is expected to reach $23.9 billion by 2020, registering a 49.4% compound annual growth rate (CAGR) between 2014 and 2020.
And with more than 50% of the globally installed capacity base, North America is now poised to generate the largest share of revenue.
These "second-generation biofuels" have been developed to overcome the limitations commonly associated with traditional biofuels. These limitations include the threats they pose to biodiversity and a range of "food versus fuel" objections.
It can power your car, heat your home, and even run entire factories. Apple has already invested $1 billion, Google committed $300 million, and Facebook, Amazon, and General Motors are getting in on this, too. Find out why experts believe this breakthrough could grow 80,000% in the near future. Click here.
The persistent criticisms of corn-based ethanol are a perfect example of what I'm talking about.
Conversely, second-generation biofuels are produced from a range of non-food crops and waste biomass, and are also more energy efficient than conventional fossil fuels. And, as a side benefit, these new biofuels minimize greenhouse gas (GHG) emissions by over 90%, making them environmentally attractive.
Along with the benefits offered by second-generation biofuels, financial incentives and new regulations in the United States and Europe have been instrumental in driving the commercial production and adoption of these advanced biofuels.
One such initiative is the U.S. Renewable Fuel Standards (RFS), which requires that 36 billion gallons of renewable fuel be used by 2020. By comparison, just 9 billion gallons were required in 2008.
However, complexities associated with the production process and with high initial capital investment and land usage in the vicinity of feedstock have impeded the growth of the biofuel market...
Currently, biodiesel garners the largest share of the second-generation biofuel market. However, it's now expected that the latest and most commercially viable cellulosic ethanol will surpass biodiesel and eventually lead the market by 2020 - driven primarily by the ease of producing it.
Given its economy of scale, the cellulosic ethanol market is now forecast to grow at a CAGR 52.2% from 2014 to 2020, due largely to the rapid growth in the technologies that allow for greater mass production.
An Entirely New Class of Great Investments
[mmpazkzone name="in-story" network="9794" site="307044" id="137008" type="4"]
At the moment, North America accounts for about 82% of the global market share, as various market players prefer the United States for plant operations due to the supportive regulatory environment.
In 2015, Procter & Gamble Co. (NYSE: PG) announced a collaboration with E.I. Du Pont De Nemours and Co. (NYSE: DD) to use cellulosic ethanol, replacing corn-based ethanol in its Tide detergent in North America.
No fewer than six other major North American players are following suit with similar initiatives.
But that's just the beginning of where this market is headed.
Other key findings of the aforementioned report include...
The global market for second-generation biofuel is gaining traction with production and supply of cellulosic ethanol and biodiesel as prime growth drivers during the forecast period (2014 to 2020).
Among all feedstock used (corn stover, corn cob, algae, bagasse, straw, wood waste, cellulose, mixed biomass, hardwood, forest residue, animal waste), a high volume of second-generation biofuels will be produced from algae, due to its oil content, resulting in high-yield production.
Most of the market players are mainly focused on partnership and collaborations, along with seeking approvals, as key parts of their developmental strategies.
All of these are major market-moving initiatives. That means we are going to see some fantastic investment-grade opportunities develop in short order.
So while the drop in oil prices from 2014 highs caused energy stocks to fall across the board, it's been painting with far too broad a brush.
The truth is a new class of investment is beginning to emerge in the "post-oil age," and this is just the beginning of a long and profitable ride.
Energy's $48 Trillion Holy Grail: A shocking discovery has unlocked a 36,000-year supply of free energy. Not only is this fuel source endless, it's ready to use immediately. The U.S. Department of Defense just invested $7 billion in a single day, igniting an early-stage "energy boom" that will likely mint millionaires at a dizzying clip. Find out exactly how to play it here...
About the Author
Dr. Kent Moors is an internationally recognized expert in oil and natural gas policy, risk assessment, and emerging market economic development. He serves as an advisor to many U.S. governors and foreign governments. Kent details his latest global travels in his free Oil & Energy Investor e-letter. He makes specific investment recommendations in his newsletter, the Energy Advantage. For more active investors, he issues shorter-term trades in his Energy Inner Circle.