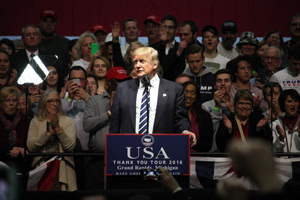 When Donald Trump cuts corporate taxes, it appears the biggest winners will be the big banks.
Bank stocks have risen over the last several weeks thanks to expectations of rising interest rates. But Donald Trump's presidential win and promise of corporate tax cuts have also been catalysts for bank stocks.
You see, one of the president-elect's biggest campaign promises was to reduce the corporate tax rate.
The United States has the third-highest corporate income tax rate in the world at 35%. Meanwhile, Ireland's is 12.5%. England's is 20%. The worldwide average is 22.5%, according to the Tax Foundation.
Donald Trump and House Speaker Paul Ryan have each proposed reducing the federal corporate tax rate to 15% and 20%, respectively.
Sign up for SMS so you never miss special events, exclusive offers, and weekly bonus trades.
If the marginal rate in the United States was reduced to 25%, the eight biggest universal banks could see additional median earnings per share (EPS) growth of 9% in 2018, according to Keefe, Bruyette & Woods.
Don't Miss: Get the Best Investing Research Today to Grow Your Money
The eight banks are: JPMorgan Chase & Co. (NYSE: JPM), Goldman Sachs Group Inc. (NYSE: GS), State Street Corp. (NYSE: STT), Citigroup Inc. (NYSE: C), Wells Fargo & Co. (NYSE: WFC), Bank of New York Mellon Corp. (NYSE: BK), Morgan Stanley (NYSE: MS), and Bank of America Corp. (NYSE: BAC).
JPMorgan Chase stands to benefit most. The biggest U.S. bank by assets would see a 22% increase in 2018 EPS. The New York-headquartered bank currently pays an effective tax rate of almost 36%. That would fall to 23%, according to the KBW study.
JPM shares are up more than 6% since the election and 30.58% year to date. The entire bank sector has been surging. The S&P 500 Financial Index is up 28% since the end of June and 17% since Election Day.
And the sector is cheap...
The financial index is trading at 14.2 times consensuses analysts' estimates for forward earnings. That a 17.8% discount to the S&P 500, according to FactSet.
But banks aren't the only companies poised to benefit from a corporate tax rate cut. Here are some others...
When Donald Trump Cuts Corporate Taxes, These Companies Win