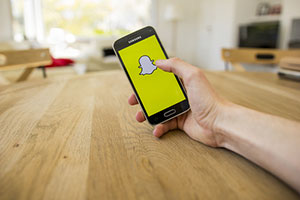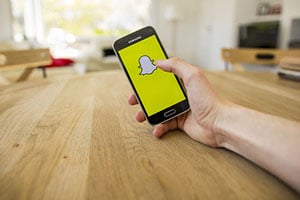 Snap Inc. quietly filed paperwork for an initial public offering this week that could value Snapchat near $25 billion. Now the big question is "when is the Snapchat IPO date?"
Formerly known as Snapchat, the company filed the necessary documents with the SEC in the last two weeks, according to reports. The Snapchat IPO is expected in the early part of next year, perhaps as early as March 2017.
Still, no official Snapchat IPO date has been announced.
Snapchat is a mobile app that allows users to send videos and pictures, which vanish after a few seconds of a person viewing them. Users can also add a caption, doodle, or filter on these messages and send the finished creation (called a snap) to friend. Users can also assemble a 24-hour creation of all their snaps that is broadcast to their followers.
The app is widely popular with teens and young adults. But it continues to grab a larger user base, including some high-profile celebrities.
The four-year-old messaging app boasts more than 150 million active daily users. In December, the tally was 110 million. It reaches 41% of 18- to 34-year-olds in the United States, according to Nielsen.
Recently, Snapchat has become more popular than Twitter Inc. (NYSE: TWTR) by active daily users. Twitter, which was founded in 2006, has less than 140 million users interacting with the service daily.
Snap's popularity with users and advertisers has made it popular with prospective investors. And that excitement will only ramp up as the Snapchat IPO date approaches...
Snapchat IPO Date May Be Scheduled for Q1
Snap Inc. renamed the company (previously known as Snapchat) in September. The move is aimed at showing that the company has plans to move beyond Snapchat. Part of the change included the launch of camera-equipped sunglasses called Spectacles. The glasses can record video in short bursts.
Snap's venture into hardware provides the company with another source of revenue.
Snap makes money by selling ads on Snapchat that are inserted between stories shared by media partners and video diaries posted by the app's users. Marketers also can purchase location-based or event-based geofilters and "lenses" that add quirky features to photos and videos.
Advertisers are drawn to Snap for its reach and up-and-coming audience: millennials...