Since last month, investors and traders have "doubled their bets" on falling healthcare stock prices after Trump takes office. In the last week of December alone, short interest on the sector rose by nearly $2 billion.
Now this is largely because of Trump's promise to repeal Obamacare – and the steps his incoming administration have already taken.
But I'm going to show you why selling off your healthcare holdings right now isn't such a good idea…
And a much better way to profit.
Without a Clear Plan in Place, the Future of Healthcare Stocks Is Blurry
As you are well aware, one of Trump's first orders of business after Inauguration Day is to repeal and replace Obamacare, with the repeal process already underway. But as for the replace aspect of his plan, that is yet to be seen. If there isn't a clear plan in place, uncertainty will continue growing around healthcare stocks as well as the prospects for all the companies in and affected by the sector.
One thing that is certain, though, is that markets hate uncertainty.
The attempt at a comeback by the S&P 500 Healthcare Sector (NYSE Arca: XLV) has brought the overall sector back towards its Trump victory high. But without knowing exactly what the incoming administration will do – and how long they'll take to do it – you're essentially flying blind when it comes to betting on exactly which direction health care stocks will move. So before you sell all of your healthcare holdings, consider taking a  wait-and-see approach.
Here's how…
Finding the "perfect" healthcare stock to trade is akin to finding a needle in a haystack. Now there are ways to flush out the top-performing stocks in certain sectors – but why waste time trying to find the needle when you can trade the proverbial haystack? Personally, I'd rather focus on the sector before trying to nail a particular stock while decisions are made and things become clearer with the industry overall. In this case, the proverbial haystack is XLV.
If XLV breaks out to the upside (above a resistance of $72 on above average volume), you're looking at a  bullish sign. In this event, you've really got two options:
You can be aggressive and buy calls on the ETF
You can wait to see if it retraces to its old resistance (of $72) and holds as support before moving higher, as shown by the blue arrows in the chart below: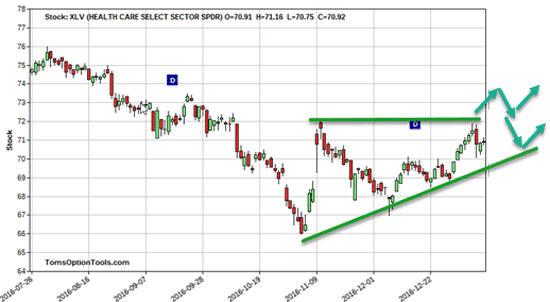 XLV could also retrace to the ascending green support line shown above. If the price holds at that ascending support line and bounces off that higher price, you could also be looking at a bullish sign, too. But the price would still need to clear $72 to offer you greater conviction in upward moving prices.
From a bullish perspective, you'll want to look for the strongest stocks that continue that momentum. These are the top 10 healthcare stocks out of the XLV at or nearest their 52-we…
Join the conversation. Click here to jump to comments…
About the Author
Tom Gentile, options trading specialist for Money Map Press, is widely known as America's No. 1 Pattern Trader thanks to his nearly 30 years of experience spotting lucrative patterns in options trading. Tom has taught over 300,000 traders his option trading secrets in a variety of settings, including seminars and workshops. He's also a bestselling author of eight books and training courses.