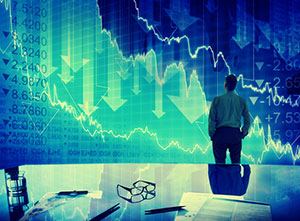 There are growing signs of a stock market crash in 2017, and investors need to be prepared to protect their money.
While stock market crashes can't be predicted with certainty, we can look at past stock market crashes to understand what causes them.
To help you prepare for a possible stock market crash, we've compared current economic indicators to the warning signs before historic stock market crashes. Plus, we've created a plan for protecting your money during a crash…
Lessons from Historic Stock Market Crashes
Two of the biggest stock market crashes occurred in 1929 and 2008, and these can tell us a lot about what's going on now.
The stock market crash of 1929 was the result of a decade of speculative investing.
Throughout the "Roaring 20s," the stock market soared. Investors from all walks of life poured money into stocks, expecting the growth to keep going. But the growth wouldn't last.
Between Oct. 29, 1929, commonly known as Black Tuesday, and 1932, the market plunged by 90%. The Great Depression that followed lasted decades.
Speculation of a different sort was behind the stock market crash of 2008.
The "American Dream" of owning a home was fueling another bubble ahead of the 2008 financial crisis. The housing market was continually growing in value, which meant banks were more and more eager to lend money to homebuyers. Government programs designed to encourage home ownership further contributed to this housing boom.
But housing prices eventually fell. And the stock market collapsed right behind it. On Sept. 29, 2008, the Dow dropped 777.68 points, wiping out $1.2 trillion in market value, totaling the market's largest single-day points loss in history.
The story of both stock market crashes was the same.
Markets shot to record highs, and as investors expected it to go even higher, they shoveled more money in. But the markets were rising because of this speculation, not because of great business growth. Once this bubble popped, everything collapsed.
Turning to today, we are seeing some of these same signs. These three indicators mean we could be headed for a stock market crash in 2017…
Stock Market Crash in 2017 Indicator No. 1: The Political Climate
The political status quo was shaken up across the world in 2016, and markets don't like this sort of uncertainty.
Donald Trump's unexpected presidential win raises new questions about the future of the U.S. economy. President-elect Trump has advocated for both fewer economic regulations and lower taxes, in addition to increasing tariffs, re-negotiating U.S. free-trade pacts, and restricting immigration.
The U.S. Dollar Index has risen to $101.51, its highest level since April 2003, on expectations of stronger domestic growth. But the news isn't as good for international economies. The Mexican peso is down over 10% against the dollar since Election Day. The Chinese yuan currently trades at $0.15, its lowest rate in five years.
Major tech companies, like Facebook Inc. (Nasdaq: FB) and Alphabet Inc. (Nasdaq: GOOG), which rely on highly skilled foreign workers, have also seen their stocks decline after the election. FB is down 4.7%, and GOOG has declined 3.7%.
Don't Miss: This is your ticket to bigger and better returns… and it won't cost you a penny. What are you waiting for? Read more… 
Uncertainty is also high across the globe.
When the United Kingdom voted to leave the EU in June, markets panicked. The S&P 500 dropped nearly 4% in one day. With other European countries, like France and Italy, threatening to leave the EU, the fate of the trading block is in question.
Political uncertainty is not the only issue pointing toward a stock market crash in 2017. Extremely low interest rates across the globe have helped contribute to a financial bubble…
Stock Market Crash in 2017 Indicator No. 2: Low Interest Rates
Since the global financial crisis of 2008, central banks across the world have employed extremely low interest rates to combat weak economic growth. But these low interest rates have caused problems of their own.
In the United States, interest rates remain at historically low levels, coming in at just 0.50%. Interest rates before the 2008 financial crisis were above 5%.
The ECB has kept rates at 0%, and the Bank of Japan has even broached negative interest rates.
When interest rates are this low, investors can no longer get a decent rate of return on bonds, so instead they've turned to purchasing stocks.
This practice has led to stock prices becoming artificially inflated. Investors are turning to stocks for speculative reasons, which balloons the value of the stock market beyond its true value.
Speculative investing is very similar to the cause of the bubbles preceding the historic stock market crashes analyzed earlier.
And this is especially troubling because corporate earnings are too weak to sustain this growth.
Stock Market Crash in 2017 Indicator No. 3: Weak Corporate Earnings
The stock market continues to perform at record levels in 2016 across all indexes, yet underlying earnings don't support these surges in the market.
Stock market bubbles occur when investors pay more for a stock than the underlying metrics can justify, and right now corporate earnings are not strong enough to support the soaring stock market.
FactSet reports that earnings for S&P 500 companies only grew by a modest 3% for Q3, after five straight quarters of declining earnings. This sort of lackluster performance does not support the record-breaking stock market we've seen this year.
Make More Money: Get the Best Investing Research Today to Grow Your Money
Additionally, several corporate giants, such as Coca-Cola and Apple, anticipate the strengthened U.S. dollar will shave millions off of their quarterly revenue.
Our indicators are showing the stock market is overvalued due to artificial inflation and the economic climate is uncertain. These indicators are very similar to what we saw before historic stock market crashes.
When prepared investors see these indicators, they prepare for a stock market crash. Here's how to do it…
Protecting Your Money During a Stock Market Crash