Back in October, I told you why I was watching Bitcoin and how it could replace gold as the new "safe haven" for your money. At the time, Bitcoin was trading around $651.
Fast-forward to today - and it's now trading at an all-time high of $1,228. That's nearly a 90% gain in less than six months. In fact, the price of one bitcoin is now worth more than one ounce of gold. It was also named as the top-performing "currency" in 2016.
And by next week, you could get in on the profits - without buying a single coin.
Here's how...
The Winklevoss Twins Could Change the Way You Cash in Your "Coins"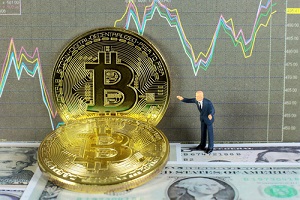 By next Saturday, March 11, the U.S. Securities and Exchange Commission (SEC) will decide on whether or not to approve Tyler and Cameron Winklevoss' (aka the Winklevoss twins) application to start a Bitcoin-based exchange-traded fund (ETF).
You may remember hearing about the Winklevoss twins and how they developed the Harvard University-based social network, HarvardConnection, in the 2010 movie, "The Social Network." They claimed that Mark Zuckerberg appropriated their idea to create Facebook. They won a $65 million settlement four years later before losing their second lawsuit attempt.
But ever since they discovered Bitcoin back in 2012, they're predicting it will become even bigger than Facebook - and are just over a week away from finding out if they've been approved to start the first-ever Bitcoin-based ETF, the Winklevoss Bitcoin Trust ETF (BATS: COIN). And if the SEC fails to issue a ruling by that date, their request will be approved by default.
This means that, if approved, you're looking at a golden opportunity to capture huge profits.
And, as you can imagine, this pending decision has created a lot of volatility in the price of Bitcoin and will likely continue to do so until March 11. That's because volatility is always highest before the unknown becomes known. I've even seen speculation that if this ETF gets approved, Bitcoin could go as high as $3,600 (or higher) - and if it doesn't - could drop to around $500 (or lower).
Now the biggest problem for Bitcoin has always been its safety, given that it's not a physical form of currency. For example, back in 2014, the exchange that handles the most Bitcoin transactions - Mt. Gox - announced that around 850,000 bitcoins had gone missing. And another exchange, Bitfinex, confirmed that 120,000 bitcoins had been stolen. Advancements have been made to address these problems, like the creation of the Secure Wallet (which requires a private security key to send and receive Bitcoin). But the fact is, there are still security concerns.
That's why a Bitcoin ETF (if approved) could be your best way to take profits - without having to actually spend at least $1,228 of your precious cash to do so. You've got much better things to spend that money on - without all the risk. And let's be honest,  w…
Join the conversation. Click here to jump to comments…
About the Author
Tom Gentile, options trading specialist for Money Map Press, is widely known as America's No. 1 Pattern Trader thanks to his nearly 30 years of experience spotting lucrative patterns in options trading. Tom has taught over 300,000 traders his option trading secrets in a variety of settings, including seminars and workshops. He's also a bestselling author of eight books and training courses.