The SpaceX stock debut is a highly anticipated market event, mostly because of the company's "moonshot" appeal.
SpaceX is one of the most unique companies on the planet. While it's known for designing space transport vehicles and rockets, its long-term goal is to send people to Mars to live there permanently.
This ambitious vision is helmed by CEO Elon Musk. He claims the implausibility of the goals is exactly why he wants to achieve them.
"SpaceX is like Special Forces... we do the missions that others think are impossible," Musk says on the company's website. "We have goals that are absurdly ambitious by any reasonable standard, but we're going to make them happen."
All of this has stoked huge investor interest in SpaceX stock. That's why we're here to answer the three most important SpaceX investing questions...
No. 3: What Is the SpaceX Valuation?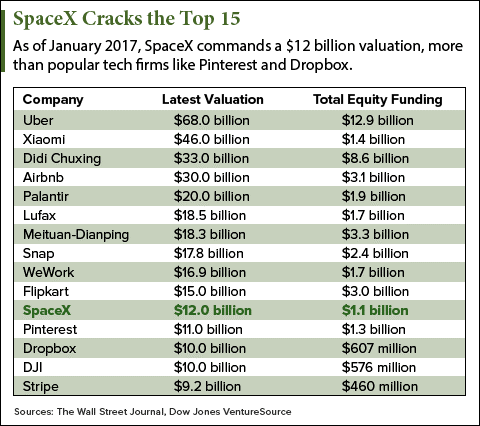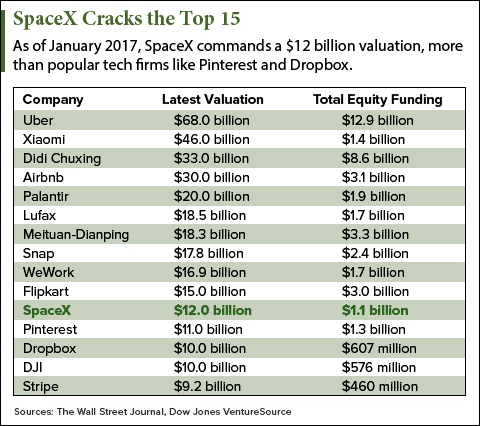 As of January 2017, SpaceX has a $12 billion valuation. The Wall Street Journal reports that it's the 11th highest-valued startup in the world. This puts it right behind e-commerce firm Flipkart's $15 billion valuation and ahead of social media firm Pinterest's $11 billion valuation.
Since 2006, SpaceX has raked in $1.1 billion over seven rounds of funding. While that's not a huge amount compared to firms with similar valuations, SpaceX's funding growth has blown peers out of the water...
If You're Interested in SpaceX Stock... Here Are the Best Tech Stocks to Buy in 2017
The funding for Flipkart, which is worth $3 billion more than SpaceX, increased only 140% from $150 million to $360 million between the Series D and Series E rounds. On the other hand, SpaceX's funding exploded 3,233% from $30 million to $1 billion over the same rounds.
The big valuation and soaring funding rounds ensure a record-setting debut when SpaceX stock starts trading.
No. 2: How Does SpaceX Make Money?
The company's main source of revenue is contracts with agencies that need its spacecraft or rocket technology.
SpaceX's most notable customer is NASA, which signed a $2.6 billion contract in 2014 requiring the firm to build rockets ready for launch this year. Their partnership lets SpaceX send payloads - or shipments of supplies including satellites, probes, and other tools - to the International Space Station (ISS) orbiting the Earth.
But the company's backlog - or list of payload orders that the firm is waiting to fulfill - is much bigger. SpaceX reportedly has upwards of 70 spacecraft and rockets ready to transport supplies to the ISS and other customers.
All of this means Musk plans to stay busy in the years ahead as he prepares those 70 launches from Cape Canaveral, Fla., and other locations around the globe.
Now, here's the biggest question for those looking to invest in SpaceX stock...
No. 1: When Will SpaceX Stock Hit the Market?
SpaceX has yet to file with the SEC for an initial public offering. This has made it hard to speculate when the company plans to go public.
As a firm that mainly experiments with rockets, SpaceX likely wouldn't be the most welcome company on Wall Street. That's because the firm has had its fair share of failures over the last 10 years...
Between 2006 and 2016, there were five high-profile launch failures due to malfunctions or explosions. In September 2016, the Falcon 9 rocket exploded in Cape Canaveral before it even lifted off the ground. Musk even described the incident on Twitter as "the most difficult and complex failure" in the company's 14-year history.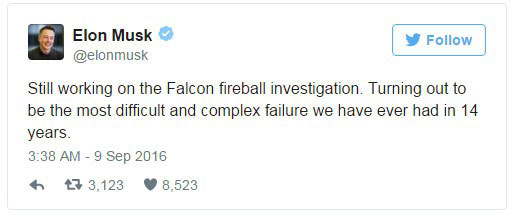 These short-term incidents would make many nervous investors sell their SpaceX stock. In turn, this could cause the company financial troubles and possibly jeopardize its long-term goal of Mars colonization.
Musk expressed these concerns in June 2015 during a Tesla Inc. (Nasdaq: TSLA) shareholder meeting. Since the firm's goals are long term, he wants to keep it private as long as possible. When asked when the SpaceX IPO will be, Musk simply replied, "Once flights to Mars begin."
"He hasn't yet announced plans to take SpaceX public, but I believe that's what he'll do," said Money Morning Director of Technology Investing Michael A. Robinson.
The Bottom Line: SpaceX remains one of the most unique companies that's unavailable to investors right now. Its ambitious goals and lucrative rocket contracts have investors asking when they'll be able to buy SpaceX stock. Unfortunately, Elon Musk's vision for the company doesn't quite align with Wall Street's standards right now. Once the firm accomplishes its goal of colonizing Mars, that's when you can expect the SpaceX IPO to make a big splash on the market.
Special Report: Cannabis Is the Gold Rush of the 21st Century. Here Are 30 Stocks to Invest in Now
Follow me on Twitter and like Money Morning on Facebook.